There's no shortage of music festivals in the Pacific Northwest—least of all in the Seattle area. With a population of just over 650,000, the city supports an unusually large number of festivals, from Bumbershoot to Capitol Hill Block Party, Doe Bay, Timber, and many others. This week the city will experience perhaps the most ambitious effort yet: Upstream Music Fest, the Paul Allen brainchild featuring 300 acts and panels on everything under the sun. Upstream, though, is expensive. If you want access to all its three days offer, you're going to pay $425. Yet some local festivals—like Northwest Folklife and Block Party at the Station—don't charge any entry fee. Whether this model can continue, however, is in serious doubt.
On April 27, Folklife's board published a letter on its website titled "Will Folklife and the Festival Continue?" The letter details the four-day festival's costs (this year, about $1.3 million) as well as the income it receives from corporations, individual donors, local and state government, and other sources, along with the in-kind donation Seattle Center makes hosting the event (estimated at $1.8 million). But among all these numbers, one especially sticks out: 17, the percentage of attendees who, Folklife's organizers estimate, donate to it. The festival suggests $10 per person or $20 per family. "Even if we had 25 percent of the people donate, it would be such a huge increase," says Kelli Faryar, programs director for Folklife. "That bump could ensure Folklife will continue to be around."
Folklife, slated this year for May 26–29, has been around since 1972. It doesn't rely on giant headliners like Lorde, Solange, or Chance the Rapper. In some ways, it doesn't even bill itself as a musical festival at all, but as a "community of communities," says Folklife interim executive director Mark Crawford, who has been with the nonprofit since October. Crawford specializes in working short-term with groups like Folklife to meet their challenges and goals, figuring out how to move forward more efficiently and effectively. Since his hire, Crawford has been analyzing the past 11 years of Folklife data to try to discover what can be done to save the 45-year-old festival, which, he says, is in dire need of funding. "Revenue has remained flat," he says succinctly, "but our costs have gone up."
To meet these increased costs, cuts have been made again and again. But now there aren't any more to make. The only recourse is more revenue—which is hard if you don't sell tickets. Both Folklife's mission statement and contract with Seattle Center forbid them from charging an entry fee. "What is the value of Northwest Folklife?" Faryar wonders aloud. "More than ever we need to talk about that. What is the value of seeing 25 different stages and 800 performers? I don't know if that specific question has been put out there: What is the value of Northwest Folklife to you?"
For many, Folklife represents something of a free hippie fest. It can even feel like the tag-along sibling in the hierarchy of blown-out summer music festivals that feature local stars like Macklemore or Allen Stone. But Folklife, as Crawford says, is more than just a weekend concert; it's a way of interacting with the Seattle community at large. "The festival is an event," he says, "but Folklife is a cause. Folklife is about creating a community of communities. And people can be part of that year-round."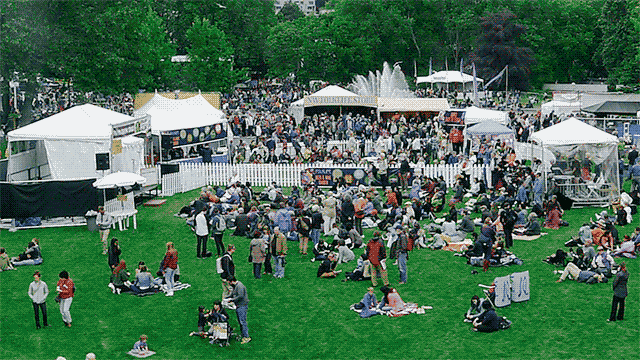 A scene from Folklife 2016. GIF by Sofia Lee
In some ways, free festivals keep expensive festivals in check. They're community outposts offering entertainment, food, and fashion, and diversity and inclusivity, in the face of $425 tickets for an event that showcases artists who might not otherwise be able to afford to get past security. Along with Folklife, another such outpost is Block Party at the Station, now in its third year, slated for June 17 in the heart of Beacon Hill. While Block Party is much younger and smaller than Folklife (its operating budget is $20,000), it faces many of the same problems. "Our festival in particular is trying to do the impossible," says Block Party producer Matt "Spek" Watson. "It's an experiment to figure out whether or not art is sustainable in the city on the festival level, free from corporate money."
Block Party at the Station aims to showcase the city's POC and LGBTQ communities—who perhaps otherwise wouldn't get the chance to show their stuff in larger fests. But being untraditional is not easy or cheap. "The biggest problem we're facing right now," says Watson, "is finding sponsors that are local small businesses, that are not corporate, but who have enough resources to invest in a community festival like this." Watson says he and the Block Party's organizers are intent on paying the artists and the unionized stage builders while also ensuring no financial barriers for vendors. "On the surface," he says, "it seems like we're setting ourselves up for failure. But the festival is going to happen this year—it's just a question of if we can do it again next year."
One such barrier is securing insurance. Last year, Block Party, which hosts a cornucopia of performers from rappers to tap dancers, partnered with Beacon Arts and was able to use that organization's insurance. This year they set out to find their own. But, Watson says, "Literally no company in the country would insure our festival. They won't insure hip-hop music unless it's a ticketed event with security at every entrance. Most insurance companies require metal detectors, police presence at all times, and controlled entryways—it's pretty racist." So Beacon Arts came to the rescue again this year.
But despite these hurdles, Watson says Block Party at the Station is a necessary event for the community, as both a way to showcase artists and for new members of the community to experience the depth and breadth of the neighborhood they're moving into. It's a free glimpse behind the curtain, a window into the creative lives of the people living and working all around the city. "It's imperative to showcase the character of the community to new people in the neighborhood," Watson says. "It's no secret Beacon Hill is gentrifying super-fast—and if you don't understand the community you're moving into, it's not good for anyone."
This too is Folklife's motive. Its organizers strive to showcase the spiritual wealth of Seattle's creative community—like in 2014 when they showcased Seattle's East Indian communities, or in 2015 when they featured programming on the roots of hip-hop. Similarly, in 2016, Block Party at one point erupted into impromptu double-Dutch jump-roping for three hours in the middle of the street. And while all this community exposure doesn't require anyone to pay, the costs of the two festivals are very real.
"There is no economic barrier for anybody to share, enjoy, and participate in the arts and culture of the festival," Crawford says. "But it ain't free. People don't always see their role in sustaining the festival. That's fundamentally got to change."
music@seattleweekly.com