The future of professional wrestling is being thrown around in the painfully humid second-floor auditorium of Washington Hall in the Central District.
The room is packed. Hundreds of bodies are sitting, standing, and lining the walls. They're sweating out the cocktails they bought during intermission, occasionally pulling out their cell phones to post to Instagram, and leaning over the edge of the balcony to heckle the tattooed, chain-wielding villains screaming back at them. As villains and heroes often do, these wrestlers come in all different shapes, sizes, and packaging. Sometimes the bad guys sport blond dreads and blood-red contact lenses, like "The Devil Himself" Drexl. And sometimes heroes, as is the case with Drexl's arch-nemesis Kate Carney, spring toward the fight in a gold dress, tossing you her confetti cannon before entering the squared circle.
This is the world of DEFY, the latest outfit to present professional wrestling to a growing number of Seattle fans. Specifically, this is DEFY 2: Wolves at the Door, an early-April event best quantified with a calorimeter, its atmosphere thick with body heat and the charge that transfers from one human body to the next courtesy of hard elbow strikes and body slams. The fans reflexively boo and cheer and toss up applauding hands and middle fingers, all in the name of being entertained on a Friday night. Wrestling's choreographed aspect is something fans have long been aware of, but that knowledge does nothing to dampen the spirits of the 200 people packed into Washington Hall.
The Seattle pro-wrestling scene has been bursting at its seams with passionate, informed fans for some time. But until two years ago, those fans were often relegated to Twitter or the comments sections of wrestling sites like Cageside Seats. Due to Washington's cost-prohibitive laws, which foist regulations upon pro wrestling as if it were an honest-to-goodness combat sport like boxing or mixed martial arts, World Wrestling Entertainment was for some time the only avenue to catch an artistically viable wrestling product, and fans were considered lucky if the global entity came to town more than once a year.
These laws stated that a promoter's license would cost six percent of the promotion's total earnings for a calendar year and require an on-site ambulance paramedic unit plus $1 for every ticket sold. For fledgling promoters such as the lucha libre-centric Lucha Libre Volcánica and 3-2-1 Battle, an outfit well-versed in blending wrestling with comedy, the cost of obtaining a license was detrimental to running shows on a regular basis. But after the recent passage of an amendment on these licensing provisions, promoters are no longer required to procure a license to host shows, as long as they put on a limited number of events per year and feature mostly talent still in the early stages of their careers. On-site medical workers are still required at every show.
This new reality means a brighter future for promoters in the area, as well as for fans. The greatest impact, though, may be on local wrestlers, who for decades have negotiated their calling and a local culture that has provided them with little in the way of an outlet, much less a career.
That has long been the situation facing Mike Santiago and Darby Allin, two natives of western Washington who took very different paths to the ring and who are facing off in the opening moments of DEFY 2. The anticipation is tangible in Washington Hall as smoke machines spout clouds and fans eagerly await the first match, shifting in their seats and clapping along with the opening music. Santiago appears first, snatching the microphone from ring announcer (and KISW personality) Steve Migs and bemoaning the fact that he was added to the card at the last minute, due to a family emergency that caused one of the main event competitors to cancel.
Suddenly the strains of "Lonely Freak" by Seattle punk band Grindline fill the hall. A backstage hand carries out a body bag, from which Allin emerges. The bell rings and the two wrestlers tie up—their first-ever fight even though they grew up roughly 40 miles apart.
Both Allin and Santiago viewed Seattle as a place with limited potential for growth as they started their professional wrestling careers. In the mid-'00s, Santiago traveled from his Tacoma home to Oregon, Canada, California, and Las Vegas to learn the craft. Allin, who once lived near Garfield High School, moved to Florida nine months ago, referring to Seattle's wrestling scene as a "dead zone."
A swath of local wrestling fans and casual observers might disagree. Over the past few years a smattering of small independent outfits like Lucha Libre Volcánica, 3-2-1 Battle, and Project 42 have cropped up. But while these promoters are beloved by fans, Allin will tell you that they don't necessarily offer what a rising star needs: experience, contacts, feedback from industry veterans.
But DEFY has changed the game. The main difference is that DEFY brings in national talent, which means that relatively inexperienced wrestlers like Allin and seasoned regional names like Santiago can work with globetrotting independent wrestling veterans and grapplers who have worked in WWE, long known as the "major leagues" of professional wrestling. This exposure helps more inexperienced wrestlers improve their craft, with veterans and journeypeople teaching them tricks of the trade that will bolster their characters and in-ring work. And then there is the increased notoriety among fans and the possibility of working with other companies.
Santiago initially declined the offer to perform in the first DEFY event, Legacy, on January 13. But he eventually agreed and faced off against Ethan HD (best known locally for his work with Project 42) in a "Loser Leaves Seattle" match. He won. Allin didn't compete in the inaugural DEFY event, as he had just moved when he was asked.
But Allin showed up at DEFY 2 with massive industry buzz following a vicious beatdown during an "I Quit" match for highly touted independent wrestling outfit EVOLVE in conjunction with WWE's Wrestlemania weekend. Allin also left that match with a knot on his head the size of a golf ball. Tonight at Washington Hall, the contusion has subsided dramatically but is still best avoided by the overly squeamish; the resulting scar looks like a bullet hole. As for Santiago, he pounds Allin with hard strikes while gleefully antagonizing fans. Allin flips out of a German Suplex, spits in the face of the Tacoma bruiser, and manages to win the match with quickness and his inhuman tendency to absorb more punishment than his opponent can dish out. It's a contest that would sit nicely on an EVOLVE program, further proving that DEFY can hang with the industry's larger-name independent organizations.
Watching the match in person is undeniably entertaining, but to understand one key component that sets DEFY apart from most area wrestling organizations, you need to catch the show on the DEFY On Demand service. There you can witness the striking visual aesthetic made possible by production quality that is head and shoulders above any other independent wrestling product today, though it still resembles late-period Jim Jarmusch more than peak-era Vince McMahon.
"DEFY's approach is different and unique," Allin says via email a week after DEFY 2. "I see a lot of recycled vibes in wrestling, so for a company to come out of nowhere with its artistic direction is rad."
Christina Von Eerie has the upper hand on Taya Valkyrie, but their fortunes would reverse before the end of the match.
In Japan, professional wrestling is a different sort of event. Treated more as sport than entertainment, matches are covered by the media with as much reverence as baseball. Many wrestlers have competed in MMA and amateur wrestling, and almost every one practices what is widely known as "strong style," popularized by Japanese wrestling legend Antonio Inoki and to many the platonic ideal of the art form. To put it in the most succinct layman's terms, "strong style" is the philosophical concept of being able to take a hit as well as you can give one. It is not what you see in WWE, which has had a reputation for decades as being too cartoonish, and it is not what you get with the coalition of mom-and-pop-owned brands that make up independent wrestling in America, which is often criticized for being too synchronized.
But it is what you get with DEFY, or at least a version of it. Founder and promoter Jim Perry calls it Seattle Strong Style. "I think Seattle Strong Style is more of a vibe or feeling than a technical execution. It's more akin to a movement, in terms of a mind-set," he says, sitting at Bimbo's Cantina on Capitol Hill, where the bar is adorned with lucha libre masks. "It takes some of the best aspects of Japanese strong style—fighting spirit, right?—and integrating that into the tone and feeling of the grungy, wet, burdensome Pacific Northwest. You have to be tough to live here. You have to be mentally tough because we never have great weather except a few months of the year. And you have to sort of bite down on the inside of your mouth, taste a little bit of your own blood, and grind through."
DEFY was born of Perry's need to change his own life. Years ago, he had a well-paying job in creative direction and web design, but it was unsatisfying. "I had gotten to a point," Perry says, "where I was experiencing really horrific anxiety and the panic of living up to these expectations or ideals associated with handling really huge budgets for projects and satisfying stakeholders that really didn't give a shit about what you did with your life."
Two years ago Perry decided to combat that anxiety by undergoing a personal overhaul, intending to scale back how he represented himself in the agency world. He took fewer jobs while observing just how tied-up his identity was in his career, "knowing I wasn't a cookie-cutter creative director that was out there, with the slickness and the energy for approval that was needed [to be successful]." He started a podcast called Euphomet, centered on topics including but not limited to the occult, the paranormal, fringe science, mysticism, and forgotten ancient cultures.
"At the same time, I was getting back into wrestling," Perry says. He was a fan, but had begun to stray from the paint-by-numbers storyline structure of mainstream wrestling and its broad-strokes treatment when portraying marginalized groups. "Wrestling was a comfort food for me. So when I was super-stressed out, or worried, or trying to be on deadline, I would listen to a wrestling podcast or I'd put old wrestling on TV, and it would just calm my nerves. As it continued to nurture me, I began to find pieces of it that really resonated with me creatively."
Perry started ingratiating himself with Seattle's emergent wrestling scene, seeking advice on running his own wrestling brand and cultivating connections. He started going to 3-2-1 Battle and Lucha Libre Volcánica shows at EVOLV Fitness near South Lake Union, meeting folks, helping set up the ring. While networking and gathering as much information as possible about running a wrestling company, he was approached by Matt Farmer, a Tacoma-based wrestling historian, former independent wrestler, and noted wrestling podcaster. Their ideas started to come together in a big way.
"I have a lot of experience with promoting, and I wanted the wrestling scene in Washington to grow," Farmer says. "And I saw this as an opportunity to help build the wrestling industry in Washington." And so, after months of elbowing his way through crowds at wrestling shows and building relationships throughout the national underground wrestling scene, Perry started his wrestling company out of his own pocket with savings from his years as a designer.
Perry and Farmer sought from the beginning to create a thoughtful and stimulating product that could sit among the best independent brands in the genre. They cultivated the look, feel, and talent with two goals in mind: to provide a different flavor from their peers, and to give fans a show worth more than the cost of admission. "When you pay any amount of money for a product and the product doesn't deliver, it's easy for a fan to feel cheated," Farmer says. "We want to make sure we give the fans their money's worth."
Adding national talents like Georgia's Cody Rhodes (son of wrestling legend Dusty) and Los Angeles native Joey Ryan to the card helps justify ticket costs, since wrestling shows can be quite expensive to run. Facilitating local stars like the not-entirely-fit Mr. Fitness and thong suspenders-wearing air-guitar hero Eddie Van Glam affords local talents the two things Seattle wrestlers have heretofore had to leave the Pacific Northwest for: exposure and experience. And in delivering visually stimulating stage design and production for the DEFY On Demand service, as well as a compelling dramatic structure for its shows to complement its colorful cast of characters, DEFY has done in a short time what generally takes indie pro-wrestling promotions years to do: create a singular product with credibility.
"I sit here today not even six months after DEFY launched our first show, and struggle a little bit to reflect on it at this point. It's been such a rocket ship, and I'm just trying to hang onto it and keep it going up, and not crash into Mt. Rainier."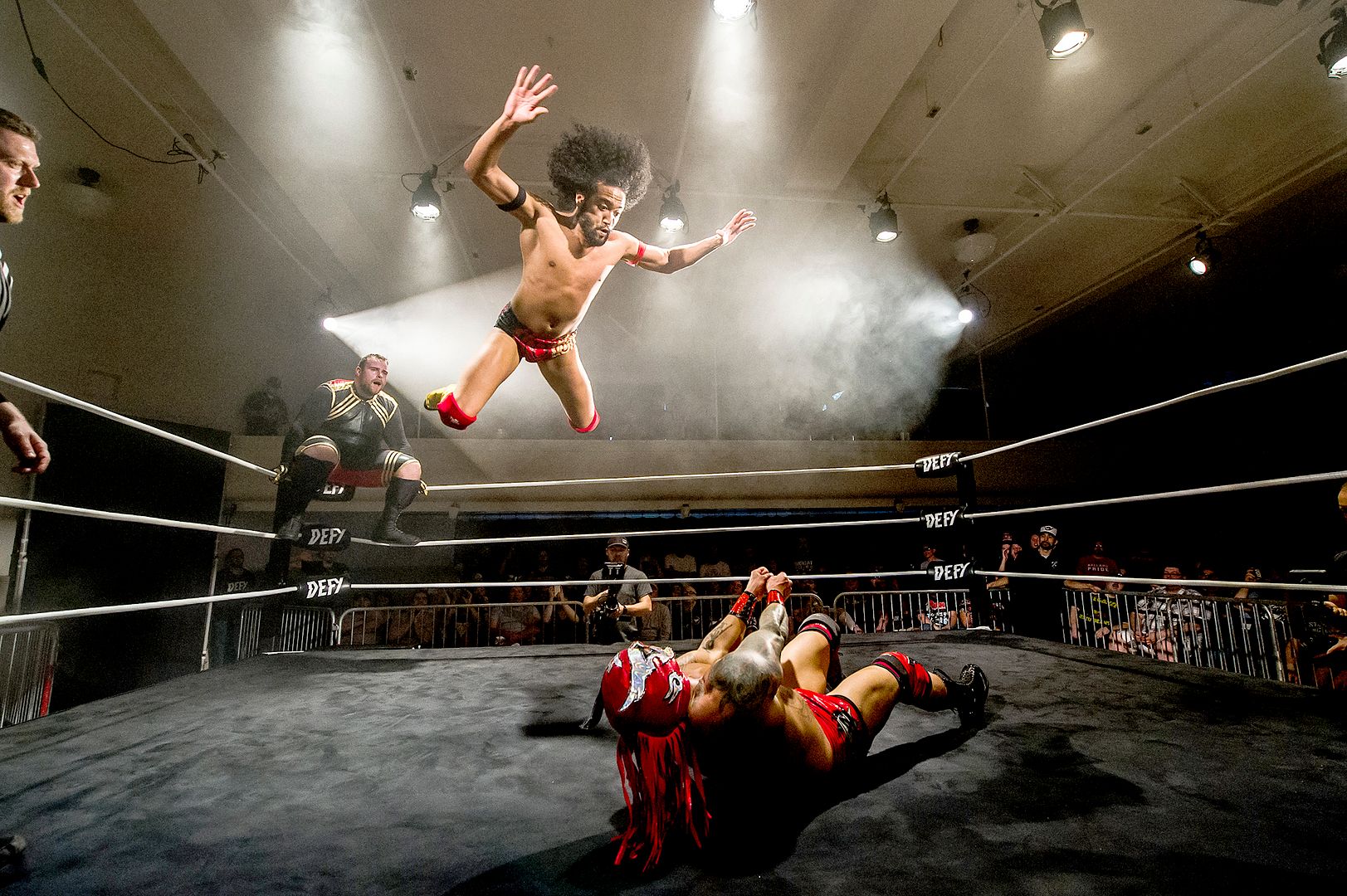 Carl Cunningham takes to the air in a tag team battle against Los Sexi Mexis.
Of all the art forms in the world, pro wrestling is arguably the most visceral. As much as it is derided as "fake fighting" and as little as the moves would make sense in the context of a real fight, a wrestling match employs unreal—equal parts impressive and nonsensical—physical feats that, mixed with a deft understanding of basic human psychology, can provoke an emotional reaction. Whether elation, outrage, or just pure disbelief, the entire purpose of a wrestling match is to elicit this response.
This formula is working well on May 26, as a rising start from Washington D.C. named Lio Rush slowly walks toward the ring at Washington Hall. He has traveled across the country to defend his newly won Combat Zone Wrestling World Championship against independent wrestling veteran Davey Richards. It is mere weeks since Lio first appeared at a DEFY event, fighting seasoned Tacoma-born wrestler Shane Strickland. That match was accompanied by an announcement that DEFY and Philadelphia-based Combat Zone Wrestling had entered a partnership. The relationship was forged in part by word of mouth from DEFY stars like Strickland, who had been working with the Northeast outfit for years.
The match between Rush and Richards begins with ringside fans showering streamers on the wrestlers in a tradition that goes back to 1970s Japanese wrestling. Though the competitors are primarily recognized as stylists of different sorts—Richards well-versed in submissions and MMA-style ground grappling, Rush a singularly talented high-flier—both approaches converge with brutal kicks that sound (and probably feel) like shotgun blasts. After a suspenseful, evenly matched contest, Richards walks away with the CZW World Championship belt. An array of emotions follows: praise for the Othello, Wash.-born Richards; disappointment at a heroic effort from Rush falling short; stunned silence for an unexpected result.
The expectation was that this title, which had been around almost 20 years, wasn't going to change hands anywhere but at a big CZW show—and certainly not in the far reaches of the Pacific Northwest. Wrestling promotions aren't usually known for breaking convention, after all. In the best art, however, expectations are often constructed just to be shattered.
"Once we saw an opportunity to do a mold-breaking story, we jumped on it," says Perry. "People don't expect the world championship of a super-well-known and legendary indie like CZW to change hands on a show some-odd 3,000 miles away from their home base. People expect Lio to take that title back to the Northeast, not drop it to a Northwest competitor in DEFY, no matter how established that guy is."
Lio Rush is thrown by Davey Richards.
Davey Richards has long been considered a polarizing figure in independent pro wrestling, but no one can deny his success. While some fans credit him as a pioneer of the MMA/grappling/brutal strike wrestling style now spread throughout the genre, others tend to think he takes himself far too seriously. Whatever there is to do in independent wrestling, Richards has likely done it two or three times.
Lending his talents to a Seattle-based wrestling brand carving its niche in a very fruitful independent wrestling panorama is a full-circle scenario for Richards. When he was starting his career, Washington had very few places for wrestlers to get an education; he had to travel the country and the world to gain experience. He attempted to give back to the art form, starting a wrestling school in Auburn where Mike Santiago trained for a spell. But it didn't take. "The [Seattle] scene was dead," Richards laments.
Now he and his wife—Angelina Love, DEFY competitor and one of the most decorated champions in women's wrestling today—are planning to move their family to Seattle from St. Louis, and he is looking into starting a wrestling school here. "Building a scene is paramount," he emphasizes in our e-mail exchange. "Seattle is sacred ground for me. I can't explain it, but I feel it. It's home. It's my home."
That feeling is shared by others who have been thrown against a DEFY turnbuckle or two. "Working with DEFY, I've learned you don't always have to escape your home to create something amazing," says Darby Allin. "The fact that this company is in my backyard is tremendous for the scene; we've all been longing for something like this to come along and change things. Do it yourself. Make your home where it's at."
arts@seattleweekly.com
DEFY 4: GIGANTIC (NIGHT 1), Temple Theater, 47 St. Helens Ave., Tacoma. All ages. Thursday, June 29.
DEFY 5: GIGANTIC (NIGHT 2), Washington Hall, 153 14th Ave. 21 and over. Friday, June 30.