Sweaty men in American-flag Spandex bounce into the ring to the tune of Backstreet Boys' inescapable "Everybody (Backstreet's Back)." The crowd chants, "USA! USA! USA!" as they pound their bodies into the wrestling ring. Patrons are inches away from the action, standing ringside with beers in hand. The ring rests in the center of El Corazon, located just off I-5 on Eastlake Avenue. On a typical night, El Corazon may house anything from metal to revivalist screamo acts inside its sticker-plastered walls. But every few months the 800-capacity venue hosts matches from burgeoning local wrestling company Project 42, founded in January.
"Indie Wrestling is this really dirty, gritty kind of thing," says local wrestler and Project 42 founder Ethan HD. "And you get to El Corazon, there's stickers all over the walls, the stage is beat up from people kicking it and slamming into it. I just saw it and was like, 'This is perfect for indie wrestling.' " The venue has been more than willing to host Project 42. HD notes that bookers were quick to reply to his inquiry, and even let him stop by in the weeks before their first event to take measurements for the ring. Yes, they bring an actual regulation-sized wrestling ring into El Corazon.
The unique setup allows Project 42 to stage these shows on their own terms. Typically, independent wrestling is an all-ages affair, but Project 42 has opted to keep their shows 21 and over, which gives the wrestlers freedoms that other companies and mainstream wrestling organizations like WWE don't. "If other shows are like Captain America: Civil War, then we're probably more like Deadpool," HD says.
As the WWE has become more kid-oriented with its PG programming and merchandising, Project 42 long for the days when Stone Cold Steve Austin would drive onstage in a pickup truck while chugging two beers. "To me, there's nothing more lame in a wrestling show [than] when a guy's like, 'I'm gonna kick your butt,' 'cause no grown man says that," HD adds. "We're kind of giving [fans] that edge back again." Given that El Corazon is already stocked with a bar, the crew saw no use in pretending it was something it's not. They welcome the libations and spirits, noting and joking that playing to a drunk crowd is much easier.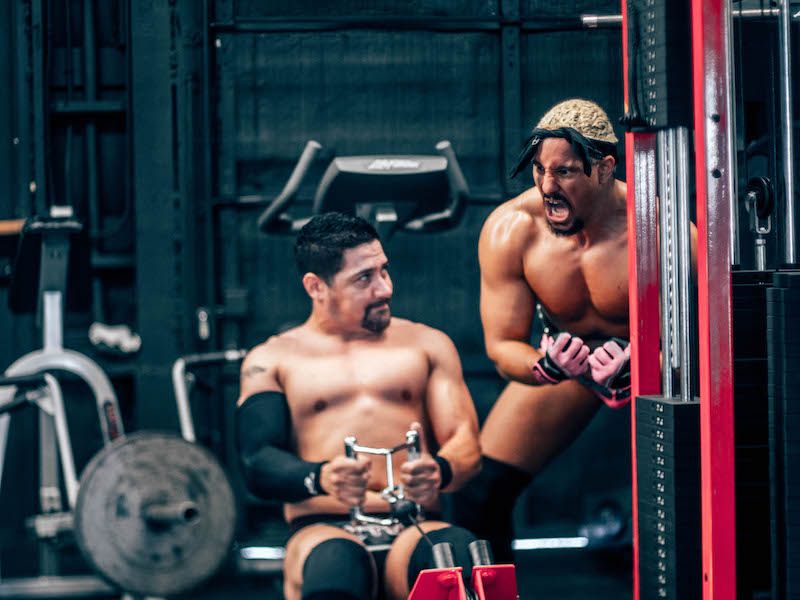 Photo by Dusty Henry
Project 42 is structured so that it more closely resembles a variety show than a sporting event. HD builds the evenings around main event-style matches, one at the beginning and one at the end, with an assortment of matches in between that include tag teams and comic bouts. One moment you might be watching a ghoulish man with white dreads drop a pink-Speedoed wrestler on his head; the next you'll have Gordon Shandling, a Ned Flanders-like character, berating the crowd for its sinful bloodlust. In the middle of all this is live music, typically hard rock or punk, using the El Corazon stage to its full capabilities. "The band thing came about because I was a big Saturday Night Live fan and I always thought the band broke up the monotony a little bit," HD remembers. "I thought having that musical guest made it feel more like a variety show."
HD also hopes that people who show up for the bands will leave as newly minted (or revived) wrestling fans. Having the events so spaced out also helps ease people in. WWE and even indie companies feature interwoven storylines to keep track of from match to match. Since Project 42 doesn't hold its matches as regularly as other companies, telling coherent stories between events isn't practical and might be off-putting to anyone who wasn't there previously. HD, James, and fellow wrestler Mike Santiago are already used to playing different roles during their ongoing traveling matches; in Canada, Santiago may be the heel to HD's hero, but in Oregon this may be flipped. For Project 42, they take inspiration from the Marvel Cinematic Universe. "I always look at booking the shows, since they're so far apart, almost as Avengers movies. There's one story arc that carries through the entire film and it's done, so it's all these people coming together for this one big event, and then when it's over, there isn't necessarily a 'To be continued', but you know when the next Avengers movie will come out," HD says.
Each show is completely self-contained, with the characters continuing without the stories. It's pure entertainment, as HD and the others say. It's also a labor of love. "The dream is to make money and make it a living, but the reality is there's really one place that you're gonna make money at it," Santiago says, referring to the WWE.
HD and the others say Washington State's Athletic Commission has made it difficult for local wrestlers not just to make money, but to perform in general. Most wrestlers, like HD, Santiago, and James, have focused on traveling to Canada, Oregon, and California, where they won't run into the same hassles. It's not cheap being a wrestler; many pay for their state-required yearly bloodwork and physicals out of pocket alongside the grueling process of getting a license to host shows. Yet HD and company have pushed through. "Everybody knows that wrestling is entertainment, but Washington state treats it like it's boxing, like it's mixed martial arts, so we have to follow the same regulations, the same rules, and so it just makes it difficult," HD says.
"We've had a local fan base in the past, but they haven't been able to see us for so long because the local shows stopped running," Santiago says.
"Now [our fans] have got a show again," James adds emphatically.
Lucha Libre Volcánica's show in South Park last July. GIF by Sofia Lee
However, Project 42 isn't the only wrestling company in town. Just a few blocks down the road from El Corazon is eVOLV Fitness—a boxing/kickboxing/Brazilian jiu jitsu/pro wrestling gym that hosts 3-2-1 Battle, an indie wrestling company similar to Project 42, and Lucha Libre Volcánica, which trains luchadores in the traditional Mexican style.
"[In lucha libre], the wrestling is a little different," Volcánica founder and instructor Jose Gomez explains. "You'll see that the movements are more fast, fast, fast, go, go, go. In wrestling, it's a little more talk." He proudly adds that Volcánica is the only lucha libre school in all of the Pacific Northwest.
Lucha libre is all about custom. As Gomez introduces me to La Avispa (The Wasp), the Northwest's only luchadora, she quickly explains a couple of ground rules as she finishes her pre-conditioning stretches. For starters: no taking photos of luchadores without their masks and no revealing their real names. When Gomez thinks a beginning wrestler is ready to start performing, he tasks them with figuring out their character and gear designs. The luchadores then send their designs to a mask-maker in Mexico. Each luchador's persona and look is entirely unique, never stealing an idea from another luchador or any other professional wrestler, stresses Avispa.
Gomez himself has a lifetime of experience in the ring. Born in Mexico City, he began training at 14 and made his ring debut at 16 under the name La Garra. He spent 25 years competing before moving to Renton. He put lucha on hold for about a decade until, he says, he came to a realization: "Why has no one made a lucha libre company here?" That was seven years ago. Since then Volcánica has grown from two students to 28, and been able to move out of their old Renton gym space—the size of a garage—to the spacious eVOLV, which is great for the discipline's traditional acrobatics.
"It's a hell of a workout," Avispa explains. "It's a combination of cardio and strength and endurance and speed and agility and flexibility and balance, and it's a workout unlike any other I've gotten anywhere else. On top of that, you get to perform and be a public figure once you're good enough."
GIF by Sofia Lee
Volcánica experiences the same restrictive regulations that Project 42 faces. Gomez cites as particularly detrimental the WAC requirement to have a paramedic and ambulance on site during matches for which tickets are being sold, which costs hundreds of dollars per hour—a cost that comes directly out of Volcánica's pocket. A Vice Sports piece from April recalls Volcánica running into a roadblock when they were hired to perform at a neighborhood event in South Park but weren't sure if they would be able to afford the DOL's regulations until the organizer, Bill Pease, received a $10,000 local arts grant.
Gomez considers Volcánica as more a hobby than anything else; he has a day job as a maintenance supervisor. His goal is to make enough to pay the rent, which is harder when they're doling out money just to hold their matches. Still, Gomez is optimistic for Volcánica's future. They've already begun to branch out of eVOLV, performing their athletic feats in South Park and the International District. Next year he will take five of his luchadores to Mexico City to compete.
"Maybe next year [we'll be] in KeyArena," Gomez says confidently. Lucha Libre Volcanica Triple Threat, eVOLV Fitness, 1317 Republican St., 294-5884, evolvseattle.com. $10 suggested donation. All ages. 8:30 p.m.
arts@seattleweekly.com