On April 24, a man named James Chan posted a cartoon to his Instagram account. It featured the head of a young white man with a speech bubble coming out of his mouth.
Inside the bubble, the text read: "My name is Graham Harper and I'm a lying piece of shit."
Beneath the photo, after a series of hashtags (including #pieceofshit), was a caption: "if you are a racist and a liar, society will find ways to justify your bullshit at the expense of your victims. Graham Harper isn't a hero. Graham Harper is a racist and a liar."
Chan, a graphic artist living in New York City, has never met Harper. And he would have no reason to know who the University of Washington student was if not for the events of one night more than two years ago, when Harper got into a fight with another UW student named Jarred Ha.
The details of that altercation have been argued over ever since, but in short: Ha stabbed Harper six times during the fight, was charged with first-degree felony assault, and was acquitted on grounds of self-defense. The acquittal came more than a year ago, in February 2016. Yet as Chan's cartoon shows, the case continues to draw wide, visceral interest. It has been dissected in law journals, gun blogs, and countless Reddit threads. It's been looked at through racial, self-defense, and media-bias lenses.
Even as both Harper and Ha attempt to move forward, the case refuses to recede into the past. For each interpretation that emerges, certain facts are magnified and others diminished. And through it all, the two men at its center have been made to feel as one-dimensional as Chan's drawings—cartoon props to make someone else's point.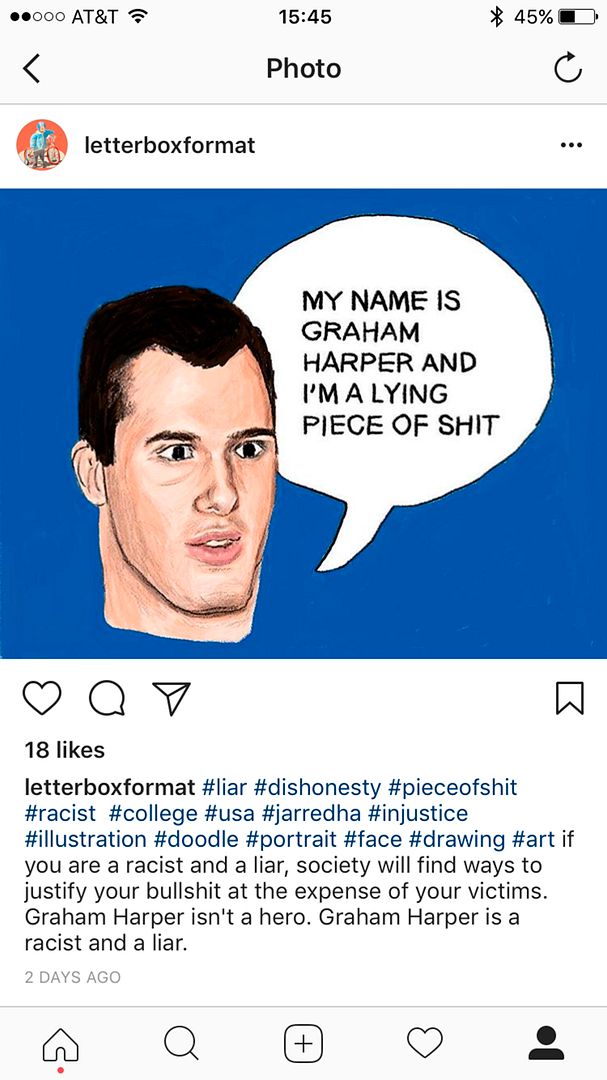 It all started in the early morning of January 25, 2015, when Ha and a woman named Maddison Story started arguing.
Both Ha and Story lived in the same apartment complex, and Ha was upset over Story's tendency to park her car at such an angle that it would take up two parking spots. He and some of his roommates had a nickname for her: "Cheap bitch." The night of the fight, Story and Ha happened to cross paths outside a house rented by a group of women's rugby players, where a party was taking place. Accounts differ on who hit whom first, but what started as a verbal argument turned physical, and two other women stepped in to help Story.
Ha says he felt mobbed and didn't know who was hitting him, or even their gender. Either while holding up his hands to block punches or throwing punches himself—accounts vary—Ha hit a woman named Victoria Shimizu in the eye, breaking her glasses. Harper, leaving the party at the rugby house to get Mexican food, came upon the scene, with Shimizo crying and holding her eye. By that time Ha had moved down the street, with Story nearby. Harper ran toward them saying something to the effect of "You don't hit girls." Shortly thereafter, Harper was left bleeding in the street.
He had been stabbed six times, in his inner thighs, the left side of his chest, and twice in his stomach. The stomach wounds left a part of Harper's intestine hanging out.
Harper at the time was a muscular 240 pounds; Ha weighed 170 pounds.
Ha claimed self-defense in using a knife, telling police that Harper was attacking him, slamming his head into a car, and that he feared for his life. Following an investigation by the Seattle Police Department, the King County Prosecutor's Office rejected that story and brought first-degree assault charges against Ha. That offense carries a minimum sentence of 117 months, or about 10 years, in prison. Ha was also immediately suspended from the UW.
In the immediate aftermath of the altercation between Ha and Harper, Harper was lauded as a hero. While he was in the hospital, his fraternity, Pi Kappa Alpha, posted a message on Instagram asking for thoughts and prayers for Harper. The Instagram photo showed Harper in his National Guard uniform at a Seahawks game. The accompanying message read, in part, "Graham Harper, who witnessed a man assault two women, striking each of them in their faces. After seeing this, he charged at the man and defended the women, upon which he received several stab wounds."
From there the story went viral. It was first picked up by national blogs oriented toward young men, with titles like Total Frat Move, BroBible, and BroTips ("redefining the bro, one tip at a time"). KIRO 7 then ran with the story, airing a piece titled "UW student stabbed 6 times defending woman." That led to a story in the UK tabloid Daily Mail, with the run-on headline, "Hero National Guardsman, 19, forced to withdraw from college after he was stabbed six times when he jumped to the aid of a woman who was being attacked by a road rage driver" (presumably the Mail was referring to the parking spot with the road rage statement).
To whatever degree Harper was made out to be a hero in the stories, Ha was in equal measure branded a villain. "It takes a real man like Graham to stand up to cowards attacking women," BroBible wrote. Harper himself called Ha a "coward" in an interview with Q13 Fox.
It was perhaps inevitable that a strong counternarrative would emerge, especially after Ha was acquitted in February 2016. Aided by the accounts of two unaffiliated witnesses who happened upon the scene, Ha's defense team successfully argued that his physical altercation with the women had ended by the time that Harper stepped in—which meant that Ha could claim he wasn't the initial aggressor with Harper, a prerequisite for self-defense. The jury also heard that Harper was drunk (his blood-alcohol leve was .13) and, according to the two witnesses, chased Ha down before Ha used his knife—a double-edged, hooked weapon called a karambit (Ha's blood-alcohol level was not taken that night.) The jury handed down a rare ruling, finding that Ha had reason to feel he was in danger, and thus did not act unlawfully in stabbing Harper. This meant the state had to pay Ha's legal bills.
Shortly after the verdict, The Seattle Times published a story about Ha's vindication and desire to get on with his life. It included an interview with a juror, who said of the trial: ""It was unfortunate Graham had so much physical capability and that Jarred had a weapon. But they were both young, inexperienced, drinking, and got in over their heads… . They got lucky that no one died."
The story also touches on the way the media had portrayed Ha before the trial, with Ha noting that he couldn't refute any of the accusations while he was facing prison time. The Times piece made no mention of Ha's Asian heritage, but the story was quickly snapped up by a number of Asian-American blogs. Ha was interviewed by one blog named Big Asian Package, and conducted an AMA with Reddit page r/Asianamerican. The Times story also made the rounds in concealed-carry circles, members of which saw Ha's case as an example of law enforcement's bias against people who defend themselves with weapons.
Like the initial coverage celebrating Harper, the coverage celebrating Ha ranged from straightforward to outrageous. Funker Tactical, a YouTube channel specializing in "guns&gear videos," produced a three-part series called "A karambit saved my life" about Ha's trial, sponsored by the company that made the knife Ha used that night. The video focuses on how Ha successfully built a self-defense case so that others who carry weapons may learn. Meanwhile, several bloggers argued that Ha was treated unfairly because of his race. "The [prosecutor's] office was willing to slap Jarred with the felony conviction … Now that it's the right thing to do with Graham, why are they so shy? White privilege much?" wrote the blogger at Big Asian Package. BAP also created a meme using a photo from Harper's Facebook page, showing Harper with a woman, apparently of Asian descent, at a music festival. Over the photo he wrote, in part: "no way am I racist because I … uh … I like inserting 'lil Graham' in Asian vaginas."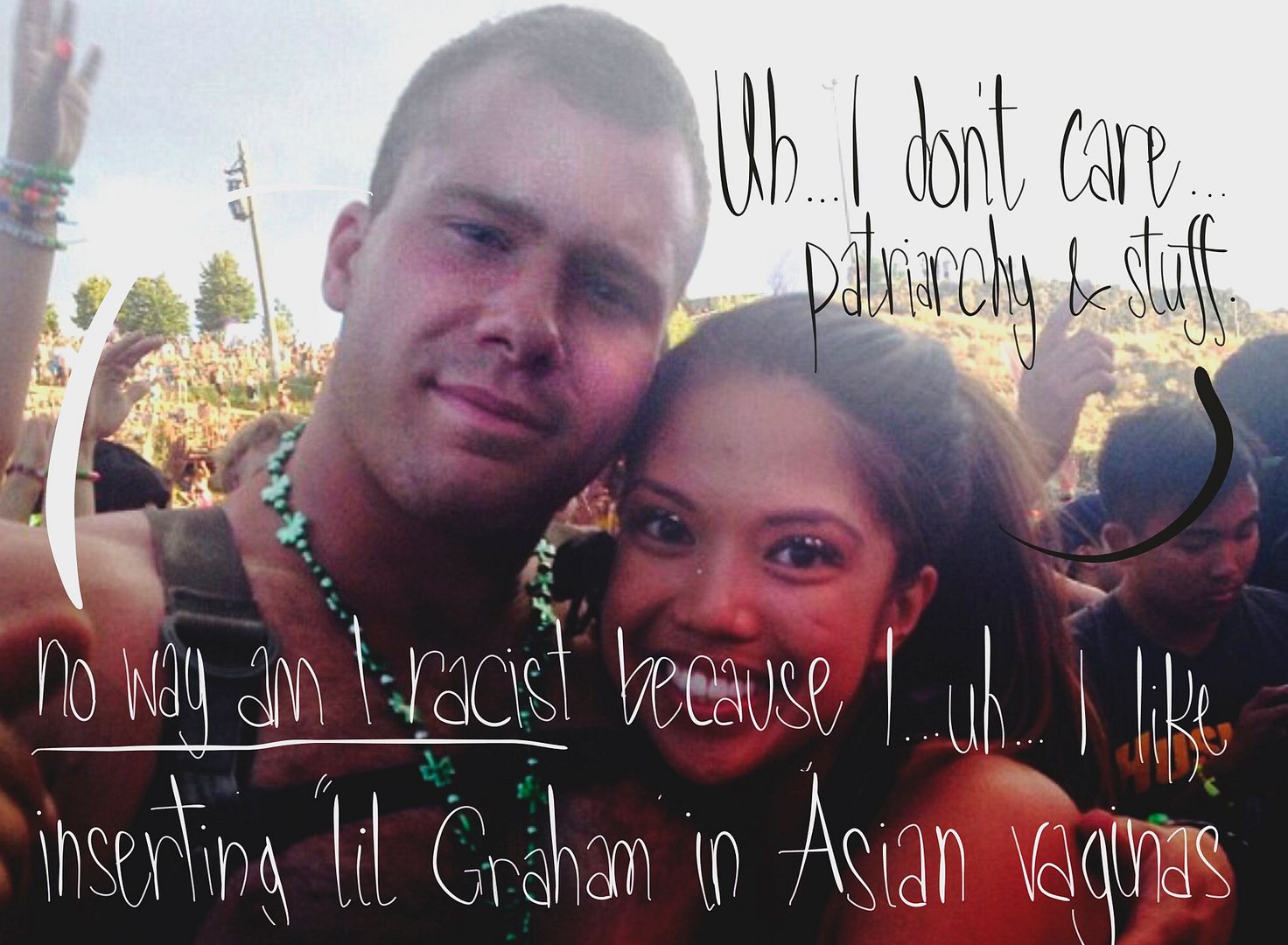 The case has also made it into academic circles. Last June, writing on the Michigan Journal of Race & Law's blog, associate editor Jennifer Chun took UW to task for suspending Ha while not disciplining Harper or Story. "Against the backdrop of an affirmative action debate in its relation to Asian American students, we should … wonder if our nation's colleges and universities are treating their enrolled Asian American students differently from their peers based on their race," Chun wrote. Later she added, "I could not help but wonder if the media coverage would still have been decisively against Ha had the two men been of the same race or had their races been swapped." Also last June, a man named James Gan published a piece on Medium, based on a paper he wrote for a class at Cornell University, discussing the role Ha's race played in the case. "I … wish to give a voice to Jarred as an Asian American, and urge readers to think about his case in the greater American societal context of the Asian American Middle Class and Asian Pacific American issues in general," Gan wrote in an introduction to the post. Among other things, Gan suggests that King County prosecutors tried to use Ha's participation in traditional Chinese dances as evidence that he was a trained martial-arts fighter, and goes as far as to suggest that Ha's prosecution is just the latest chapter in the Pacific Northwest's shameful history of discrimination against Asian immigrants, harking back to the lynch mobs of the early 20th century. Gan also notes that one witness to the fight testified that Harper used a racial slur, calling Ha a "fucking chink" as he waited for the ambulance. Harper says he has no recollection of this.
James Chan, the man who created the Instagram cartoon of Harper, tells Seattle Weekly that he sees a connection to the cases of other Asian-Americans who have been the subject of racist persecution. "I made my piece … because I can't ever forget about Jarred Ha's case just like I can't forget about Vincent Chin, Ronald Ebens, Danny Chen, Jun Yu, Xiaoxing Xi, David Dao, and the countless numbers of injustices I remember (which aren't limited to injustices toward Asians)," Chan wrote in an e-mail. "I wish I could go back to being ignorant of everything because it would be a lot easier to sleep, but I'm aware of what's happened; the weight of that will never go away. This is a burden I hope future generations won't have to deal with."
For Harper and his family, this narrative has gotten out of hand.
Now 22 and pursuing entry to graduate school, Harper has the bulk of a weightlifter. In an interview with Seattle Weekly, he chooses his words carefully while stating that race had nothing to do with the fight. He points out that the woman to whom Ha gave a black eye is also of Asian descent—a fact that goes unmentioned in all the aforementioned racial analyses. He further rejects the idea that the University or the prosecutor's office have acted in a racist matter, maintaining Ha was not acting in self-defense but is guilty of the crime he was charged with. His parents, Colby and Deborah, have compiled hundreds of pages of court transcripts and police reports in an attempt to understand where the case went wrong.
The Harpers key in on the part of Ha's defense stating that he was inexperienced with knives—so inexperienced that he says he wasn't even sure whether he cut Harper when he flailed at him that night.
The Harpers say this is untrue. By their telling, the man Graham Harper met in the street that night in 2015 was obsessed with knives and well-trained in using them. They point to the fact that, in addition to the knife he used that night, Ha had another 10 back at his apartment. The Harpers say that, far from being cut at random, Graham was cut with precision. The almost perfectly symmetrical gashes on his inner thighs, which came within a quarter-inch of his femoral arteries, and the twisting cuts to his abdomen run counter, they say, to Ha's contention that he only intended to "nick" Graham.
Harper's wounds from the fight. Photo courtesy of the Harper family.
The family also argues that Ha's conduct right after the altercation is suspicious. Rather than call police to say he was the victim of an assault and that he had to defend himself, Ha went home and told his friend to hide the knife he used. They note that while Ha testified that he asked a friend to take the knife because he was distraught and sickened by the sight of it, after the trial he went to the Seattle Police Department evidence locker and retrieved it. Why would he do that, they wonder, if he was so sickened by the sight of it?
Then there is the series of interviews that Ha did with weapons-training websites after the not-guilty verdict. The Harpers view these videos as a provocation, and are particularly upset with one Ha did with Gun News Weekly in March 2016, in which he was gifted with a set of karambit knives by the knife's maker, Lad Mandiola. Ha breaks out into a big smile when he learns about the gift. "I kind of thought he'd be like, 'Hey, I won, I know what I did. I'll let it be and, as he stated, move on with his life," says Harper. "It just brings into question, did you want to move on, or do you want to keep living this?"
The Harpers also feel the recent commentary on the case downplays how serious Graham's injuries were. The cuts sent him into critical condition with life-threatening injuries at Harborview. Complications from the cuts to his legs continue to cause him to suffer from dislocated knees. And the scars on his stomach are a sight. "Especially when I'm at a beach and I have a hole in my stomach and I get continuously asked, 'What happened?' … It gets old," he says.
The online harassment is getting to Harper as well. Since the acquittal, in addition to the derogatory blogs, he has been subjected to direct messages on Facebook and other social media. "One guy sent me a .gif of Dave Chappelle getting stabbed and saying, 'Haha I hope those stab wounds still hurt.' Another one said, 'White privilege doesn't work in the courtroom. It's 2016, bitch,' " Harper says. His friends have also been contacted; one received a voice mail calling him a "dickless wonder." In Thailand on vacation in April, Harper received a Facebook message from a man in Knoxville, Tennessee, that was simply a photo of the karambit-style knife Ha used against him.
The family feels Ha is responsible for some of the harassment—if not directly, then because of the interviews and videos he's participated in. "There's a question of whether he'll ever stop," says Graham's father, Colby.
Ha, obviously, sees the case differently. Now 23, he is quick to break into a smile during our 45-minute interview at a coffee shop in Paccar Hall on the UW campus. He was readmitted a year ago and revels in being back in school. "When I first walked through Paccar [after being readmitted], I kind of got emotional, like, I never thought I'd be back in this place," he says.
Answering my questions, Ha seems generally aware of the Harpers' complaints against him. This is in part because after the criminal trial, the Harpers sued Ha in civil court to cover Graham's medical costs. That suit was settled out of court with what the Harpers' attorney said was a favorable decision for the family. Ha says the civil case was covered by insurance and was out of his hands, but he still bristles at one demand the Harpers made in litigation: They wanted the knife Ha used that night. "Which I find odd," Ha says. "I think that was kind of like a really petty thing."
I tell Ha that the Harpers think he wanted the knife as a sort of macabre trophy. He shakes he head. "I'm not sitting here, praising or, like, worshiping an inanimate object. But the thing is, that knife saved my life… . That's not the only thing that saved my life. My guardian angels, the (two unaffiliated witnesses) who walked by, they definitely helped me. I can't thank my family enough, I can't thank my lawyer enough."
He's dismissive of the idea that he was trying to be lethal with the knife, and says he never formally trained with the karambit. "I just wanted to aim low," he says. "He chased me, and I didn't want to kill him. They can say femoral artery … but let's be real, the femoral artery? It wasn't like I wanted to get the femoral artery. I didn't want to get a lung or the heart or the neck so I aimed towards the legs … I didn't even know if I got him."
He also makes no apologies for the appearances he's made in the media. "We wanted to get my side of the story out there," he says, "because those [initial] articles, they were heavily one-sided, and we wanted the full truth out there, we wanted the full story. I'm not the type of petty person to go out just for pure spite, but I wanted to clear my name."
Regarding the racial commentary, Ha is careful not to make too big a deal about it. He doesn't think his being an Asian-American and Harper white was a "driving force" in the case—in the fight itself, his prosecution, or his school suspension. That said, doesn't regard it as a non-factor. "You know, it's all speculation—maybe things would have played out differently if I was as big as Graham or a different race. Who knows?"
He continues, "The martial arts that I did in high school was called the International Lion Dance and Martial Arts Team, so, if you don't know, a Chinese lion's dance is, like, you dress up in this big costume and go dance in front of restaurants to bring them good luck for the new year. [The prosecutor] was really trying to blow that up into something more than it was to make it seem like I was this lethal assassin out there."
While he says he doesn't harbor hard feelings toward the university for kicking him out, he does say that he'd like to see Graham Harper punished. "I'm not saying they have to kick him out, but just like in some way. Why let the injustice go? … It's kind of weird that they were so fast to jump on me. But I guess if they were to do that, they're admitting their mistake, and they just want it to go away," he says.
One of my first questions for Harper when we meet is why he wants to keep the case in the public eye. I began looking into the case when a representative for the Harpers reached out to say they felt there were parts of the story that needed to be told. Reviewing the material, I agreed it had some interesting facets, especially the racial interpretations. Yet I also recognized that leveling new charges against Ha wouldn't mitigate Harper's online harassment.
"Right now the narrative that's being told about me is riddled with everything from untruth to lies," he responds. "His testimony makes it seem as if I chased him down like a lion or something like that, whereas it wasn't a sprint, it was more of a hurried run, because I saw a girl yelling, crying, with [her] eye covered and a guy up in her face, and I'm just like, I would rather be in the middle of those two people instead of [her] taking more of the beating," he says.
While they attend the same university, Ha and Harper have seen each other only once since the trial. Again it was late at night, while both were partying. This time they were on Capitol Hill. Both confirm that they saw each other. Both confirm that they just walked away.
dperson@seattlweekly.com
This post has been edited to clarify that Jennifer Chun's article appeared on the Michigan Journal of Race & Law's blog.