On Thursday night a mob of damp people stood outside an at-capacity So Pitted show wondering aloud what this thing was all about. There were only 29 people in a venue that could, volume-wise at least, hold much more—but thanks to the fire code, only 29 tonight.
It was a weird sight for those of us who had watched the Sub Pop band take form at sweaty, packed DIY shows. But this was something different, the first night of the inaugural Upstream Music Fest + Summit, where the band had been given something of a headlining slot. As they played, a conversation started outside. "What is this?" people wondered aloud about Upstream. "Who is this for?"
These were questions I had too, questions the first night of tech billionaire and philanthropist Paul Allen's festival didn't quite answer. The festival was an ostensible boon to the music community thanks to its intense focus on showcasing local and regional talent—making up the vast majority of the 300 artists set to play in 25 venues through the next three days. But was it working?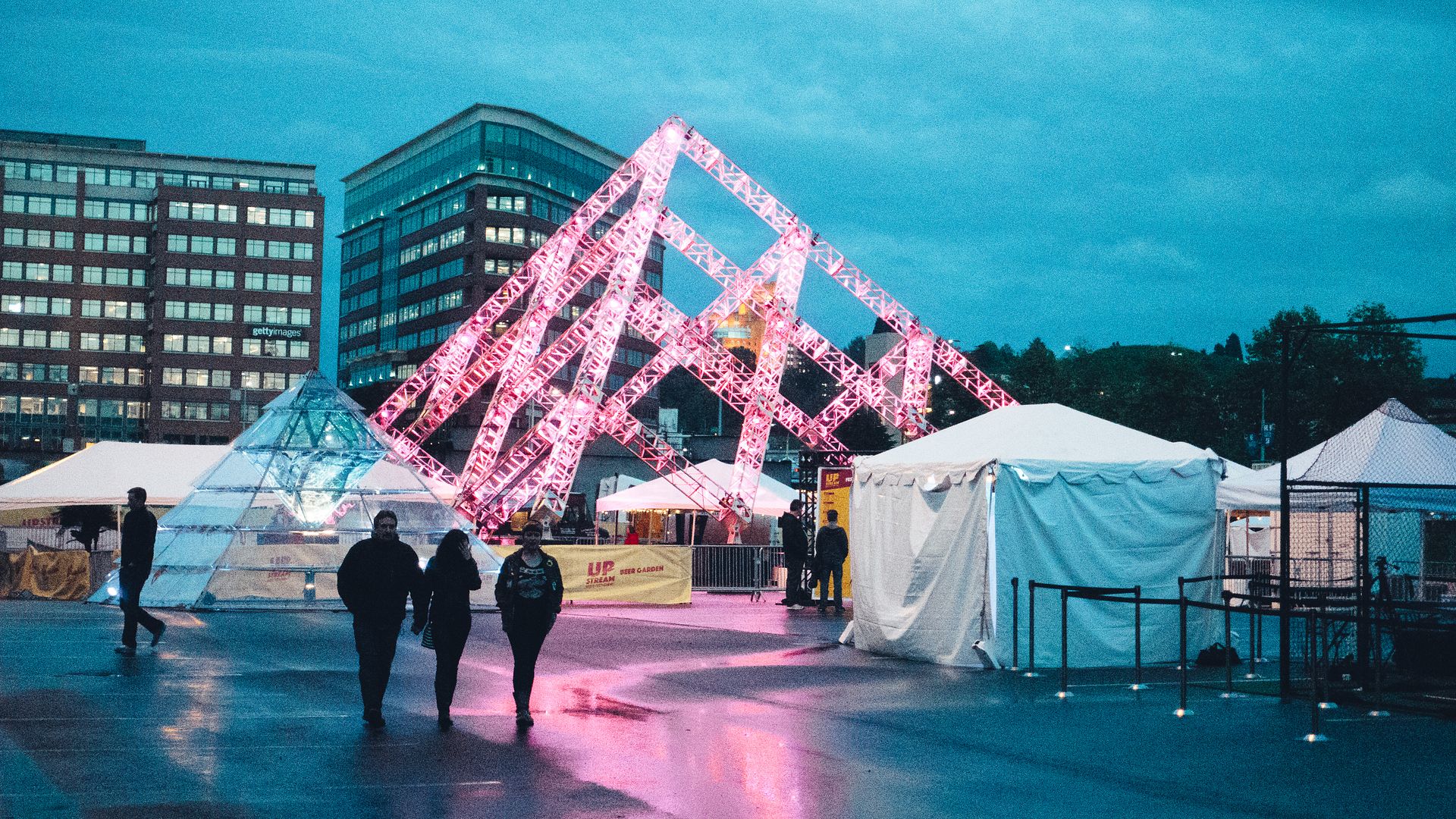 Pioneer Square, the neighborhood the fest was set in, was mostly barren—rumor had it due to poor ticket sales—and the people that were present on this inaugural outing seemed mostly to be the performers, friends of the performers, press, or folks who managed to score a free pass in some other way. The feeling was similar to Halloween night—a general air of mischief and fun with friends, the candy here being the fact that artists in our community were getting paid a decent sum to play to us, and we were roaming around to strange places like congee restaurants, sports bars, and some place called the "Buttnick" to see them.
The mob outside the So Pitted show was certainly having fun tonight. We had seen great shows. Guayaba's Afro-Cuban hip-hop/R&B lit up a basement full of smiling misfits; Charms' necromantic rock had gotten even the tense folks in the back of the Axis 2 art space to bob their heads; and Industrial Revelation had performed a moving, transportive jazz set in a glass atrium, charmingly misintroduced by legend Quincy Jones as "Industrial Revolution!" It was fun, but it was also very weird.
An hour earlier, I'd sat in the back of Stage Seattle nightclub, watching Tacoma rapper Ghoulavelli play a high-energy set of bangers to maybe five people. I would end the night eating free fried chicken in the completely empty press room, alone, as a video from festival sponsor Visit Seattle played in the background, an architect on screen talking about disruption and creatives.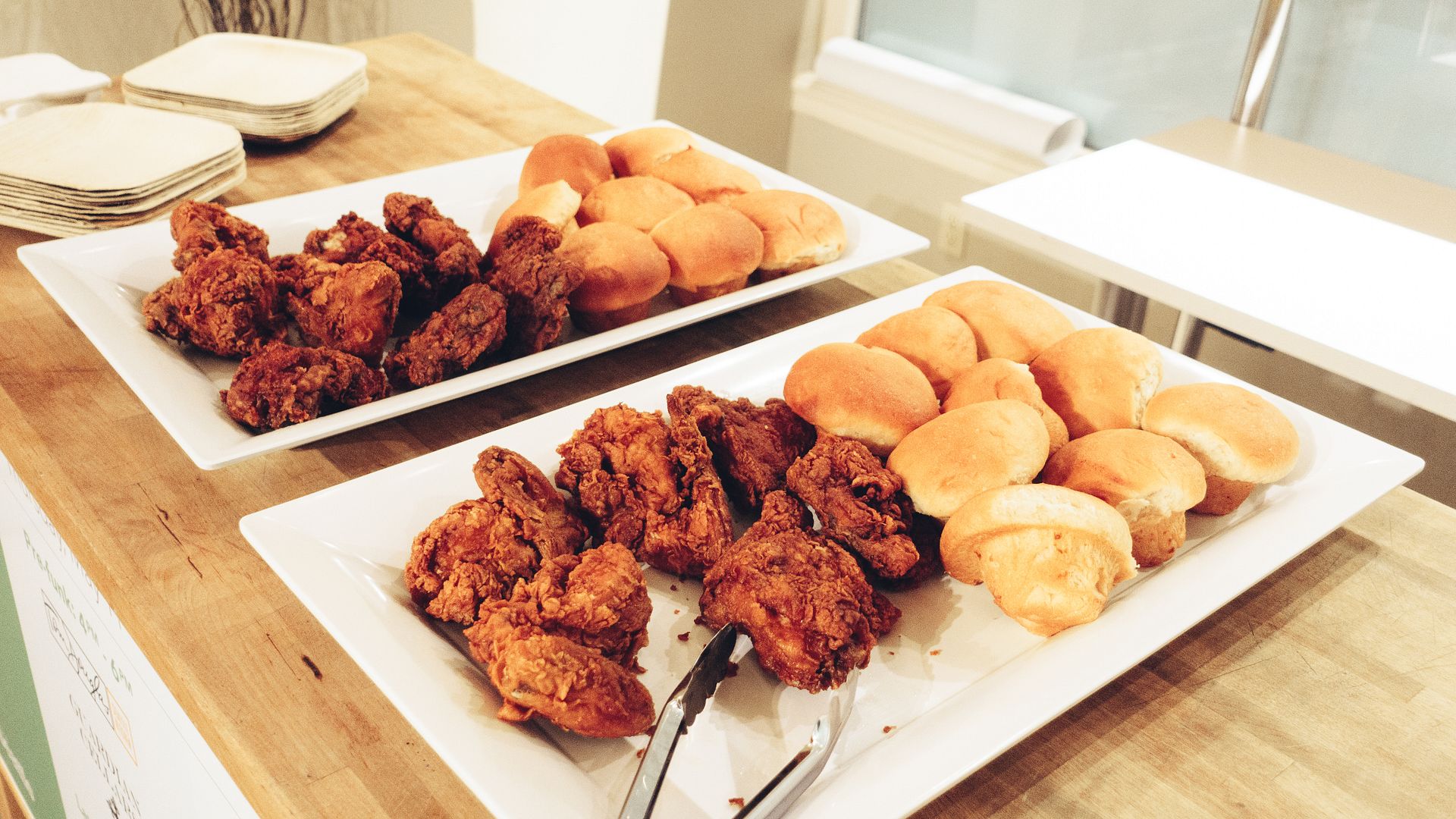 "Is this what we want?" I kept asking myself. "Is Upstream what Seattle wants?" I thought back to one conversation outside the So Pitted show with someone wearing a duck hat, a duck backpack, and assorted duck accessories who introduced themselves as Quack. "I was excited for this because the lineup reminded me of early Bumbershoot," they said. "A bunch of my favorite local bands in one place, some cool headliners, and the ticket price isn't too bad." I felt mostly the same. But the Bumbershoot of yore wasn't put on by a tech billionaire's real estate/investment/management company—one that many artists have spent the past five years loudly and vocally railing against.
I finished my chicken thigh and went home feeling conflicted.
Friday night felt a lot more like early Bumbershoot. For one—people showed up this time around.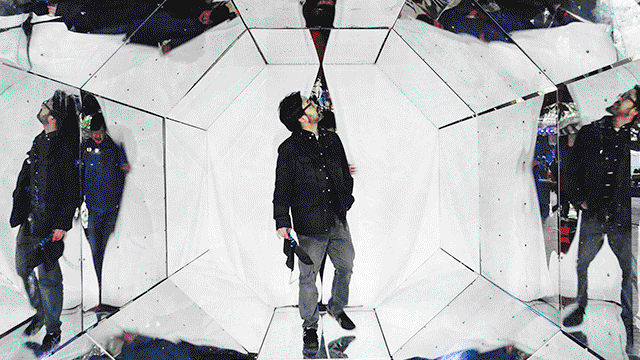 The Comedy Underground was packed to the brim for Dude York's triumphant riffage. People were dancing and singing along to the lyrics—to the lyrics of a local band. I felt proud of them, and Seattle. I thought "it would be cool to see more shows in the Comedy Underground." DoNormaal's dreamy set in the Court in the Square was also packed. People were singing along—to the lyrics of a local rapper. I felt proud of her, and Seattle. I thought, "It would be cool to see more shows in this weird glass-covered lobby." I saw Tacoma's ILLFIGHTYOU in Trinity Nightclub. People were moshing, pogo-ing, and singing along while the DJs laughed from their ornate vaulted booth. I felt proud of them, and Tacoma. I thought, "It would be cool to see more shows in Trinity Nightclub." I've never had any desire to go inside Trinity Nightclub, and here I was dreaming of a future that included it.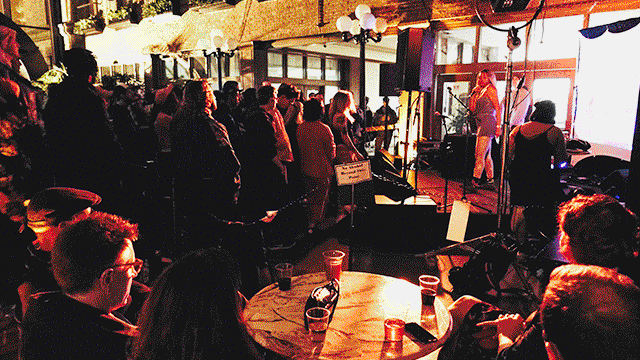 Standing in the rain on the steps of CenturyLink field, I looked out at the crowd as Flying Lotus remixed the Twin Peaks theme song over an incredibly nice sound system to tripped-out multi-layered projections. I watched vape clouds slowly pillow out from the large, Gore-Tex swaddled crowd. I thought about how vaping, as much as we make fun of it, is probably here to stay. Solowheels, of which there were many at Upstream—maybe not. But vaping, yes. Maybe this is who Upstream is for, I thought. For the people the arts community makes fun of, the archetypical "tech bro," the one who needs to "do more for local culture and art." They—like vaping—are here to stay. So what do we do with them? Isn't Upstream what we said we wanted? Local artists, getting paid with Seattle's bountiful tech money to curate stages and perform, thereby theoretically transforming "tech bros" into ardent fans and "activating" neighborhoods in the name of culture? Maybe.
I thought back to what Quack said about early Bumbershoot. When it began way back in 1971, Bumbershoot was a city-funded, free arts festival, meant to bring cheer to an economically depressed Seattle by showcasing local artists. It grew exponentially in the four years it received government grants, from 125,000 visitors to 325,000 visitors. "What if Upstream were publicly-owned?" GIF photographer Sofia Lee and I wondered aloud as we left CenturyLink. Maybe it was a silly idea. But, in the end, we concluded that Upstream was effectively the neoliberal Bumbershoot, a trickle-down festival that could only result from the kind of unregulated market that enables the existence of billionaire philanthropists like Paul Allen, and that has made Seattle such a difficult place to live for the artists being showcased. No matter what, I couldn't shake the irony.
Fun, but, weird.
I went back to the press room, which was now filled with people. I thought about the City Council starting a push this month for a new city income tax on the rich.
I ate a free artisan s'more prepared with a bespoke butane torch wrapped in burlap, and went home feeling conflicted.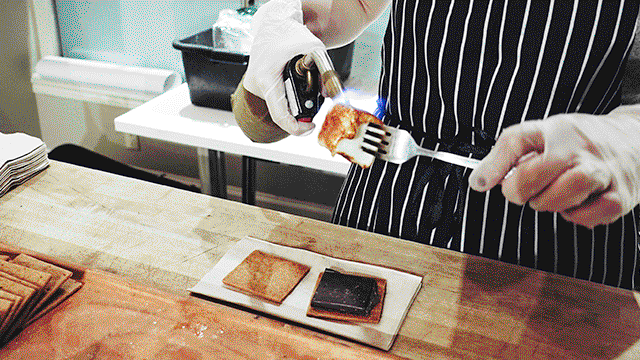 The last day of the festival began with a small protest. In the weeks leading to the fest, scheduled Upstream artists banded together with community groups in the Central District and South end to petition Paul Allen for equitable development on two of Vulcan's largest upcoming redevelopment projects—the Promenade at 23rd & Jackson, and Yesler Terrace. I received a message that the group behind a related series of "Displacement Rallies" in the Central District would be staging a guerrilla concert at Upstream too, fifty yards from the box office.
I found the group, members delivering speeches between spoken-word performances and rap, making a point of not blocking the walkway for passersby. Few stopped to listen. I asked one of the Displacement Rallies' chief organizers, Geneiva Arunga, if Upstream had responded to their letter in any way. She informed me they had given the letter-writing group 100 free passes to the "Summit" portion of the festival—a convention meant to help musicians navigate the "new music economy"—"which is cool, but… I don't think there's really been much of a reaction. They're not bothered, you know what I'm saying? I'm just… I dunno, I'm scared. I don't know what the situation is going to be."
I left and went back to the glass atrium where local singer-songwriter Ings put on a performance that was so beautiful, I was almost moved to tears. I saw up-and-coming Seattle rapper Taylar Elizza Beth perform songs from her upcoming new album I'm very much looking forward to, and got even more excited for it to release. "Damn," I thought, "she's such a fun performer to watch" as she danced and fit her facial expressions to every new emotive line she whispered, rapped, or sung. She took a moment to thank Upstream for giving her the chance to perform alongside some of the most amazing performers she knows—her friends. I looked around, and many of those performers, including the producers who worked on her new album, were there, beaming back at her. That's nice, I thought. The hip-hop community here is so stacked, it's going to blow up any day now.
I went back to the buzzing press room.
I ate three free kalua pork sliders.
I went home feeling conflicted.
ksears@seattleweekly.com