Seattle's Björn Miner, 24, didn't start drawing comics until after he graduated from high school. "I didn't really have any other plans or anything else to do. All my other friends went to college," he says. So he started working in a Greenwood toy store, where he met co-worker and local cartoonist Ben Horak.
"It kind of opened my eyes that people were even drawing comics anymore," Miner says. But last week he was featured among titans of the form like Joe Sacco, Gabrielle Bell, and Gary Panter in the newly published 2017 edition of the Best American Comics anthology. The feature is the cap to a wild year that found the young artist proclaimed a favorite by alt-comix star Simon Hanselmann of Megg, Mogg & Owl fame and working on Fantagraphics artist Dash Shaw's feature-length animated film My Entire High School Sinking Into the Sea, featuring Jason Schwartzman and Lena Dunham in voice roles.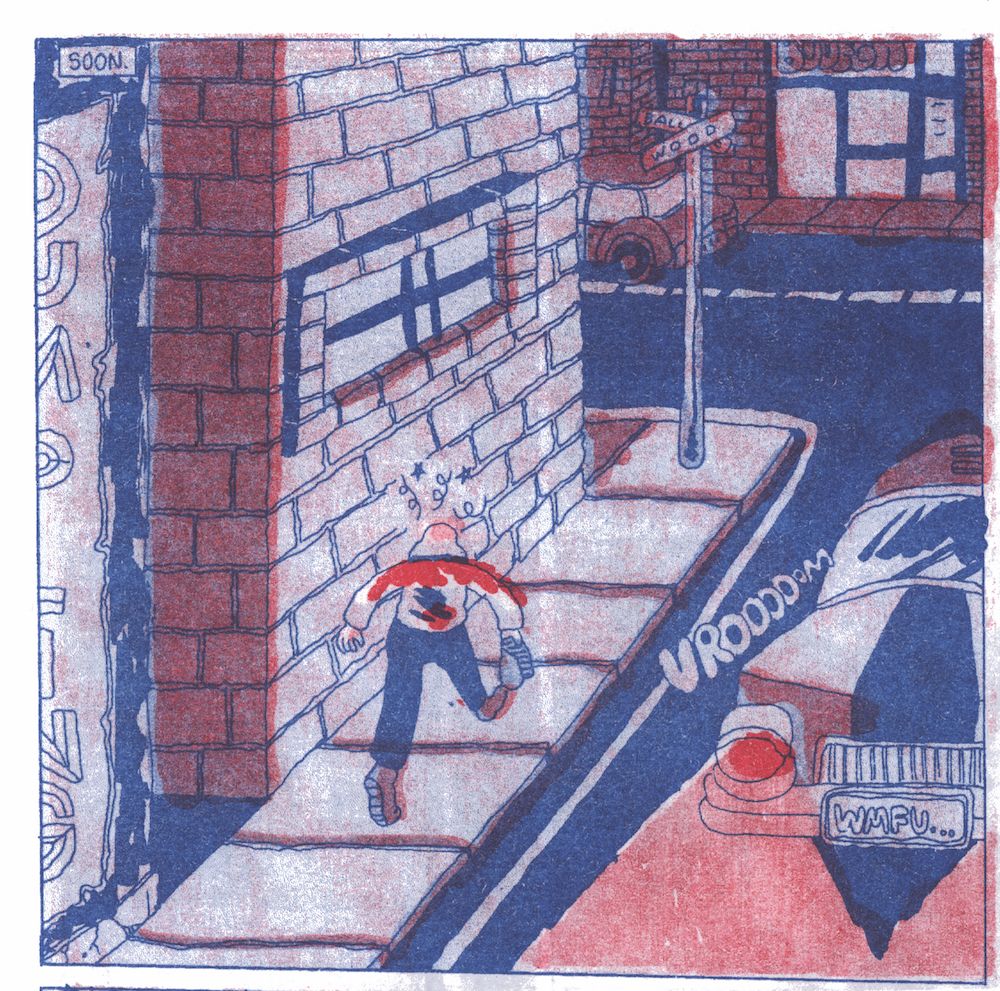 The first thing that leaps out about Miner's comics is his mastery of cartoon physics—characters' arms spindle out in exaggerated noodles or massive clenched fists, just as expressive as their putty-like faces. "I definitely arrived at my style from copying lots and lots of people," Miner says, "I don't even know who to thank anymore." Adventure Time's take on rubber-hose animation was a major factor, but narratively, he says, manga played the biggest role in shaping him. "I think it was the emotional weight," he says, "and how mundane some of them are," citing Hikaru no Go, a manga about playing the Chinese board game Go, as a major influence. "Because my stories are drawn so cartoony, I want the narratives to be more realistic."
Miner's Swampson series, an excerpt from the third issue of which is featured in Best American Comics, has slowly but surely merged those two dichotomous influences into a strangely affecting drama. The series stars Lubis, a half-teddy bear/half-human creature, and Gus, his best friend with an odd, hat-shaped head, who was created out of a stick of chewed-up bubble gum (though, as Miner notes, he never actually mentioned either of their backstories in the comics, only obliquely nodding toward them).
At first Miner had the two engage in fantastical, nonsensical stories, living in a lighthouse and being visited by a magic horse. As the series progressed, he began toning down the magical elements and instead placing his bizarre characters in more lifelike situations, letting his style's inherent surrealism speak for itself. In Swampson 3—the first of what Miner considers the "modern version of Swampson"—Lubis has his favorite hat stolen by a stranger who insists it is actually his, egged on by Gus, who lies and says yes to the stranger's probing questions about the hat as a joke. The drama is based on a real-life story between Miner and his friend, who were approached by a group of strangers asking if he'd found his hat on the ground at a concert. "I was like, 'Yeah, were were at that concert!' 'Yeah, didn't you find it on the ground?' " Miner says, "then, because of me, they were convinced it was their hat, pulled up in a car, ripped it out of [my friend's] hands, and drove away with it. It was pretty weird." Out of the quotidian hat drama, Miner manages to wring emotional insights into the nature of friendship, insecurity, and redemption, the humor primarily emerging from his drawing rather than any overt gags.
"I don't really have the ability to draw a normal human figure or good backgrounds," Miner says, "I can't draw perspective, so everything has to look really cartoonish." Despite that, he learned how to "properly" draw in his cartoonish style after attending "comics college" at The Sequential Artists Workshop, where he was recruited by Dash Shaw as an intern on My Entire High School Sinking Into the Sea. Miner ended up animating a 50-second dream sequence in the film by himself, spending a grueling three months drafting its "something like 500 drawings" by hand. Despite the intensity of this experience, Miner is hoping to get into animation in the future, angling for a "dream job working for Cartoon Network" as a storyboard artist.
In the meantime, he's finishing his first graphic novel, about an up-and-coming pinball master, and relishing in his Best American Comics inclusion, much-deserved payoff after some recent disillusionment with the immense effort and time comic art requires. "When I finally saw the book, I saw that my teacher [at the Sequential Artists Workshop] Tom Hart got a notable mention. I texted him about it, and he was like 'I didn't even get into the book this year!' "
Read more of Miner's work at swampson.com. Best American Comics 2017 is out now from Houghton Mifflin Harcourt.