Porter Ray Sullivan's Beacon Hill home is overflowing with books. The couch, the desk where he records music, the chairs scattered around the living room—each has a precarious skyscraper of literature stacked upon it. On his coffee table, next to an ornate Egyptian-themed chess set with golden pharaoh pieces, teeters a stack topped with Noam Chomsky's 9-11, underneath which lie tomes on philosophy and spirituality.
"I read all the time," Sullivan says. "After my dad passed, I started reading a lot more about spirituality, different religions, studying about what the next life is going to be. What's our purpose here? Just trying to make meaning out of my father's passing."
Sullivan is best known to Seattle and its music community by his first two names, Porter Ray. His lush take on hip-hop and his literary approach to rapping got him signed to Sub Pop in 2014, one of the first acts chosen by the label's then-new A&R man, Ishmael Butler of Shabazz Palaces and Digable Planets. In March, his long-awaited debut on the legendary local label, Watercolor, will finally see the light of day. But Porter Ray never had any intention of getting signed or hitting it big with his music. "I didn't ever set out to get a record deal; there was no master plan, really," the 28-year-old says. "Only to make rap music and express myself through rhyme. It became that way out of necessity because of certain traumas that happened in my life. I had to communicate them and get them off my chest. The music was my therapy. It was really those traumas that set my music in motion. Then random people started saying they liked my music."
Growing up in the Central District, Porter Ray's early childhood was breezy. His mother, an educator, and his father, a lawyer, sent him to private Catholic school from kindergarten to eighth grade. "I was fairly privileged," he says—well-supported in his early academic career as well as in his budding athletic career in basketball and track, where his father took a lead supporting role. Coming from a record-collecting musical family, he took an early interest in hip-hop music and culture at age 7 thanks to exposure from his cousins, who played him tracks from Bone Thugs-N-Harmony and Da Brat. "I would memorize lyrics and recite them as I was walking through the hallways at school," he says. "It was a game I'd play, a confidence-booster. It made me feel good." Paired with his early aptitude in language-arts classes, where he enjoyed writing short stories and poems, he started to write his own lyrics as a hobby, especially attracted to the mentor-like, storytelling quality of rappers like Nas.
When Sullivan turned 12, his family got the news that would radically alter their lives: His father was diagnosed with multiple sclerosis. "I knew he was going to pass away and that it was something that was progressively happening," Sullivan says. For four years his father's health slowly declined, checking in and out of the hospital and nursing homes more and more, forcing him to work less and less. When Sullivan turned 16, his father passed away.
"My childhood… it was like going from one end of the spectrum to the other," Sullivan says. "We became a single-parent family structure, and my mom, as an educator, wasn't making large amounts of money. She's suddenly supporting me, my little brother, and my little sister without a father." Confronted with death and without the support of his dad, Sullivan rapidly lost interest in sports: "I didn't have anyone to play for anymore." He started focusing more on art—where he found he could express himself. "I didn't realize at the time that it was out of necessity," he says. Soon both he and his younger brother Aaron also lost interest in school. Porter didn't graduate from high school his senior year, partially, he says, because he had bigger things on his mind. "My dad's death took a toll on our mom in a lot of ways," Sullivan says. "Me and my brother took it upon ourselves to figure out ways we could help provide. I guess we were all kind of tiptoeing around this lifestyle of being in and out of the streets and trying to make money in illegal ways and just living a lifestyle that I guess I woke up from."
The wake-up was especially tragic. On July 22, 2009, Porter's brother Aaron, then 18, was driving some friends around Leschi. Earlier that day, those friends had gotten in an argument with a few other teenagers at Lake Washington, an argument Aaron personally had nothing to do with. Later that day, Aaron and his friends were hanging out near a house on 32nd Avenue South when Tristan Appleberry, a friend of the group on the other end of the earlier argument, came out with an AK-47. He fired a single bullet as the car full of friends was driving away. Aaron was hit in the back of the head and killed almost instantly. Appleberry was sentenced to state prison for 20 years.
"Losing my brother really fucked me up," Porter says. "It's not like we were in gangs or anything like that, but having my brother murdered and, at the same time, some of my friends were going to jail, I'm looking at my life and the shit in the lives around me and saying 'This isn't right.' "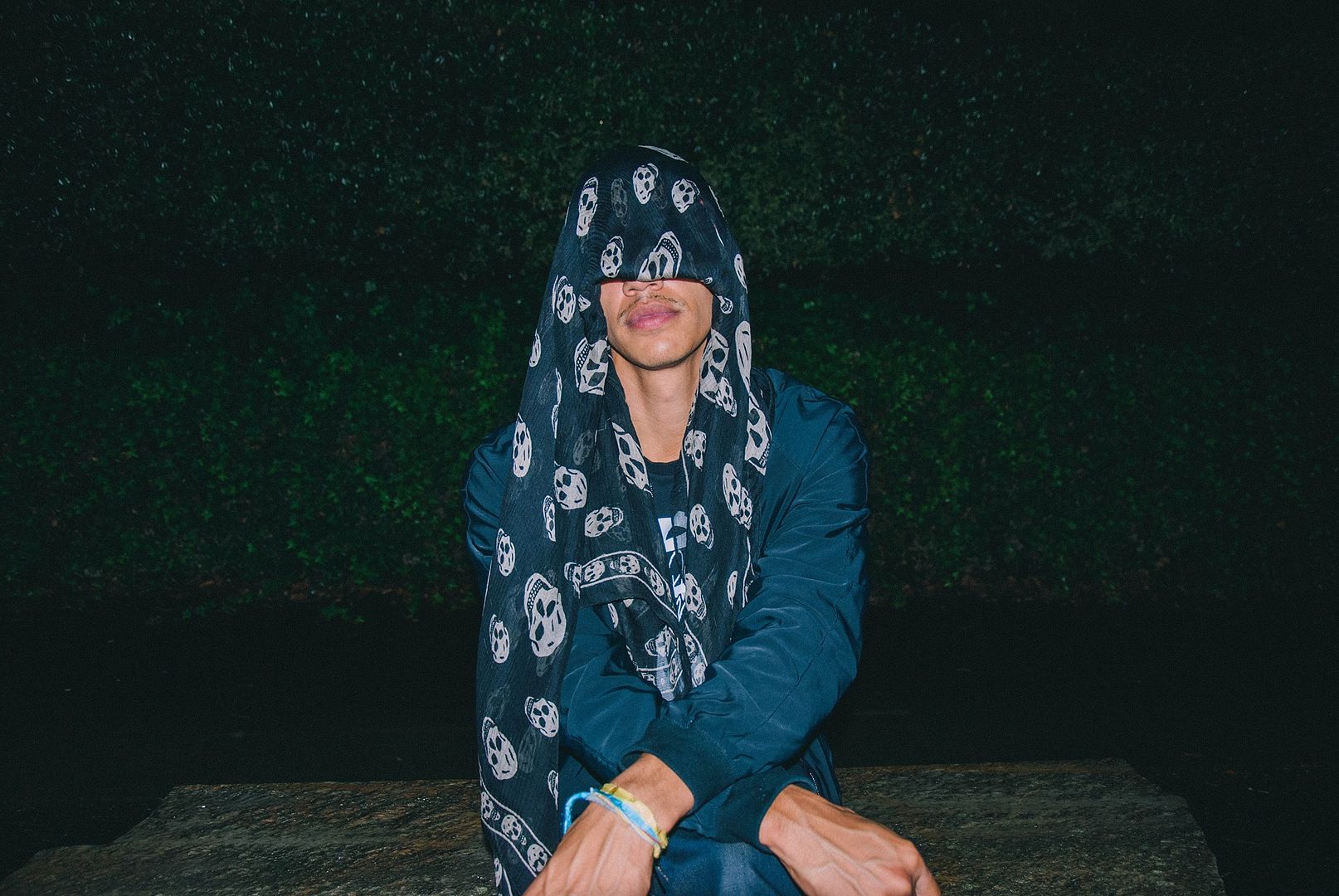 Photo by Jay Scroggins
At 21, Sullivan found himself getting requests to speak on gun violence at gun-control rallies and meetings around town, having to talk about his brother's murder—an incredibly emotional subject—in front of large audiences. "For the most part it wasn't something that I wanted to talk about," he says. "But I think it kind of set me up to express myself and these things through music." Porter decided to buckle down and start seriously pursuing rap music as a way to talk about things. Beyond the gun-violence speeches, he found himself baring his soul for audiences he didn't anticipate at his friend Cesar's house as well. "I started recording with him at different apartments and houses he'd be renting," Sullivan says. "He didn't have a booth—it would just be a mic in the middle of the room—but there were always, like, 10 to 15 people at his place all the time—just so many people around. There was nowhere for me to go, so everyone just had to be quiet for like 30 seconds, let me spit my verse, and then everyone could talk again. And then some of those people started telling me they liked the way I rapped."
Sullivan started accumulating hundreds of tracks, partnering with both old and new friends who produced beats to provide the backing. Encouraged by the reception at Cesar's house, he started sending the music to friends and mentors, including his "unofficial older brother," artist Maikoiyo Alley-Barnes. Sullivan, who was working at Alley-Barnes' Capitol Hill mixed-use gallery, Punctuation, at the time, quickly fell in with his close circle of artist and musician friends like THEESatisfaction and Shabazz Palaces—who would go on to form the celebrated Black Constellation collective. Alley-Barnes introduced Sullivan and his music to industry vet Geoff Gillis, who saw enough promise in the young artist to take him under his wing and become his manager. Together they began curating tracks from Sullivan's mountain of music to put together his first proper record, 2013's BLK GLD. Its jazzy, sample-based production and scholarly flow struck a chord in town, in part because it sounded so of its environment. "Being a hip-hop artist from Seattle is very important to me," Sullivan says. "Everyone's heard the hip-hop sounds from other parts of the country, so it's really important to me to represent and implement my own ideals about what Seattle's sound is—jazzy, earthy, and damp—and also the story I'm trying to convey, because I was born here. I want the music to be rooted here."
That Seattle sound, and the up-and-down life story that took place here, is something Sullivan continued to refine and refine through the five high-quality EPs he would release in BLK GLD's wake, consistently working with the same crew of four local producers: B-Roc, KMTK, DJ El Grande, and Tele Fresco. After getting signed by fellow Black Constellation member Ishmael Butler, anticipating his first major-label LP, Sullivan decided to keep the crew of local producers but tweak the formula in one crucial way: Watercolor wouldn't feature any samples. The choice was in part a path-of-least-resistance move—samples are difficult and expensive to clear. But it was also an artistic choice: Sullivan wanted to see how his producers would conjure a Seattle sound without being able to flip through record crates for source material.
The result is a gorgeous 14-track epic befitting its name. Swirling with atmospheric synths and smart, left-field rhythms that echo and ricochet with a weightless, cosmic quality, all held down by the rich, soil-like soundscapes that glue the album together, Watercolor manages to call back to Porter Ray's jazzy roots while pushing the Seattle sound more than a few notches forward. But what's most captivating about the record is the elegiac but hopeful story it tells—the story of Porter Ray's life. "Up until Watercolor, you've kind of gotten my story through my music, but on this album, I really wanted to give the backstory on who all these people are, what they mean to me, how I feel about it, and dig deeper."
The voice of Porter's mother, Debra, begins "My Mother's Words" talking about the difficulty of achieving your dreams, especially when they seem so far away. "Careful you signed your deal, success will blind you still," Porter raps, seemingly warning himself not to lose sight of what got him rapping in the first place. "My mother warned me of the many dangers I'd come across on my hunt for glory."
"Sometimes I wish that your bullet had been meant for me," Sullivan raps about his brother Aaron in "The Mirror Between Us." "Fucked me up cuz you act just like me, wore your hat like me, talk just like me." Two songs later, a different Aaron closes the track. "I love you, Mommy!" Sullivan's toddler-aged son Aaron tells his mom over the phone after she sings to him through the speaker. Aaron was born on Jan. 12, the day after the anniversary of Sullivan's father's passing. His mom, Joy, was born the same day Sullivan's brother was murdered. "It's been a very spiritual experience," Sullivan says; "things like that heavily influence my spirituality in terms of understanding there's more to it than just this."
A month after Sullivan signed his Sub Pop deal, his son Aaron's mother was sent to jail for eight months, leaving Sullivan alone with him while he was just starting to dig into Watercolor's creation. "It was difficult to juggle taking care of my baby, recording, and performing. I missed a touring opportunity with Shabazz and going to Europe. But in the long run, it prepared me even moreso for right now. I got to redshirt for two years, but now I'm fuckin' ready for my rookie year and the many years ahead," Sullivan laughs.
And as Sullivan prepares to finally release his greatest work thus far and tour the country promoting it, he's noticed another new story starting as well.
"Growing up in the studio recording with me, Aaron likes to rap and sing now," Sullivan smiles. "He's memorizing lyrics like I used to." Watercolor is out March 10 on Sub Pop. ksears@seattleweekly.com