It's easy to groan about Capitol Hill Block Party. Yes, it turns a crowded, rowdy, sweaty neighborhood even more crowded, rowdy, and sweaty (see grumpy dude above). It's also not immune to corporate festival weirdness, like the sad, empty Sahale Snacks® "please try our fancy nuts" sample tent. Or the even larger, emptier Newport Cigarettes® fortress (we tried to go inside but were turned away—"smokers only").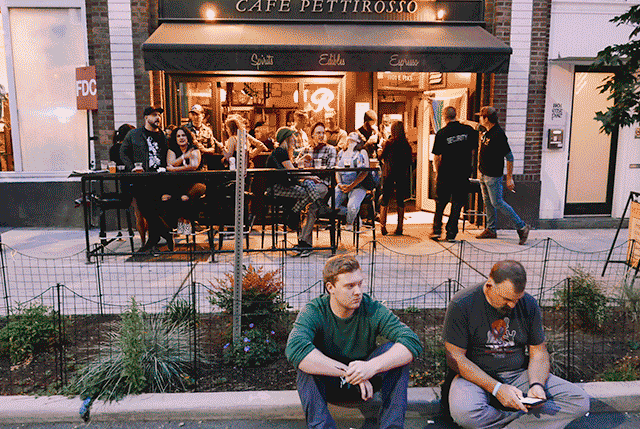 Coming into the festival this year, I was honestly unsure what to expect. Capitol Hill's reputation as the center of weird and interesting has taken a considerable blow over the past few years thanks to all the usual suspects—rising rents, an influx of boogeyman tech workers, gentrification, and lately, Zubats. Capitol Hill Block Party—or as it's come to be known, Capitalist Hill Block Party—makes for a convenient paragon of all those community ills (minus the Zubats). Its reputation amongst the huddled masses has, unsurprisingly, tracked a similar downfall. That's why I was a little taken aback when, after comparing the lineups of all the Northwest music festivals to see how homogenized they've become, Capitol Hill Block Party revealed itself as one of the relatively smaller, more unique fests we have in the region. By the numbers, it had almost no booking overlaps with other festival lineups, and quite a bit more local artists on display alongside the big-draw national acts—a, dare I say it, healthy mix.
The first act I saw, the local post-punk freakazoids of Nail Polish, blew me away. I've seen the group perform many, many times in scuzzy, cramped DIY venues, but never on a stage as big as Neumos. Without the usual lo-fi veil that shrouds their live shows, the high-fidelity, big stage Nail Polish sounded amazing, tighter than ever, and put on an incredibly dynamic performance (thanks to the amazing gender non-conforming dancers they invited on stage). Nail Polish's two-minutes-or-less, hyper-caffinated jigsaw punk is bolstered in part by how current their lyrical targets are—they rail against hypermasculinity, the empty pursuit of "lifestyle" living, and overdevelopment. On that latter note, one of the band's songs is called "Chophouse Row," taking potshots at the new, upscale, mixed-use development just a block away from Neumos that played host to the festival's VIP parties over the weekend. That proximity made for a bracing tension on-stage—here's a band whose mission is to confront the waywardness of Capitol Hill, performing in the figurative belly of the beast. From the festival's get-go, it refreshingly felt like things were at stake.
Local rapper and hip-hop cultural force DoNormaal packed Neumos out soon after, eliciting a wildly positive response from the crowd (especially after jumping directly into it, loosing her blouse in her zipped-up jacket in the process). Her set also had a fun, combative undertone—only a day later, she would perform as a representative of her 69/50 hip-hop crew just outside the festival limits at Vermillion as part of Squadfest. The Facebook event page for the guerilla para-fest opened with the line "Capitol Hill Block Party has lost it's soul to capitalism, so come support local musicians." Things definitely popped off over there (take Kung Foo Grip's set):
@KFGxHR @CabinGamesLLC @TheStranger @kexp #Seattle pic.twitter.com/L6DjV092Fm

— Skin (@redskin206) July 26, 2016
Indeed, there were plenty of excellent free secret shows happening around the perimeter of the fest over the weekend, as well as within it. Head Wound City, the reunited thrash supergroup featuring the Blood Brothers' Jordan Blilie, Cody Votolato and Mark Gajadhar (filling in for Gabe Serbian) blew the Vera Stage up with their face-metling hardcore. Thanks to Crystal Castles' simultaneous set on the mainstage (which shut down momentarily due to a power overload), the crowd was regrettably thin—so the band played a second secret set later in the night at the Cha Cha that went over much differently, as you can see below.
The power outages also visited the Cha Cha during local noise-punk trio Charms' set on Sunday. Playing to the sweaty bar, packed to capacity, the group managed to blow the electricity twice. Amidst all the raucous cheering and jeering, the band's frontman E.J. Tolentino took the moment to tell the jovial crowd, "Thanks for coming out. We know this festival is crazy expensive, and that you can see us perform in Seattle all over the place pretty much whenever you want, but you spent the money and decided to come here and be with us. That hits us right here [pointing to his heart]." The crowd elicted an audible "awwww" and didn't seem bothered by the $50-60 holes in their pockets. The moment spoke to the diverse interests of the Block Party crowd—one that's often characterized as a monolithic bro-and-woo-girl mob—but clearly also comprised of folks legitimately invested in supporting what's happening in Seattle.
Maybe it's because I was rarely at the mainstage—the booking there was mostly for the teenybopper set, which is where the money's at—but Block Party felt more raw, gratifyingly antagonistic, and rich with local talent than it has over the past few years. The healthy punk attitude of the Seattle artists that, within and without, used the fest to assert their values, combined with the frequent power outages, made things feel rickety and human in a way I really appreciated. Reed Juenger of Beat Connection came up to me at the festival to ask me how my Block Party was going. Forgetting he works for CHBP, I said "surprisingly, I'm actually having a good time!"
"Take it easy man," he laughed back at me, "but I'm really glad you are enjoying it, we've been working hard on it." I had to check myself for a minute after the goofy encounter—it's easy to buy into the doomsday narrative in Seattle, but if this weekend was any indication, there's more than a few signs of life left in this city.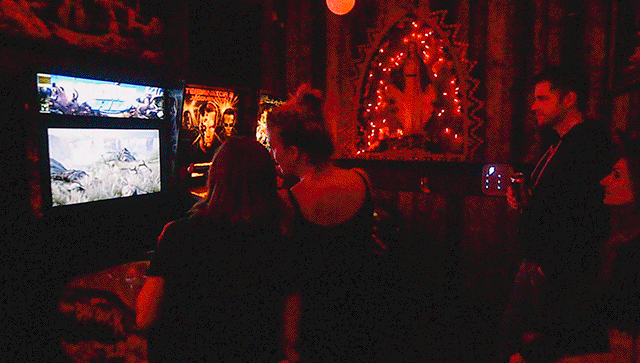 GIFs by Sofia Lee, words by Kelton Sears