At 9:30 a.m. every morning, Zoë Freeman walks from her small office at the Pike Market Senior Center up the staircase and down the hall to the DeLaurenti coffee shop, where she grabs a hot beverage to go. Along the way she greets the rowdy mongers at Pike Place Fish Market, the sweet vendors at Sunny Honey Company, and the cheerful bakers at Daily Dozen Doughnut Company. Each person takes a quick break from their bustling routine to return her friendly welcome.
At age 73, Freeman is a permanent fixture in the Market community, where for 25 years she has worked with colleagues at the Pike Market Senior Center & Food Bank to provide food and housing for thousands of Seattle residents. Freeman takes pride in forming personal connections with the people of the Market, even now during the busy holiday season, as she makes final preparations for the 30th Annual Great Figgy Pudding Caroling Competition on December 2—a festive event that raises awareness and funds to support the Senior Center and Food Bank.
Every December, the highly anticipated caroling competition attracts nearly 10,000 attendees, filling the heart of downtown Seattle. People from the local arts scene, businesses, churches, schools, and established singing groups form caroling teams and collect sponsored donations. On the big night, 30 to 40 teams participate in sing-off competitions for the "Figlanthropy" Award and the coveted People's Choice Award. Additionally, the team that gathers the most onsite donations receives the "Get Figgy With It" accolade.
The success of Figgy Pudding hinges on the community's tremendous support and the tireless planning by Freeman, who in 2006 was appointed the "Head Figlet." "I named myself," Freeman says, laughing. " 'Event manager' sounds kind of stuffy."
Despite the fun, zany, and festive atmosphere of this popular holiday event, the real purpose of Figgy Pudding is to raise funds for programs and services. "The human services in the Market are not always obvious to people," explains Freeman. She has met countless Seattle natives who have no idea that the Market is anything more than a tourist attraction.
In reality, the Pike Market Senior Center and Food Bank are community hubs that support those in need. The Senior Center's meal program serves its members two nutritious meals a day, seven days a week. Through its activity program, the Senior Center offers exercise classes, book exchanges, documentary film screenings, and craft hours. The Senior Center also provides social-service assistance and assistance accessing and maintaining housing for its 1,400 members—half of whom are homeless. With three dedicated social workers, the organization helps members deal with housing placement, health concerns, immigration issues, rental rights, and child support.
The Senior Center helps people like Alfredo, who, like many of Seattle's homeless, found himself in a tough spot a few years ago—feeling hopeless and forgotten. After living on the street for four years, Alfredo met the Senior Center's Spanish-speaking social worker, Mark Lally. He became Alfredo's advocate, helped him secure long-term housing, and built a support system that allowed Alfredo to move forward. "It's been a complete 180," Lally says. "A lot of the issues he had before are no longer involved in his life." Alfredo has lived in subsidized housing in the Market for the past two years, he's taking English-language classes, and he routinely visits his friends at the Senior Center. Essentially, the Senior Center offered Alfredo another chance at life—and helped empower him to take it.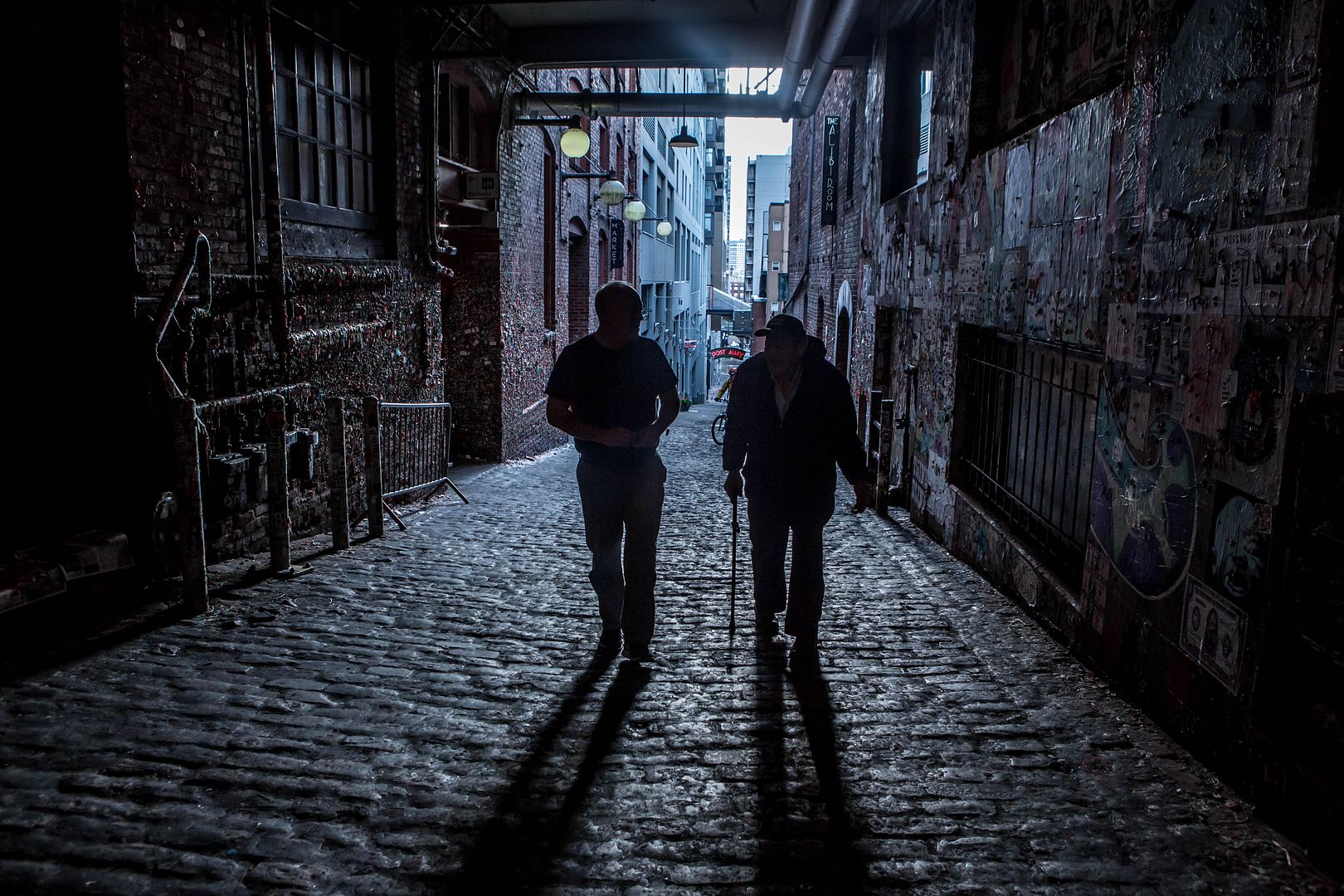 The Pike Market Food Bank is located only a few blocks north of the Senior Center. "I've always thought of [the Senior Center and Food Bank] as two arms that wrap themselves around the downtown community, but part of the same body," Freeman explains. Every year the Food Bank provides more than 500,000 pounds of food to low-income families, seniors, and other individuals in the Pike Place Market and downtown neighborhood. Currently open for distribution twice a week, the Food Bank receives supplies from organizations such as Northwest Harvest and Food Lifeline, through food drives at local schools and companies and from gleaning efforts at Pike Place Market. The Food Bank team is constantly evolving its "storefront" to be more welcoming, accessible, and efficient, and to eliminate the stigma often associated with donated food.
Market patrons may catch Freeman dashing through Pike Place on any given morning. Figgy Pudding attendees may glimpse her running the Caroling Competition. But one thing is for certain: Through her work, Freeman has made a lasting impact on a population often overlooked.
"The Market community is very special. It's so wonderful and so connected. As big as it is and as crowded as it is, it's also intimate. People really care about one another," Freeman explains. "Just being part of the Market community is exciting and rewarding and it's very much my community… . There were a couple of times I thought I should leave and go do something else. I looked around and interviewed a few times, and then I just couldn't. I found that my heart was here."
Pike Market Senior Center & Food Bank is made possible by the support of the Pike Place Market Foundation, the City of Seattle, and the community. By helping our neighbors who work, learn, and live in and around the Market, the Foundation helps the Market you love remain a thriving, caring community. Learn more and donate at pikeplacemarket foundation.org.