By 9:15 on Saturday morning, Judkins Park was already flooded with thousands of hot-pink pussy hats. Thousands upon thousands of women — mostly women and girls, but also plenty of men and boys and babies and dogs — had already poured across the grass, hoisting giant puppets, banners, a colossal planet Earth, and a plethora of homemade signs. The crowd seemed to double and triple over the next hour and a half, and everyone gathered in closer and closer to one another, hugging, laughing, exchanging encouragements and exasperations and a kind of giddy, electrified energy.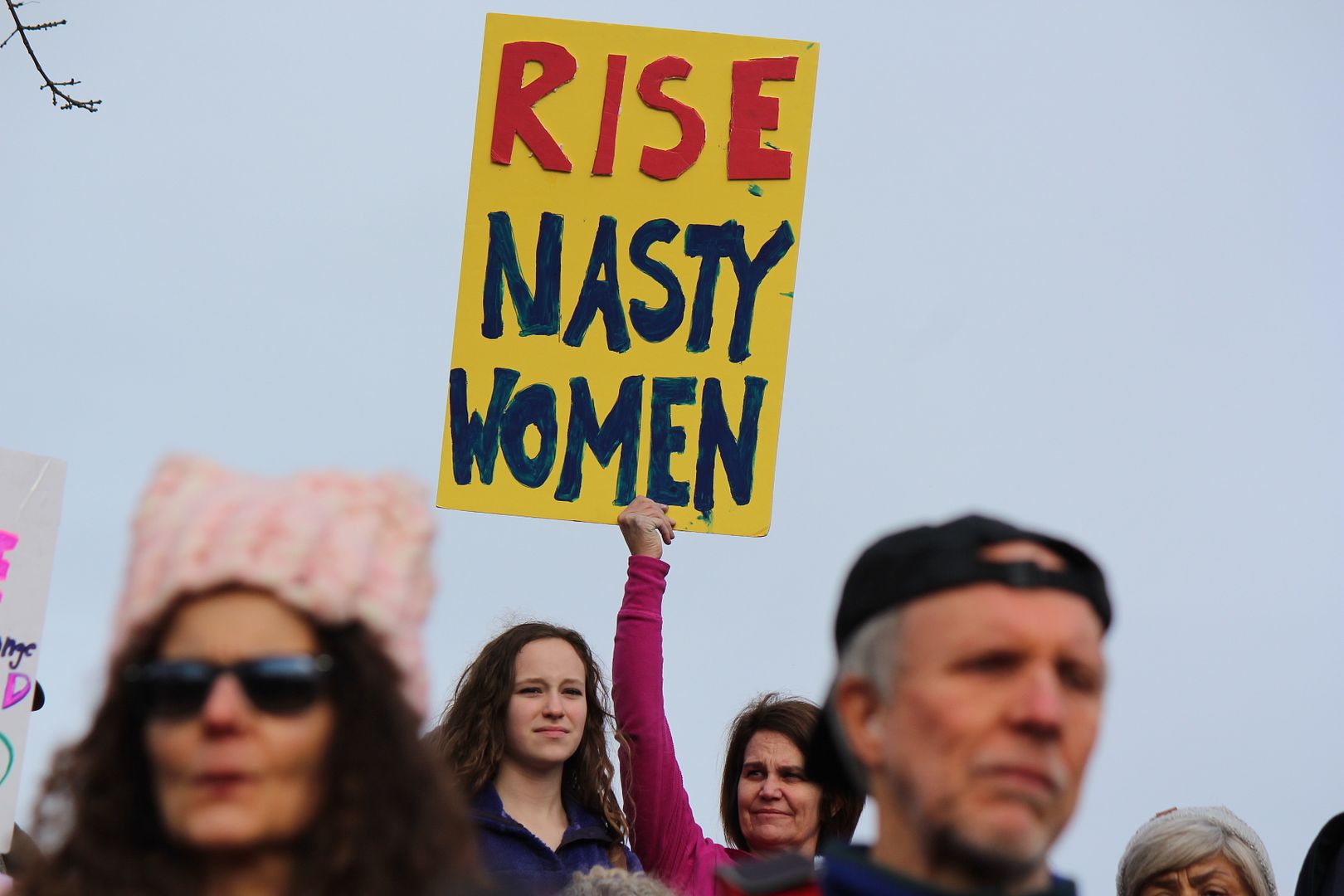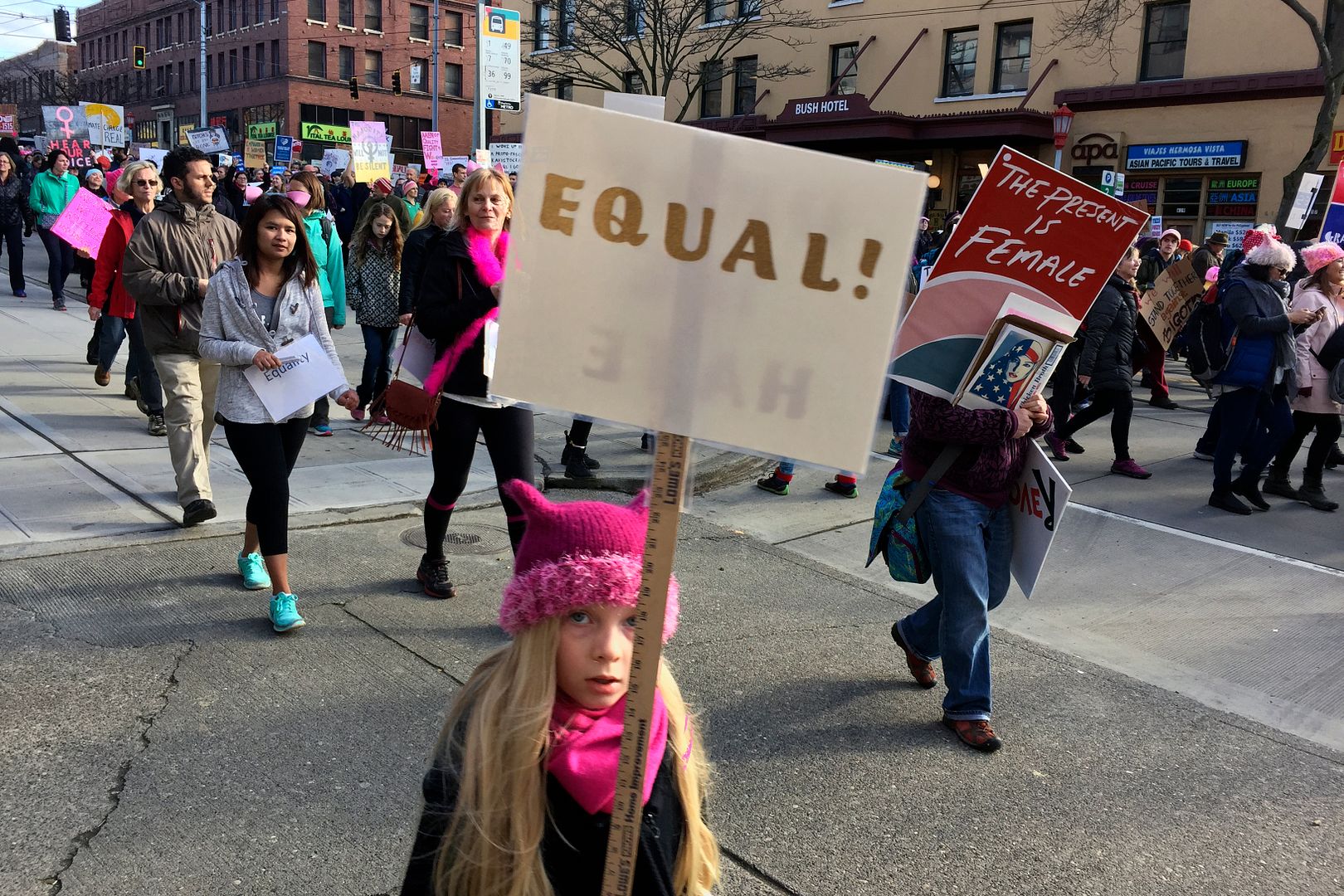 "You would not believe the view from up here!" cried Chris Charbonneau, CEO of Planned Parenthood for the Greater Northwest and the Hawaiian Islands, into the mic to roars of applause. "It's nothing but nasty women in pussy hats and bad hombres!"
We knew this moment was coming: President Donald Trump has been sworn into office with some of the lowest approval ratings of any incoming president in decades, and the hundreds of sister marches planned in solidarity with the Women's March in Washington, D.C. were expected to be the pinnacle of inauguration resistance across the globe.
But we didn't know quite how huge the show of resistance would be. In all, there were at least 673 women's marches in as many cities across the planet, with nearly 5 million total participants — including my mother, my sister, and me. It may have been the largest global day of solidarity since the Iraq War protests in 2003.
Organizers of the Womxn's March in Seattle, for instance, estimated that up to 50,000 people might join; instead, there were more than three times that number, with some early estimates saying 130,000, then later amended to 175,000. There were so many people thronging the streets that we weren't even marching at all, at times; we were simply standing, crammed together, caught in a grinning sea of pink-hued protest. "Fight Like a Girl." "Love Trumps Hate." "Make America Kind Again." "Our Rights Are Not Up For Grabs — Neither Are We." "She Won." "Pussies Against the Patriarchy." "The Future is Female." Every so often, a wave of screaming, joyous applause would originate somewhere far away and crescendo closer and closer, like a deep wind in the trees, then whip up all around, interrupting any conversation in a beautiful roar.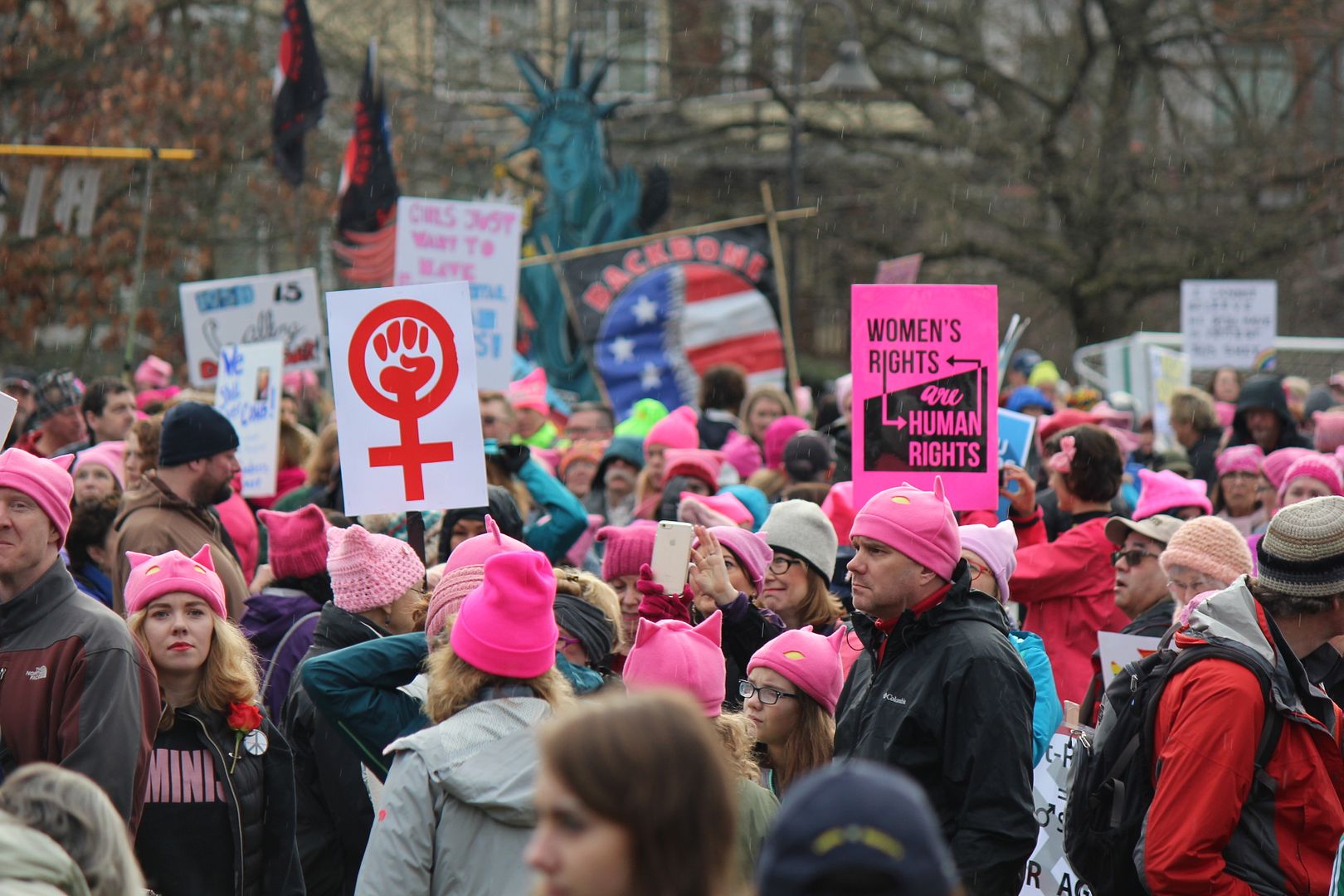 "The hats are killing me," joked Alyson Rae, a feminist and pinball enthusiast who I met back in November, and ran into at the march (I ran into a lot of people at the march). "I knew that the 'pussy hat' was a thing. But I didn't realize how much it had snowballed into, like, the modern feminist uniform!" She added that all of her friends were there, too; attendance wasn't even a question. "I think a big part of it is that a lot of us fully expected that night to be toasting the first female president," she said, but instead… well. "It's rare that I'm up before the crack of 10, but you know, desperate times call for desperate measures."
People showed up at the march yesterday for many, many reasons — racial justice, climate change, immigrant rights, the rights of Muslim Americans, a bald hatred of the new president, and, of course, women's rights. "This election was particularly painful if you're female," one attendee confirmed. But the feeling of unity, and unified determination, was palpable. As Muslim American activist Zuleyha Leyla Kayi told me, "I have this adrenaline rush… I've had like three already since I've gotten here, because of the energy."
I, for one, had never seen anything like it. No one I spoke to yesterday had, either. "I was at WTO," one woman told me. "This is bigger. I think this is historic."
That was my mother's experience, too. She took the train from upstate New York to Washington, D.C., for the Women's March with two female friends. They wore pink hats, of course — knit by a friend of theirs who wasn't able to attend, but wrote poetically via e-mail that "there are a lot of confused or frustrated, many angry, even a very few hopeful twitches (stitches) in those hats — a positive venting."
In D.C., like in Seattle, far more people showed up than expected — some half a million marchers and speakers, including Gloria Steinem and Ashley Judd and U.S. Sen. Kamala Harris — and my mom, too, found herself unable to move at times, the crowds were so thick. But "there was so much goodwill," she said. "Somehow, you just got through the tightest crowd. I felt very supported… and not just by women. I just felt… not alone!"
The last time my mom marched on Washington was to protest the Vietnam War in 1967. Though there are logistical reasons for that, she said that part of the reason she went to D.C. yesterday is that this moment makes her feel like she did then. "I just thought, I need to be here… I just have to show up. I can't believe this is happening, and it's so dangerous that I have to say something."
And my sister, who's lived in Europe since 2001 and in the U.K. for most of that time — and who told me, when Brexit happened last June, that "it's horrible; it's like Trump winning" — also attended a Women's March, in London. "I've been to a bunch of protests and picket lines" in the past 15 years, she said, "but this is the first one since [the Iraq War protests in 2003] that I feel like that about — that I can't miss it."
The London event gathered some 100,000 people, with apparently just as many anti-Trump and "Pussy Grabs Back" signs as anywhere else on the planet. Among the examples on my sister's Facebook page: "Hell Hath No Fury Like a Pussy Grabbed."
Clearly, women in particular feel compelled to speak up now. For one thing, because many, many women the world over have been sexually harassed or assaulted or abused, and because one of the most powerful men on the planet has been so blatant about his dismissal of that type of violence, it's little wonder that tokenizing the pussy-grabbing statement has become the public face of a diverse movement.
But "this is not new," said Leah Griffin, a survivor of sexual assault in King County who is now working with the advocacy group RISE to help craft and pass a rape survivor's bill of rights in Washington state; she was out recruiting volunteers yesterday. "What's different about this time is we're standing up and talking about it."
For activist Zuleyha Leyla Kayi, too, hacking away at the prejudice and hate being launched at Muslim Amercans also requires breaking the silence. "We need to be visible," she said. "We need to be part of this resistance." She's been the victim of regular hate speech, mostly from white men who tell her to "go back to her country," to which she retorts: "Do you want to buy me a ticket to New York?" She believes one recent incident, which was more infuriating and humiliating than usual, is due to the political climate. Enough is enough. "It's not going to go down like that anymore," she said. "We're here. And we have every right to be here." She intends to keep active in this work — organizing with CAIR-WA and other groups to help educate and connect people to one another, to have more conversations, to form more coalitions. "We're going to do this — with all groups that are marginalized, all minorities, all the people who have been targeted by this administration. We're going to do this together — side by side, with pride."
I'll be honest: I wept on election day. And I wept on inauguration day. But I did not cry yesterday at the Womxn's March. It wasn't only outrage; it wasn't only Seattle bellowing its values, as it did on election night. This felt different. It felt joyful. And it felt like a promise.
"Everyone was saying, 'this feels like a turning point,'" my mother said of the march in D.C. "This is a day we'll remember."