All photos and reporting by Alex Garland.
Saturday evening, with an organizing time of just two hours, Seattle activists managed to gather a massive crowd at SeaTac International airport in protest of Donald Trump's executive order suspending immigration from several primarily Muslim countries and indefinitely banning Syrian refugees.
The order has been decried as unconstitutional by the ACLU, a stance given some credence Saturday when a federal judge put a partial stay on Trump's order as its legality is determined. In the meantime, a crowd of well over 1,000 people amassed at the arrivals level at SeaTac Saturday evening with a unified message that they would not stand for the action.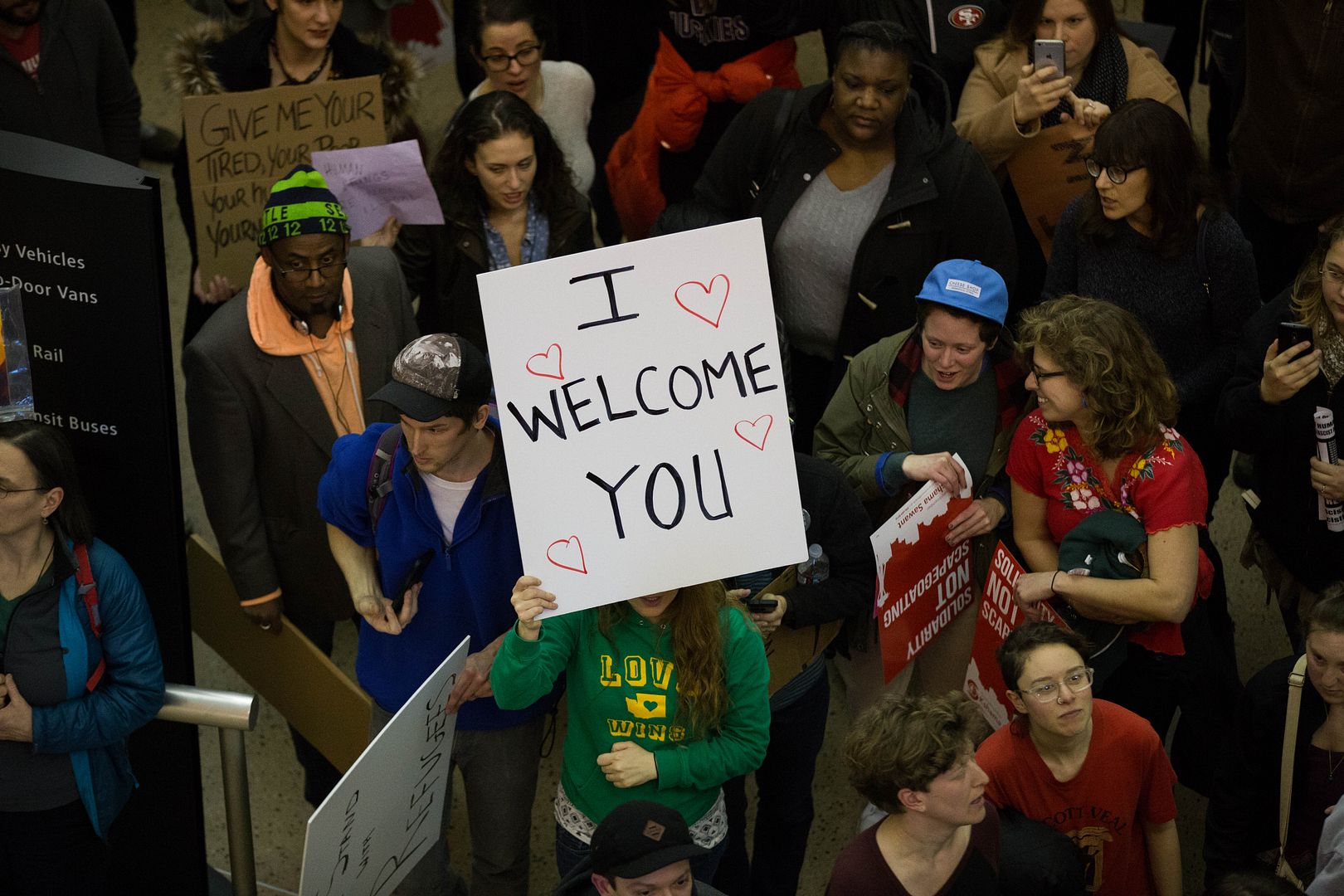 The crowd size grew so large that at Sound Transit temporarily halted service to the SeaTac light rail station in hopes of stemming the flow of people to the airport, only to see activists arrive by bus from the Tukwila station instead.
According to SeaTac's official Twitter account, the airport requested the service suspension around 7 p.m. Sound Transit said it was only in effect for 10 minutes, and King County Executive Dow Constantine, who's also in charge of Sound Transit, seemed to suggest Saturday evening that the suspension should not have happened.
"Light rail should run when and where people need it, and request to stop should go up to senior level," Constantine tweeted.
As the crowd swelled in size, protesters became more bold, using their numbers to form human walls by linking arms and blocking entrances to TSA checkpoints with chants of "This checkpoint's closed" and "hey hey, ho ho, Islamophobia's got to go."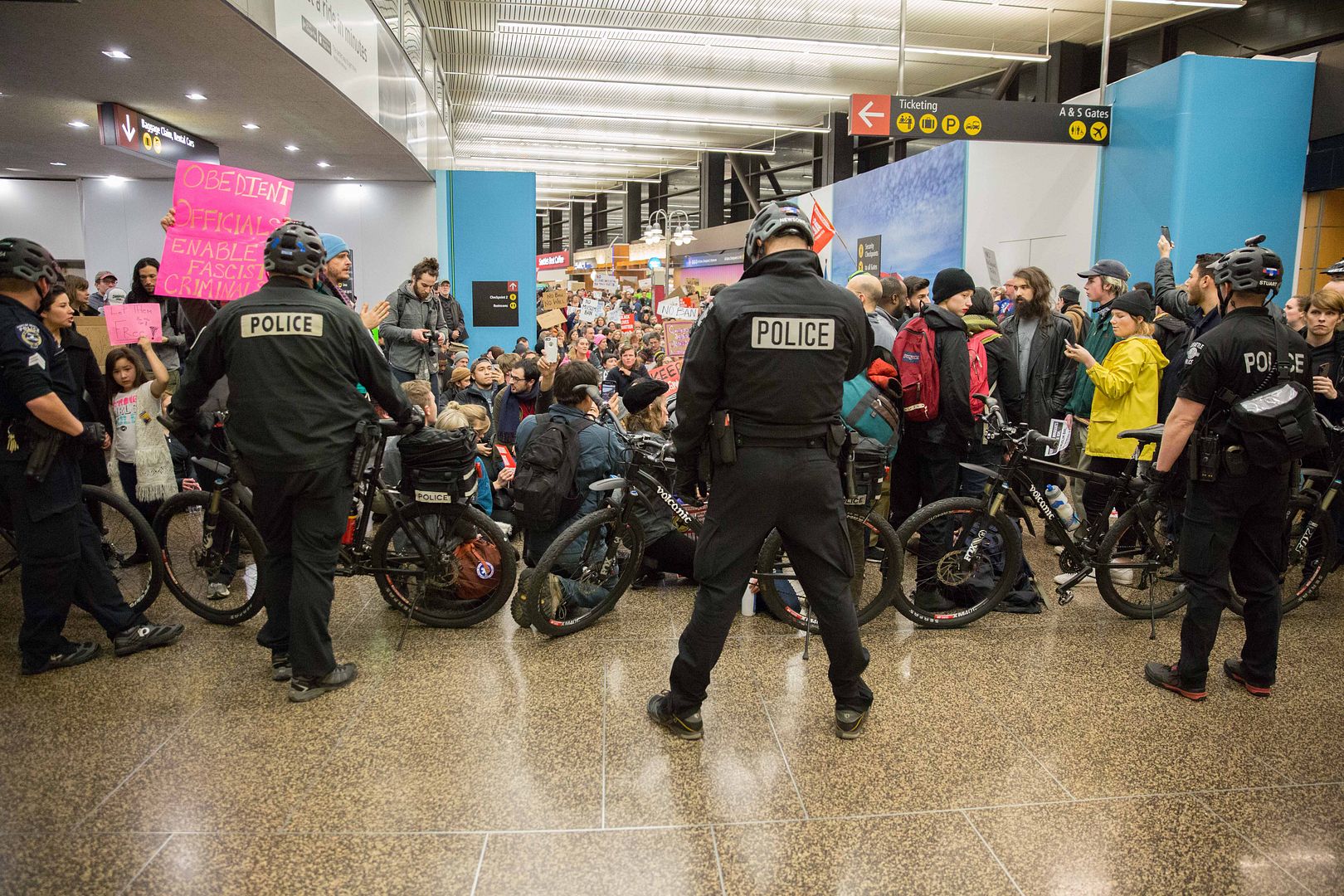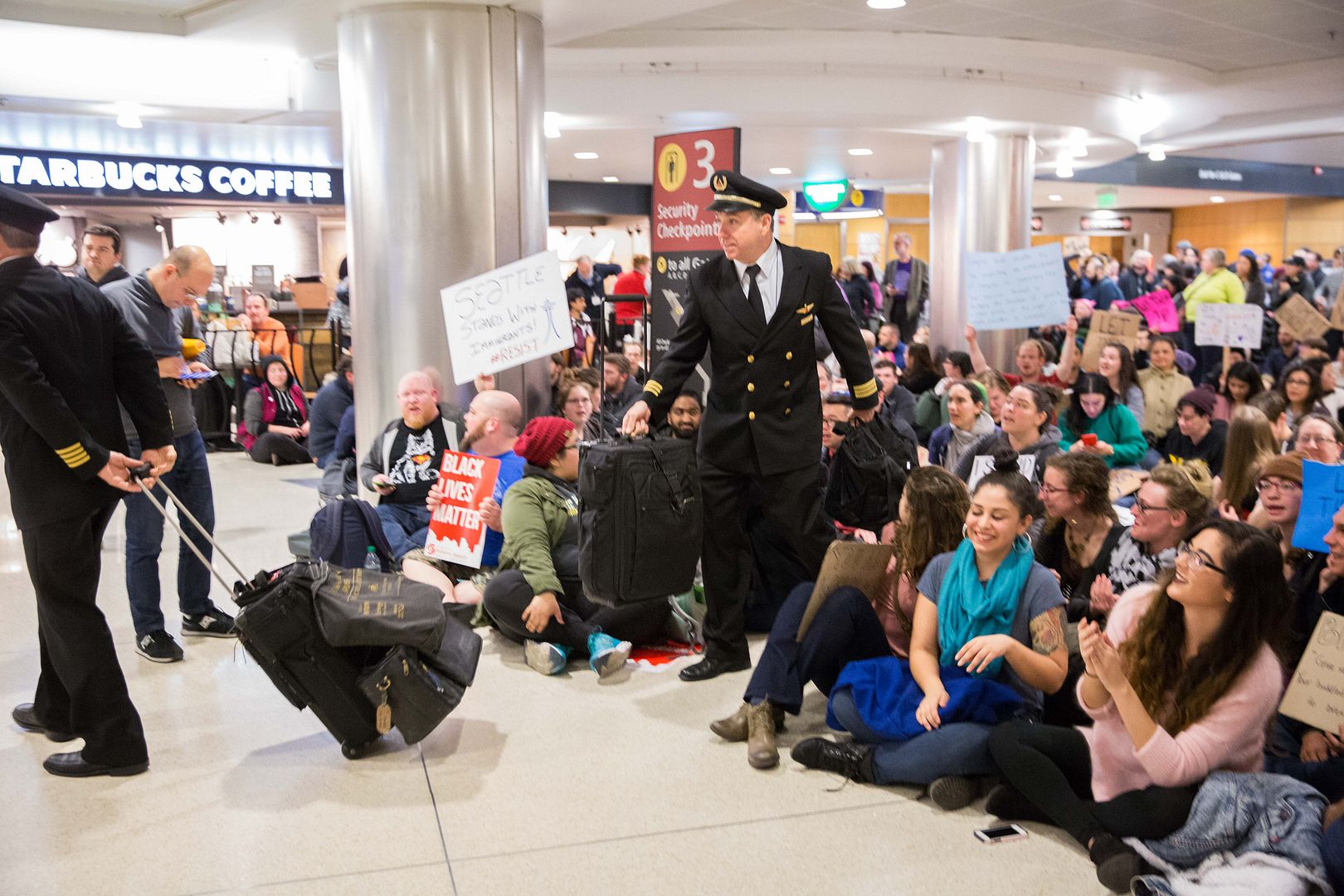 Chant's of "Let them in" resonated off the airport walls as police officers from Renton, Port of Seattle, and Seattle attempted to clear paths for travelers as they attempted to get through TSA checkpoints. Activists moved from checkpoint to checkpoint, building larger human chains and filling gaps, preventing airport personnel from moving through the building and keeping travelers from reaching the TSA checkpoints.
The Seattle Times reports that four people who arrived at SeaTac Saturday had been ordered back to their country of departure.
Another two people had been detained in SeaTac. On Sunday morning, the office of U.S. Rep. Pramila Jayapal said those two people had been released.
As protests swelled, some travelers, seemingly out of pure desperation, began pushing and shoving their way through the crowd, often to no avail, as the protesters were often 10 deep. At one point, airport personnel were prevented from leaving the airport after their shift, causing them to become angry with the demonstrators. A supervisor was called over and said to the demonstrators, "these are American workers and they just want to go home," to which a protester replied, "that's why we are here, for people who just want to go home."
Protesters seemed determined to not leave until those who were in threat of being deported were allowed in through security. Activists were joined by Seattle City Councilmember Kshama Sawant, state Rep. Nicole Macri, and state Sen. Bob Hasegawa. Hasegawa's Japanese parents and grandparents were interned during World War II and stripped of their civil rights. Jay Inslee also held a news conference at the airport denouncing the action, saying, according to the Times, "It is a train wreck. It can't stand. We're drawing the line here at Sea-Tac."
At one point in the night, a group of travelers attempted to push past the line and succeeded, but in doing so, knocked over two of the protesters. Those protesters were both swarmed by police and placed in restraints.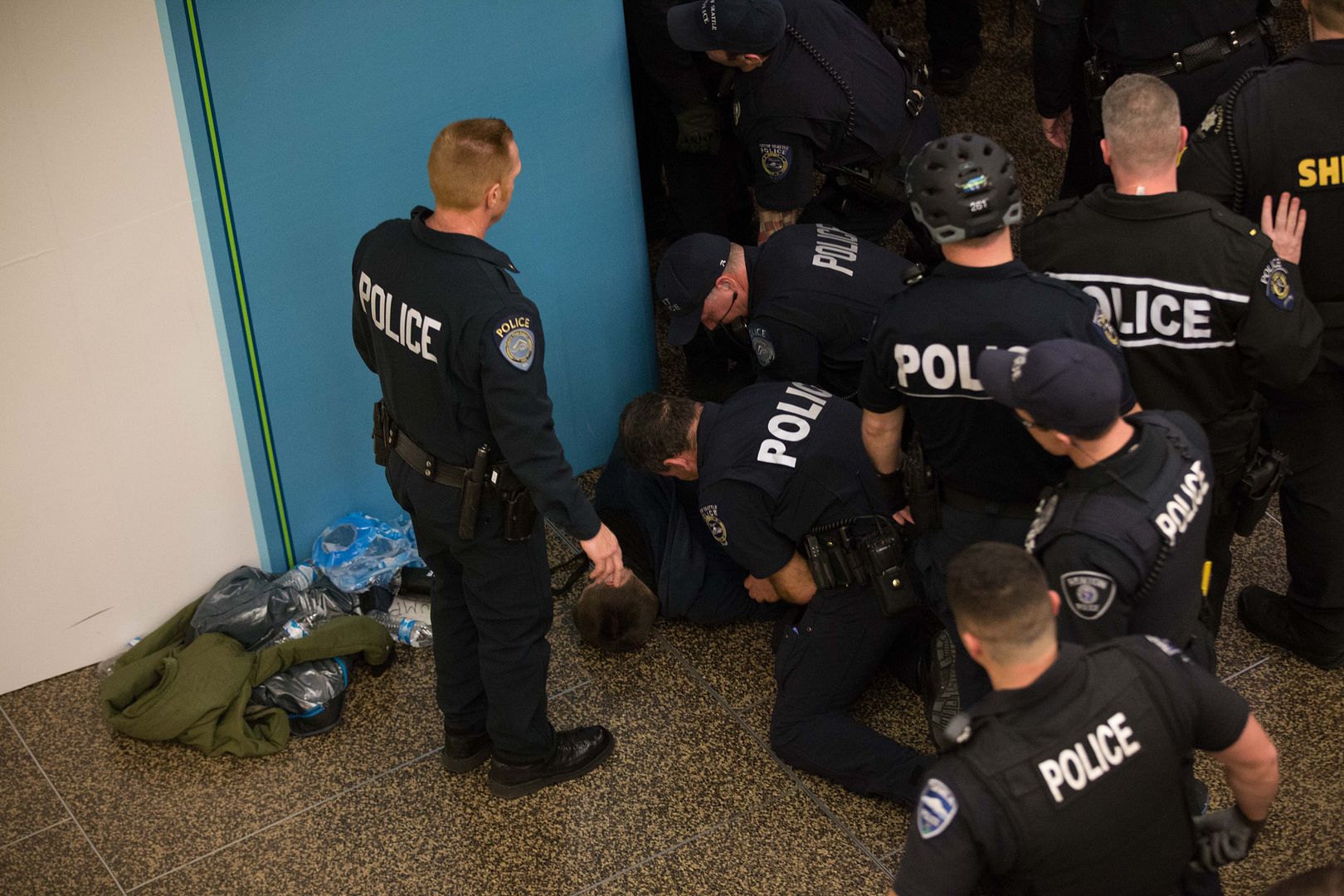 It wasn't long after these arrests, near midnight, that Port of Seattle police released pepper spray into the crowd, prompting people to begin leaving SeaTac with promises of more protests.
Some protesters are staying at the airport and police are locking the doors. It is likely that additional arrests will occur after writing this article. Another round of demonstrations in protest of a ban on Muslim immigrants and refugees are slated for Sunday, January 29th at 5 p.m. in Westlake Park.
Update: This post has been updated to correct which law enforcement agency deployed pepper spray at the airport. According to the Seattle Police Department, it was Port police that fired the pepper spray. SPD says its officers did not use any pepper spray and did not make any arrests at the demonstration.