When you think of stadium food, what comes to mind? Peanuts and Cracker Jack, obviously. Hot dogs, too. And high prices for low-quality food, perhaps. That was the case at the Kingdome, where a lack of food options turned a stop at nearby Mac's Smokehouse for a BBQ brisket sandwich into a tradition for my dad and me.
But for the past several years, there's been a push for better, more local options at Seattle stadiums. Prolific restaurateur Ethan Stowell was drafted in 2011 to lead the charge as consulting chef for Safeco Field, and CenturyLink Field has since joined the effort by starting its own concessions company, First and Goal Hospitality, and working with local chefs to help fire up fans with higher-quality food.
But how do you translate a signature dish from a 100-seat restaurant to a 45,000–70,000-capacity stadium? When Stowell started, he worked with Centerplate—the huge management company that oversees food for more than 300 arenas, stadiums, theme parks, and other massively attended spots across the country (plus Canada and the UK)—and was just one voice among many when it came to making decisions.
Some concepts arrived before Stowell did, like the crepe stand in The Pen, since closed. While he consulted on the project, bringing in Zoe's Meats to make the stadium's "healthy choice" an on-brand and delicious option, he acknowledges that crepes "are very much not baseball food." This season, his Dynamite Chicken, named for the signature fried chicken he serves at Ballard restaurant Bramling Cross, takes over that space.
Though fried chicken seems like a good fit for a sports crowd, cooking the dish to Stowell's standard poses a few challenges. Chief among them: undercooked chicken. At the restaurant, birds are fried and delivered to diners in around 25 minutes; at Safeco, "you have about 30 seconds," Stowell says, laughing. "It's a balancing act: You have to get it to people quickly, but you also want it to be the best it can be. You want to fry it and not get too far behind."
The pink-chicken possibility is something Centerplate couldn't risk at the stadium's many concession stands. Most stadiums offer fried chicken, but they buy prebreaded, prefried, frozen pieces from a mass-market purveyor, then reheat them at the stadium. But with just one stand offering Stowell's Draper Valley-sourced, fried-on-the-spot chicken, it's easier to manage—especially since the restaurateur staffs the stand with his own managers and employees, with only the cashiers provided by Centerplate.
Dynamite Chicken takes over the old crepe stand. Courtesy of Safeco Field
Also at Safeco this season will be restaurateur Josh Henderson, whose Great State Burger is taking over the burger stand in The Pen. Henderson is also doing business over at CenturyLink, where he faces a similar chicken dilemma with the opening of Poulet Galore. "Par-frying is key," Henderson says, referring to the practice of partially cooking the chicken before games. "You don't have the time and don't want to fuck with someone getting raw chicken; there's no other way to do it. It's heads and tails better than what else is out there."
Back at Safeco, Poquitos executive chef Manny Arce will take over food and drinks at Edgar's Cantina. Translating the Capitol Hill hot spot to the stadium took some compromise. Stadium executive chef Taylor Park helped redirect ideas to suit the realities of a ballpark environment. "It's about backtracking, asking questions—'How do you usually do this? OK, here's what we can do'—and finding that middle ground," Park explains. "They were thinking of doing carne asada mid-rare, and we were like, 'Uh, nope.' Feeding 45,000 people, or having 800 to 900 people coming to the stand and keeping steak at that doneness, at the right temp—it isn't logistically impossible, but it's hard at the very least. If you want to put your best foot forward, that's not the ideal."
The same challenges are true at CenturyLink, where executive chef Michael Johnson also guides chefs with his expertise on facilities. "A lot of what chefs have to come to terms with is what equipment they have access to," he says, adding that "menus often have to adapt to stands." Johnson also helps chefs streamline offerings, whittling down longer menus or giving feedback on fire times to keep fans moving quickly.
Sometimes, though, there aren't enough fans to keep the operation moving. Chef John Howie's in-stadium Beardslee Public House and Seastar locations kill it during Seahawks games but can lag during Sounders matches, due to the start times and lack of mid-game breaks. "A lot of games start at 4:00, and people have already eaten and aren't ready for dinner," he explains. "You have to find a balance of not running out of food for fans, but not wasting food either." One way he's walked that fine line is to offer dishes that feature ingredients that are also on his restaurants' menus, which he can take back to use there.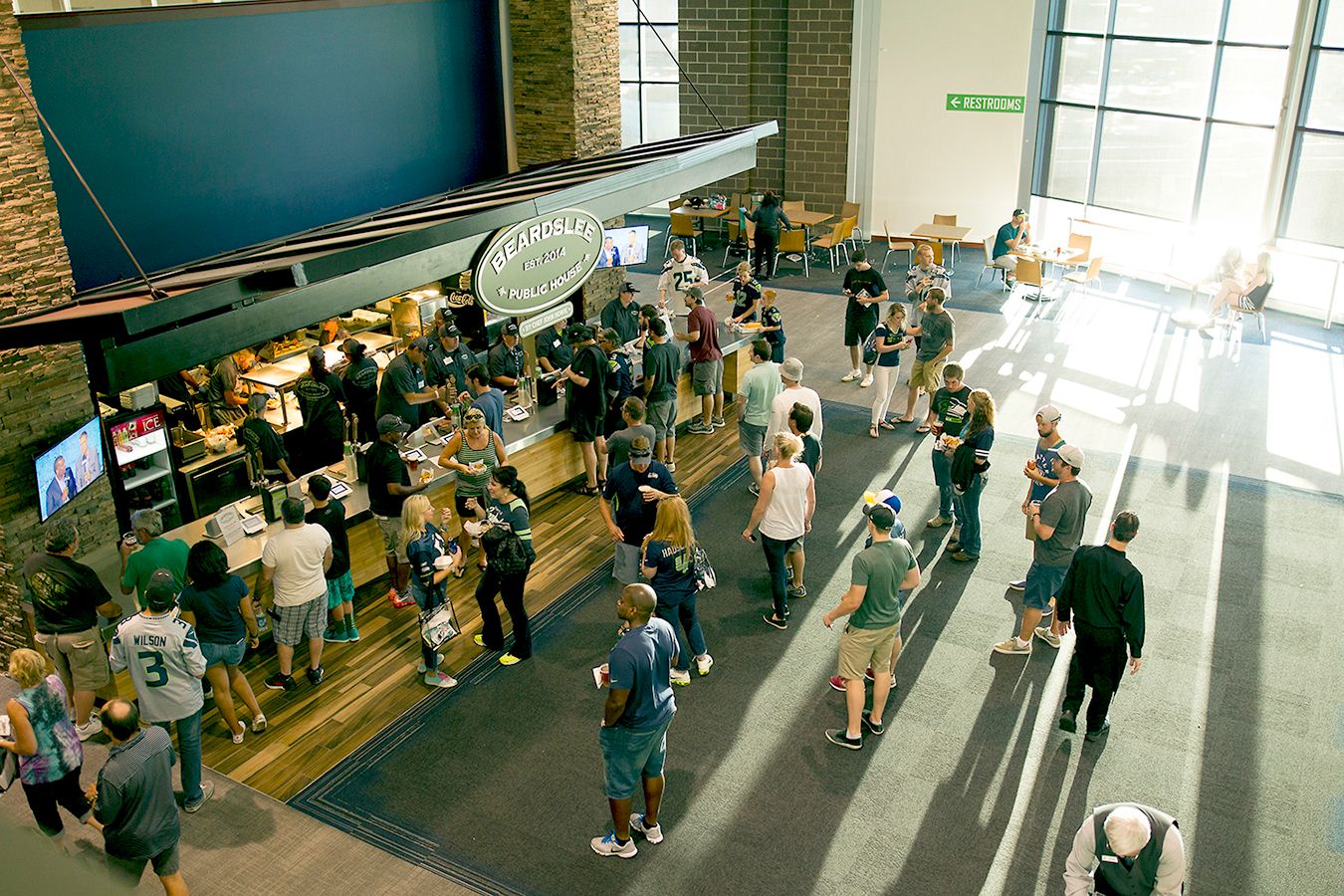 Seahawks fans line up. Courtesy of Beardslee
Staffing is also on Howie's mind. "I have my people in the stands every time," he explains. "If it were 'Burger Joint by John Howie,' then that's one thing, but it has to be as good as it is at Beardslee and Seastar. It's my name, my reputation, and so we have to have the best people making the best-quality food."
While staffing cooks in restaurants across Seattle is a well-documented nightmare for restaurants right now, Stowell, Howie, and Henderson say they haven't had a problem finding labor for the stadium jobs. Howie says he pays his staff an overtime wage to incentivize serving Sounders and Seahawks fans.
Sourcing is another challenge Johnson and Park help chefs with, since the purveyors that chefs work with at their restaurants often don't have enough product to scale to stadium crowds. The challenge is to keep both the quality and the volume high. Stowell says Safeco is meeting the challenge. "It's about choosing the middle ground and going with what will give fans a great experience," he says. "The Mariners could save a lot of money doing what others do, but they don't want to: They want to actually cook for their fans."
food@seattleweekly.com