If you want a relaxed but intimate gallery experience that celebrates the sheer joy of creation through a lifetime of artwork, I highly recommend getting to Pioneer Square this week. Artist Juan Alonso has filled his corner studio in the Tashiro Kaplan Building with paintings by fellow artist Yadviga Dowmont Halsey. Her professional career was in biochemistry, for which she earned a doctorate at Yale in 1952. Between academia and raising a family, her time for art was limited, but it was a driving passion from childhood on, and she was able to devote more time to it starting in the '70s.
A monographic retrospective is a common format for museums, less so for commercial galleries. It is especially rare when an artist is prolific and their works have mostly gone unshown. In recent memory, Greg Kucera Gallery's 2013 exhibit of works by David Byrd is the best local example that comes to mind, and that was an even more unusual case because the artist had never been shown in a gallery over decades of painting. Halsey has won awards for her work in recent years, but has not been represented consistently by a gallery, so even works from three decades ago are getting their first public audience. It was, in fact, about 30 years ago that Alonso first showed Halsey's works, when he co-owned Alonso/Sullivan Gallery. In recent months, Alonso has been showing works from other artists in his studio, and this show of work by Halsey is by far his most ambitious.
Over two dozen paintings on paper were chosen to fit in a salon-style hang that is not chronological, but nevertheless provides a sense of Halsey's diverse oeuvre over time. Dozens and dozens of other works lie in a large flat file, which you can pore through on your own. This opportunity to discover work and see it up close and in hand is a rare treat, and an apt way to experience work like Halsey's, whose fine balance of personal symbolism, universal sentiment, and keen observation can evoke varied responses. What is especially profound to one may be just vaguely evocative to another, and a conversation about why and how that happens is a delight too often missing from the gallerygoing experience.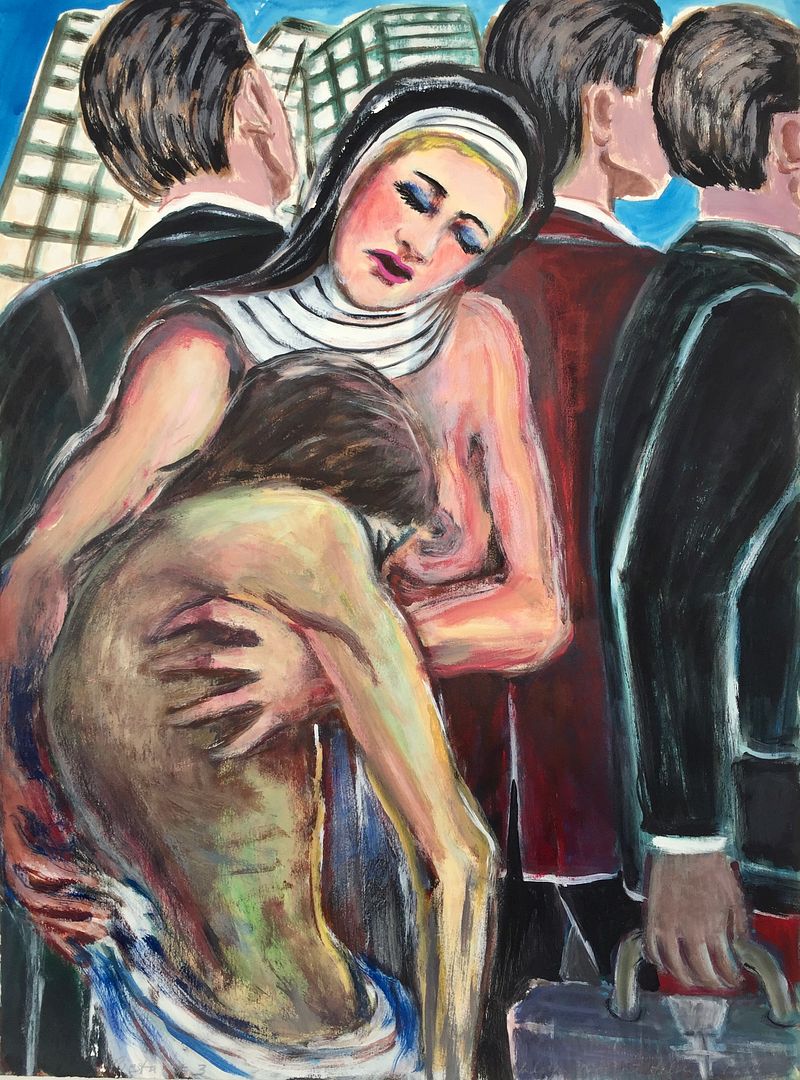 With very few exceptions, there is at least one human figure in a Halsey painting; most have at least two, whose relationship is ambivalent even if at first glance it seems amorous. One isn't seeing a general depiction of romance or friendship, one is entering a narrative in medias res. One isn't necessarily inspired (or required) to generate a story, but simply to recognize that there is a story—a full life bracketing this moment of intense emotion. This perennial empathy-building quality in art feels especially important at a time when we are culturally given to generalize about each other while undistinguished sentiments are replayed over and over as stock emotion.
Mature and intuitive composition is key to Halsey's ability to create portraits of emotion that are peculiar yet universal. She doesn't place her figures in recognizable settings, but instead fills a surface with loose, spontaneous brushwork that layers colors in sometimes unusual combinations. This sets a mood or gives the impression of constant action. Perhaps a tree or some architectural detail provides a general sense of space, but not so much of place. Even when a piece is quieter in composition, we know we are in the middle of an event whose importance is not the physical position of its players at the moment, but the psychological state that feels timeless.
Those familiar with prominent Pacific Northwest painters may sense a familiarity with Halsey's work. (One work on display almost looks like a smudgy homage to Guy Anderson.) Faye Jones is a contemporary of Halsey, and much of what I have written here of Halsey could be said of Jones as well. However, in terms of style and palette, they are completely different, and therefore so is the overall effect. A retrospective of works by longtime artist Gaylen Hansen is on display at Linda Hodges Gallery, and his work is more painterly and spontaneous like Halsey's, but his symbolic vocabulary is completely different, more angular. In short, artists like Halsey, Hansen, and Jones (just three examples) have a fundamental need to express the ineffable through their enigmatic paintings, yet each goes about it completely differently.
I don't expect everyone to be moved by every one of Halsey's works, but I think most everyone will find something to love. Again, the show's arrangement will aid this, as it is stripped of pretension and invites an interaction. (Bonus: The price points are very accessible, too.) It's the sort of experience that will be a refreshing change of pace for longtime art lovers, and for those intimidated by traditional gallery shows, a potentially transformative moment—much like countless ineffable moments captured in the works themselves.
Juan Alonso Studio, 306 S. Washington St., #104. Free. Ends June 10.
visualarts@seattleweekly.com