"What does it feel like to be in your body?"
At first blush, this isn't a very unusual question for a choreographer to ask, and KT Niehoff has been asking it of many dancers over the course of her career. She's been a central figure in the Seattle dance community since she arrived here in the '90s to perform with Pat Graney. She would go on to co-found Velocity Dance Center and create a body of work that has constantly pushed the borders of the art form. In the past, she's staged dances in museums and back alleys, on sidewalks and carousels, as well as in more conventional theaters, all the time posing increasingly difficult technical challenges. Her most recent works have been as much about social interaction as about kinetic virtuosity, a series of cabaret encounters in which dancers write letters to the audience and stalk down a runway like high-fashion models.
But her newest work, Before We Flew Like Birds, We Flew Like Clouds, is more a trip to a planetarium than a nightclub. Niehoff, current artist-in-service at Velocity, has devised a performance installation that scatters the audience throughout the space, where she examines a quartet of people with extraordinary physical stories. Her subjects—a speed skater, an astronaut, a para-rower, and a survivor of a near-death experience—are featured in a series of virtual-reality films. In actual reality a trio of dancers will be performing among the audience, who are seated in swivel chairs so that they can focus anywhere in the space. And hovering above them all will be a constellation of helium balloons, drifting on the air currents.
Niehoff is using Before We Flew to examine those extremes—of speed, of grace, of intensity—using advanced technology and old-fashioned sweat to give us the sensation of another body, a taste of another world.
Photo by Nate Watters
A. Talking about the multiple elements in the work, Niehoff sounds as much like a project manager as a choreographer, describing the cave-like enclosure by designer Cameron Irwin, the painstaking calibration of weights that will keep the balloons suspended at the right height, and the myriad variables involved in creating the VR films. She is collaborating with musician Zeke Keeble on a score that incorporates interviews with her four subjects with her own singing, and has designed a series of poster images of those subjects.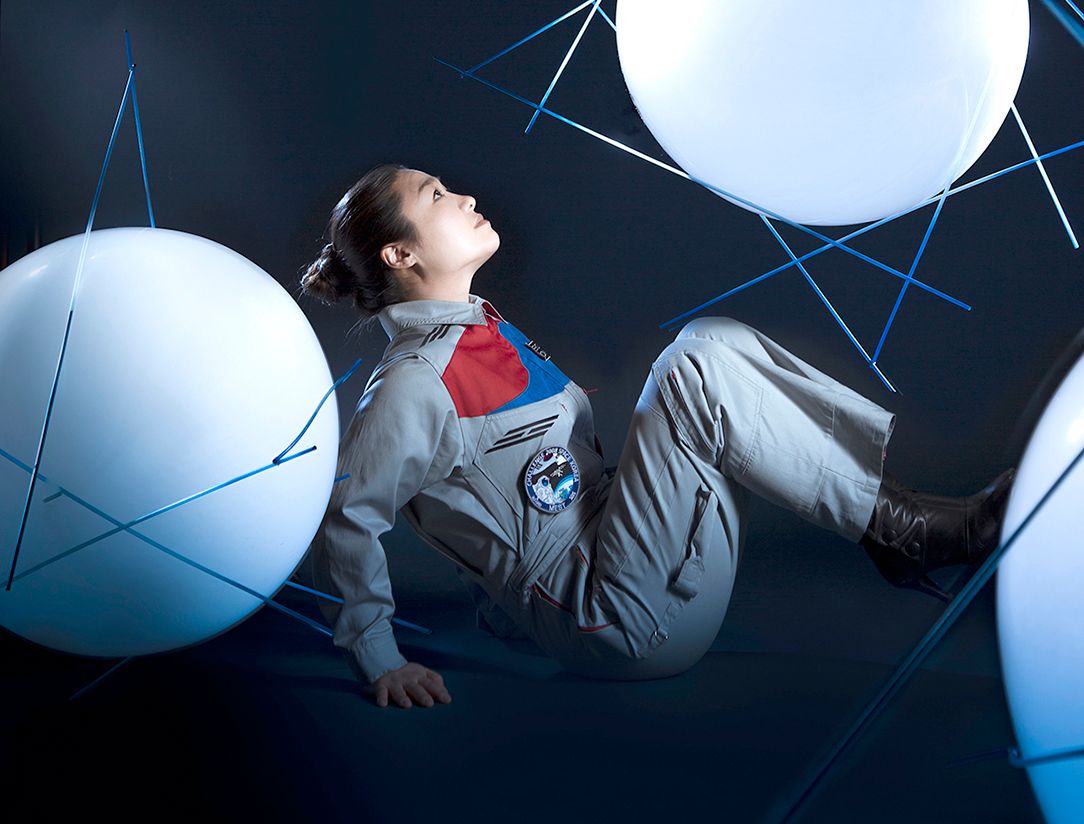 Courtesy Blavka Photography
B. Soyeon Yi was the first Korean to go into space, on a Russian mission to the International Space Station. In her interview with Niehoff, she talks about her experience of weightlessness, the disorientation of floating, the contrast between the profound nature of being in space and the bizarre sensation of her breasts floating inside her sports bra.
Courtesy Blavka Photography
C. Speed-skater Maurice Hall has an entirely different story to tell. In his interview he dissects the biomechanics of a left-hand turn with incredible detail—the placement of the feet and the focus on the pivot point. Niehoff and Keeble loop and overlay that audio in the score so that our ears vibrate with the single-minded intensity of the task at hand. Translated into more abstract movement for dancer Patrick Kilbane, we see the glide that the still image of Hall hints at.
Photo by Nate Watters
D. Dancer Alia Swersky has such long arms and legs that she seems like a shape-shifter. Folded demurely and curled up, she looks almost harmless, but when her limbs flash open in an extension, she becomes fierce. She's had a long performance career in Seattle, working for several different choreographers, but wherever she is, she brings a sense of kinetic authority. Along with Kilbane and Liane Aung, Swersky is more than capable of the extremes that Niehoff is working with here. Before We Flew Like Birds, We Flew Like Clouds, 12th Ave Arts, 1620 12th Ave, velocitydancecenter.com. $18–$50. Times vary, March 9–April 1.
dance@seattleweekly.com