It's approximately 5:34 p.m. on a Friday night. Inside a windowless, concrete-floored loft just a block down from Safeco Field, some 60-odd folks have braved Friday-evening traffic into SoDo and each paid $20 to be here for one purpose: to make games, under a tight 48-hour deadline.
This is known as a game jam, an event akin to 48-hour film competitions or hackathons, in which participants race against the clock to build a fully functioning video game—which, if you know anything about the typically protracted development cycle most games go through, is a very steep undertaking indeed.
Some of the larger jams, like Ludum Dare and Global Game Jam, take place on an international scale, with contributors around the world. This jam is a smaller, more intimate affair, though around 40 people participate over the net.
Jams are usually centered around a theme; this one's is Cool Games Inc., a comedy-games podcast from Polygon's Griffin McElroy and Nick Robinson. The two bounce suggestions from Twitter and Reddit off each other, improv-style, until they end up with a suitably absurd concept, like a truck skateboarding game sponsored by Tim McGraw, a VR bartending simulation, or a multiplayer racing game in which players switch control of the car every five seconds.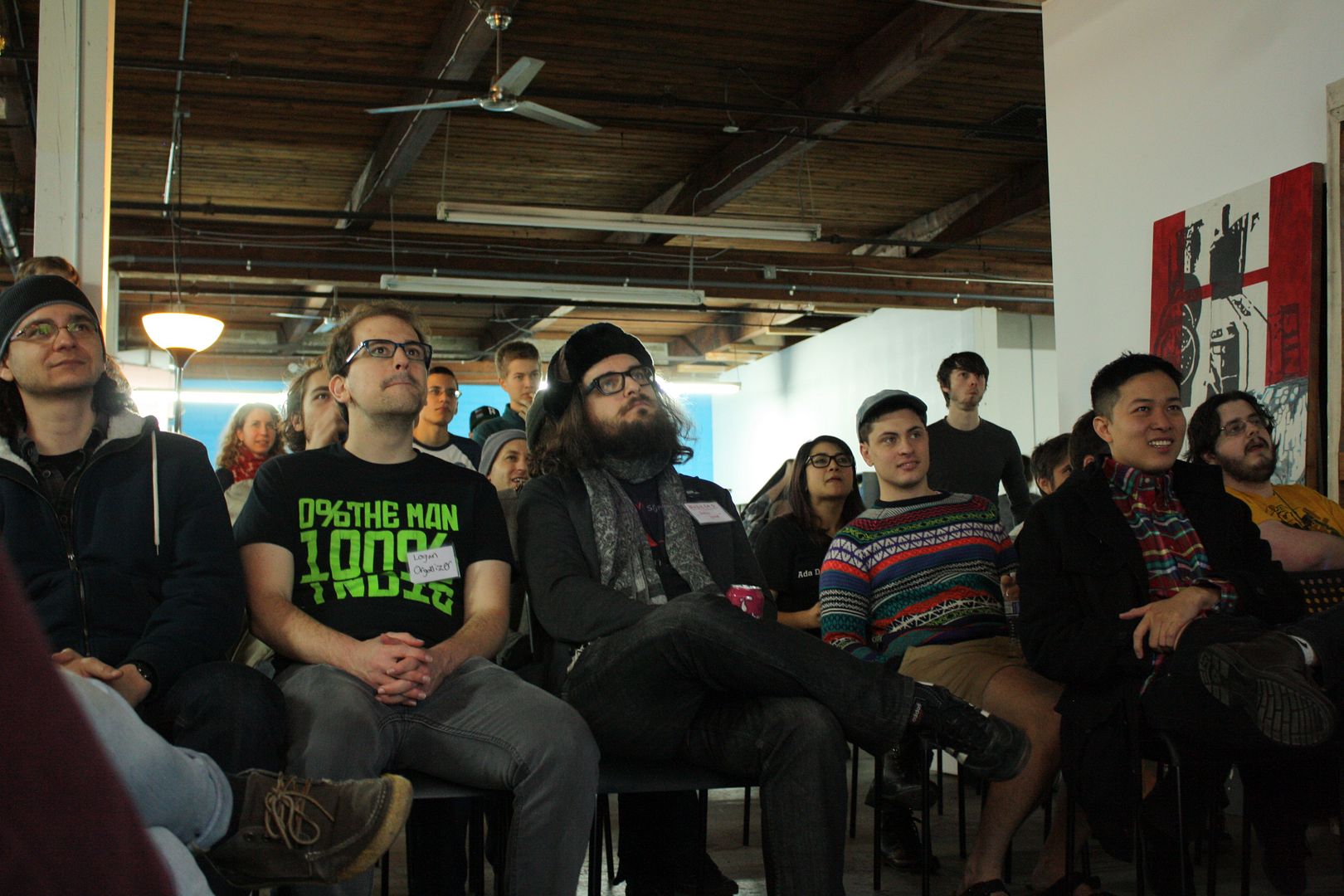 Photo by Daniel Roth
This last idea led Logan Fieth, one of this game jam's organizers, to hold this jam in the first place. He did much of the work for his recent game, Four Sided Fantasy, in the Indies Workshop, the barely year-old co-working space for local indie game developers where the jam is being held. The space also hosts events, such as support groups and game "book clubs" held by Seattle Indies, a healthy community of almost 3,000 local game devs and hobbyists.
The crowd, as one might expect, leans young and male, but all things considered it's quite diverse. There's certainly a wide set of skills on display: programmers, artists, musicians, Digipen grads, hobbyists, game-industry vets with 10-plus years of experience and film students who have never worked in games before.
The jam officially kicks off at 6, at which point the participants break into groups. Each team needs at least one programmer, one artist, and one musician, though most end up with overlap. A few brave and/or foolhardy individuals decide to work on their own, making an already difficult task seen downright Herculean.
The 3-D model from "Hugh Jackman's Huge Actin'" Model by Rob Rood
Each group is given an idea from the podcast to serve as the basis for their games. Some choice picks: "Hugh Jackman's Huge Actin,' " "Battle Vapes," "Business Dogs," "Explain Tumblr to Your Dad Simulator 2017," "Judge Judy and Executioner," and so on. Right now, things are firmly in the ideation period: Artists sketch out what characters and UI design might look like, programmers try to determine how the game mechanics might work, and musicians attempt to figure out what themes and motifs will best fit the games.
About 24 hours later, things are looking much different. Games are starting to take early playable forms, though they are far from complete. Robby Zinchak, whose tenure in indie games includes the popular 8BitMMO, lets me playtest his game Business Dog, where the goal is to infiltrate an office, as a dog, to gain the trust of human bureaucrats. Another group is working on a VR game from a baby's perspective, but hasn't gotten much farther than building a room with a crib. Programmers wrangle multicolored strings of code on their laptops.
Despite the environment's relative gloom—cluttered with cables and snacks, lit by white fluorescent overheads and the glow of PCs—it's striking how almost everyone I speak to at the jam comes off as friendly and amiable. They're working very hard for no monetary gain, but they just seem ecstatic to be here. It becomes clear, too, that game jams are very much social events: a chance for industry newcomers to forge connections and add to their portfolios, and for vets to get out of their established paths to try something new (and maybe tell some war stories about past jams).
Sunday afternoon, a few hours before the jam's 6 p.m. deadline: Compared to the storm of the Seahawks home game raging outside, the atmosphere inside the Indies Workshop seems toned-down. Of course, that's just on the surface. In actuality, it's quiet because it's crunch time—everyone's head is down, eyes glued to their computer screens. It's an especially critical time for the programmers, who need to squash as many remaining bugs as possible before time runs out. At one point, a man in a Seahawks jersey wanders in. He seems bewildered, and leaves quickly.
Miraculously, everyone pulls through and has something to show for their work over the past 48 hours. After focusing so intently on their own games, they get a chance to see what everyone else was doing. Hugh Jackman's Huge Actin' is a Simon-Says-like experience in which you have to click on different emojis to copy the emotions exhibited by a 3D model of Jackman himself. Diner Dynamos, a two-player giant robot fighting/cooking game, looks like a blast. The remarkably polished Super Star Enjoyer has an arcade-y feel, with the player linking stars to make constellations and fend off an incoming comet.
Each game gets raucous applause from the jammers. The whole showcase just feels cathartic—not just a celebration of the games themselves but also of the hard work and passion the jammers have exerted and the bonds they've created. Every game made at Cool Jams Inc. is available to play at itch.io/jam/cool-jams-inc/entries. arts@seattleweekly.com