I laughed longer than I'd like to admit at a werewolf's boner.
The physics of the situation—a hairy erection stretching a thin, elastic speedo just shy of its breaking point, induced by accidental Viagra consumption at a water park—made me ugly guffaw so hard that my partner came in from the next room to check on me.
Simon Hanselmann's Megg, Mogg & Owl comix series is one of the few contemporary works in any medium that makes me laugh at all, but it's absolutely the only one with the power to render me a useless pile of cackling goo. The remarkable thing is that the Tasmanian cartoonist (now a resident of Beacon Hill) manages to do this alongside devastatingly sad, guttingly vulnerable storytelling. These are simultaneously some of the meanest and most tender comics you will ever read.
Megg, Mogg & Owl began as a tumblr sensation, but has since become one of Fantagraphics' bestselling series. The misadventures of Megg, a stoner witch, Mogg, her perma-wasted cat boyfriend, Owl, their well-to-do punching bag of a roommate, and Werewolf Jones, a terminally party-hardy bastard with two werechildren he parents like shit, have been translated into a slew of foreign languages for audiences around the world. One More Year, the third Fantagraphics collection of MM&O strips, is the last book before Hanselmann says the series will shift into considerably darker territory (a feat considering how dark the series already gets). The title One More Year alludes to the fact that Werewolf Jones, whose speedo boner is the highlight of the book, will die from a heroin overdose in one year's time, setting off Megg's Coven, a book that will focus almost entirely on Megg's relationship with her drug addicted mother (modeled after Hanselmann's intense relationship with his own mom).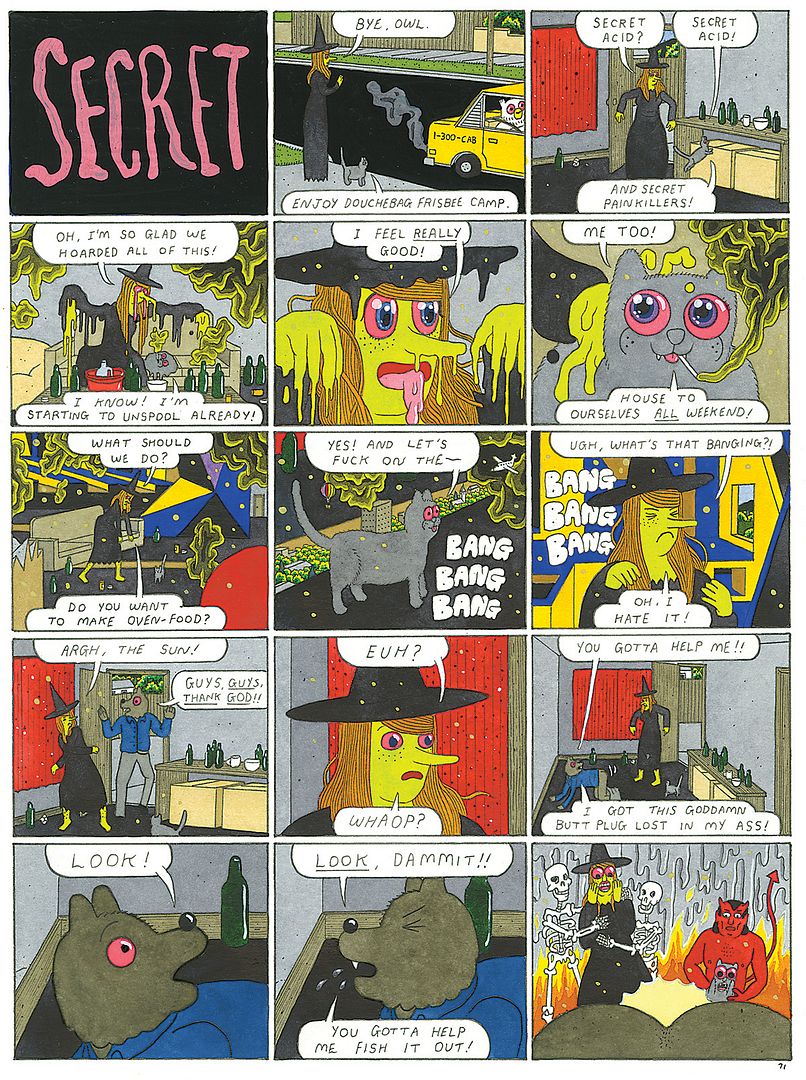 If you're a diehard MM&O fan, you've probably already read the majority of One More Year elsewhere. Only 52 pages of the 220 page book are exclusive, the lion's share of which come from "Heat Wave," the excellent aforementioned water park strip. The rest have appeared in one-off MM&O books (Life Zone, Worst Behaviour), or in episodic installments on Vice.com, the rare, pricy French anthology Dôme and Hanselmann's self-published minis like Drone.
Hanselmann has admitted in interviews that this collection is mostly a way to cash-in on material that belonged to the late Alvin Buenaventura (to whom the the book is dedicated), the indie comix publishing maven who committed suicide last year and left no will, effectively locking Hanselmann out from reclaiming the rights to many of his own works. The gorgeous holographic foil cover of One More Year came about because, as Hanselmann told Paste, "a lot of material in this book is previously published, out-of-print work that non-mass-market fans will already have. I needed a way to 'trick' more attentive fans into needing this book." Hanselmann's pulled weirder money-making tricks than this in the past—he sells packets of his own garbage for anywhere from $10-$100 dollars.
This latest trick works, though. Even if you're an obsessive like me and already own or have read most of the material in One More Year—the book is incredibly handsome, Worst Behavior and some of those self-published minis get re-done in full color, and what little exclusive material is here is top-notch Hanselmann. And if you aren't a completionist freak and haven't read most of this material already, One More Year, is a vital no-brainer. Whatever you do, just don't let any young children read it.
ksears@seattleweekly.com