One unique aspect of life in Seattle is the number of practicing witches, sorcerers, pagans, warlocks, faeries, alchemists, and other magical folk who call it home. From attending a Gnostic mass at Horizon Lodge—a beautiful temple in Magnolia overseen by followers of Thelema, the religion Aleister Crowley founded—to learning herbal crafts from hedge witches in secret backyard poison gardens to strolling the aisles of the Metaphysical Library in Ballard (currently celebrating its 55th year of operation) and losing yourself in subjects ranging from astral projection to Zoroastrianism, our wealth of options reflects the density and variety of local practitioners. If you're looking for a nexus for this diversity, look no further than the Esoteric Book Conference, a two-day convention, now in its eighth year, featuring lectures from world-renowned speakers, an art show, and a book fair, all focused on esoteric and occult studies.
Beginning in 2009, the EBC was a way for William Kiesel, local occult author and the driving force behind Ouroboros Press, to bring together like-minded people. "The esoteric community had grown quite large in Seattle, and as many bookstores continued to close their doors, there was an increasing need for a venue for people to browse the many new esoteric publications which were beginning to come out at a rapid pace," he explains. "As a publisher and bookseller of many years myself, I had experience with book fairs and knew many publishers and booksellers who specialized in esoterica. It was a natural extension of my activities in the book world."
In past years the conference has taken a close look at such disparate subjects as Gnosticism, Voudon, theosophy, chaos magick, Mayan cosmology, Freemasonry, shamanism, and herbalism. The conference has also played host to heavy hitters like filmmaker Brian Butler, whose work with Kenneth Anger and Vincent Gallo is quietly becoming the standard in occult film, and Adam Parfrey, head honcho at Feral House publishing and the author of the infamous book on black metal's Satanic history, Lords of Chaos.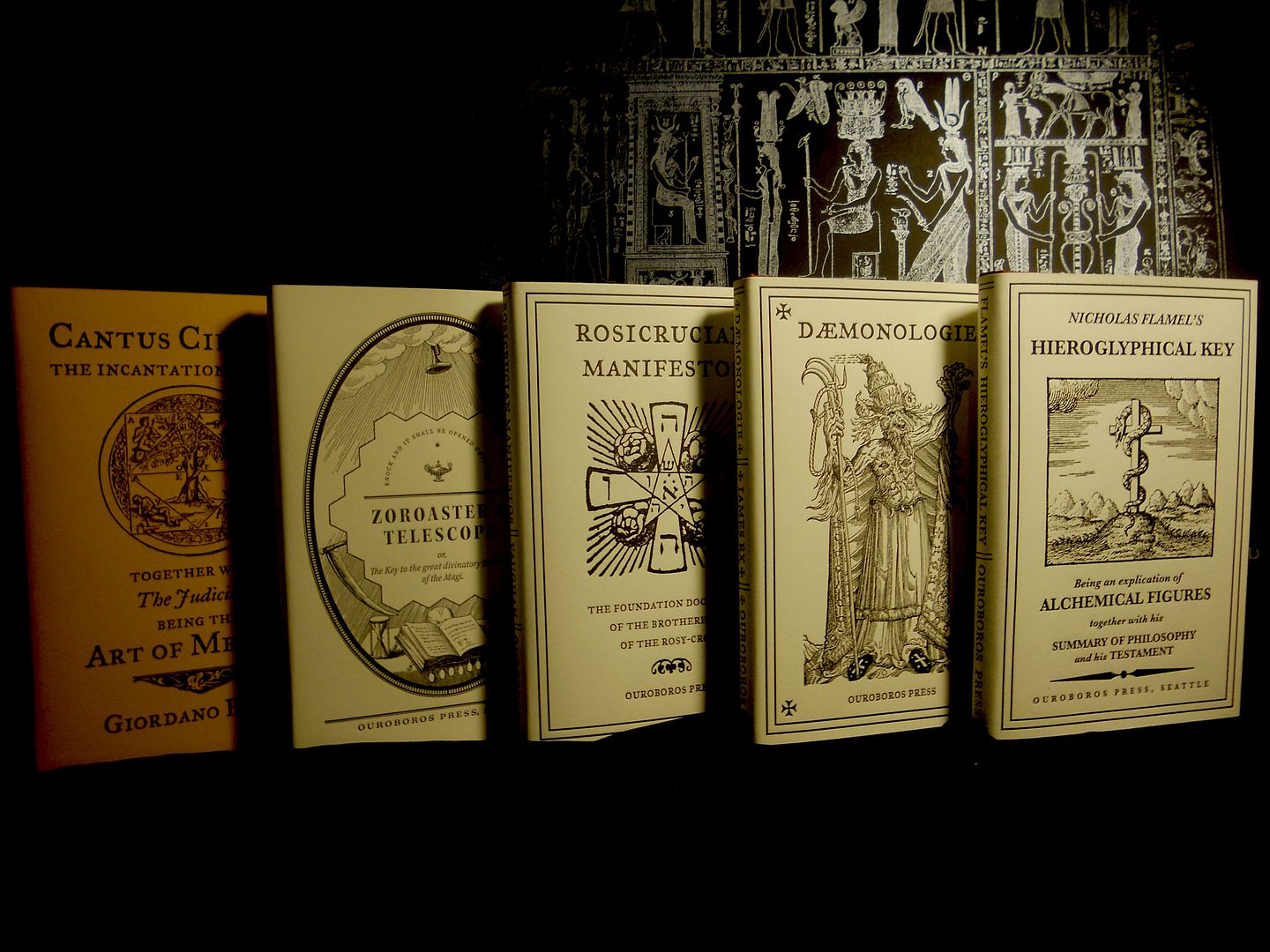 Books from Kiesel's Ouroboros Press.
Folks coming to the EBC hoping to find cackling witches hovering over bubbling cauldrons or dark-robed wizards tossing glowing fireballs may be disappointed. However, for those "with eyes to see and ears to hear," treasures abound. This year's conference is packed with lectures, presentations, and artwork addressing witchcraft, alchemy, and body adornment as spiritual practice, just to name a few. Three presentations in particular are on my must-see list.
First, Pulitzer Prize-winner Louis Sahagun's lecture on the magickal maverick Manly P. Hall, author of The Secret Teachings of All Ages, who all but introduced modern occultism to the West Coast, blowing up in L.A. in the 1930s, before dying of mysterious circumstances in 1990. Second, Jason Louv, the brains and heart behind the fantastically progressive occult blog and journal Ultraculture (and writer for Vice, BoingBoing, Esquire, and more) will speak on John Dee, an incredibly complex figure from the late 1500s who was the founder of Enochian magick, an advisor to Elizabeth I, and just possibly the person who revealed the magical system for the New World Order. Lastly, Pam Grossman (Abraxas Journal, Huffington Post, MSN) will present a history of witches as artists, a guided journey through their work within movements such as modernism, surrealism, and abstraction.
"As a conference whose focus is on esoteric books, I believe we are unique," Kiesel says. "There are other first-rate events in the U.S. and abroad; the Occult Humanities Conference in New York and the Occult Conference in the UK come to mind. One of the wonderful things about the EBC is that we have so many folks traveling here from other places to participate."
Book lovers will find rare, out of print, self-published, and other hard-to-find occult tomes, and will also have access to extremely small magickal publishing houses, whose books can be very hard to find in normal stores. Take the goatskin-bound tomes from publishers such as Scarlet Imprint—who treat the very act of bookbinding itself as a magical act—or the first-edition Gerald Gardner titles I scored a few years ago (he's one of the founders of modern Wicca).
Scarlet Imprint's "Exu and the Quimbanda of Night and Fire"
But book lovers will also find community. While Kiesel and other EBC hosts work hard to find quality lecturers and artists, they also hope the conference will engender camaraderie, providing a place where esoteric students and those who are simply curious can come together from all over the world and exchange ideas, make friends, and hopefully find that special grimoire that will complete their collection or advance their personal studies.
"There were times in early years when I wondered if all the time to put this on was worth it," Kiesel says. "And every year I would answer yes due to the enormous positive feedback I received from attendees, guest speakers, and the publishers and booksellers… really, it's the community that makes this happen." Esoteric Book Conference, William H. Foege Hall, UW, 3720 15th Ave NE, esotericbookconference.com. $60-$140 (book fair is free). All Ages. Sat., Sept. 10 – Sun., Sept. 11.
arts@seattleweekly.com