Concert dance is a world with a strange relationship to individuality. You'll see strings of identical ballerinas who train their whole lives to move as one interchangeable body. You'll also see lone choreographers who've built a career upon the cult of their own vision. One thing you won't see very often, though, is a group like Seattle's Au Collective.
Onstage, the personality of each dancer shines through even when their movements are shared. Conversely, you feel the spirit of the whole collective present in any one member's solo work. Even dancing alone, an Au dancer doesn't really seem alone. They seem as if they're part of something bigger than themselves, and everyone in the audience is invited to be part of it, too.
"It's not solely about physical movement," says Au Collective member Lorraine Lau. "It's about an energetic connection that is received and exchanged between the people onstage and the people who witness it… When you are performing you are giving something as a gift almost to the people around you, and they receive that and respond with a similar intent."
This is what Au artistic director Cheryl Delostrinos calls "seeing and being seen." It's one of the founding principles of the collective, which was started in 2015 by UW dance graduates Delostrinos, Fausto Rivera, Austin Nguyen, and Hallie Scott. They wanted to center people of color, women, and members of the queer community, and celebrate the identities so often smothered by the concert dance world. "I don't mind watching dance that's just movement, that's just geometry and unison and shapes," says Lau, "because it's beautiful to watch bodies doing shit with skills. But when dancers are trying to not be a human, it's really distasteful to me. It almost hurts me inside, because you're not an instrument, you're a person."
There are now 14 members in Au Collective, and they're preparing for their biggest show yet—a showcase at Washington Hall, entitled from SEA, that will include pieces created by and for the group that draw from the diversity of their cultural and dance backgrounds. Those include martial arts, cheerleading, jazz competition, traditional Indonesian dance, b-boying, voguing, musical theater, popping, and more. Most dancers in the collective are classically trained and as technically proficient as any professional, but they've deliberately chosen to incorporate, not abandon, the traditions that drew them to dance in the first place.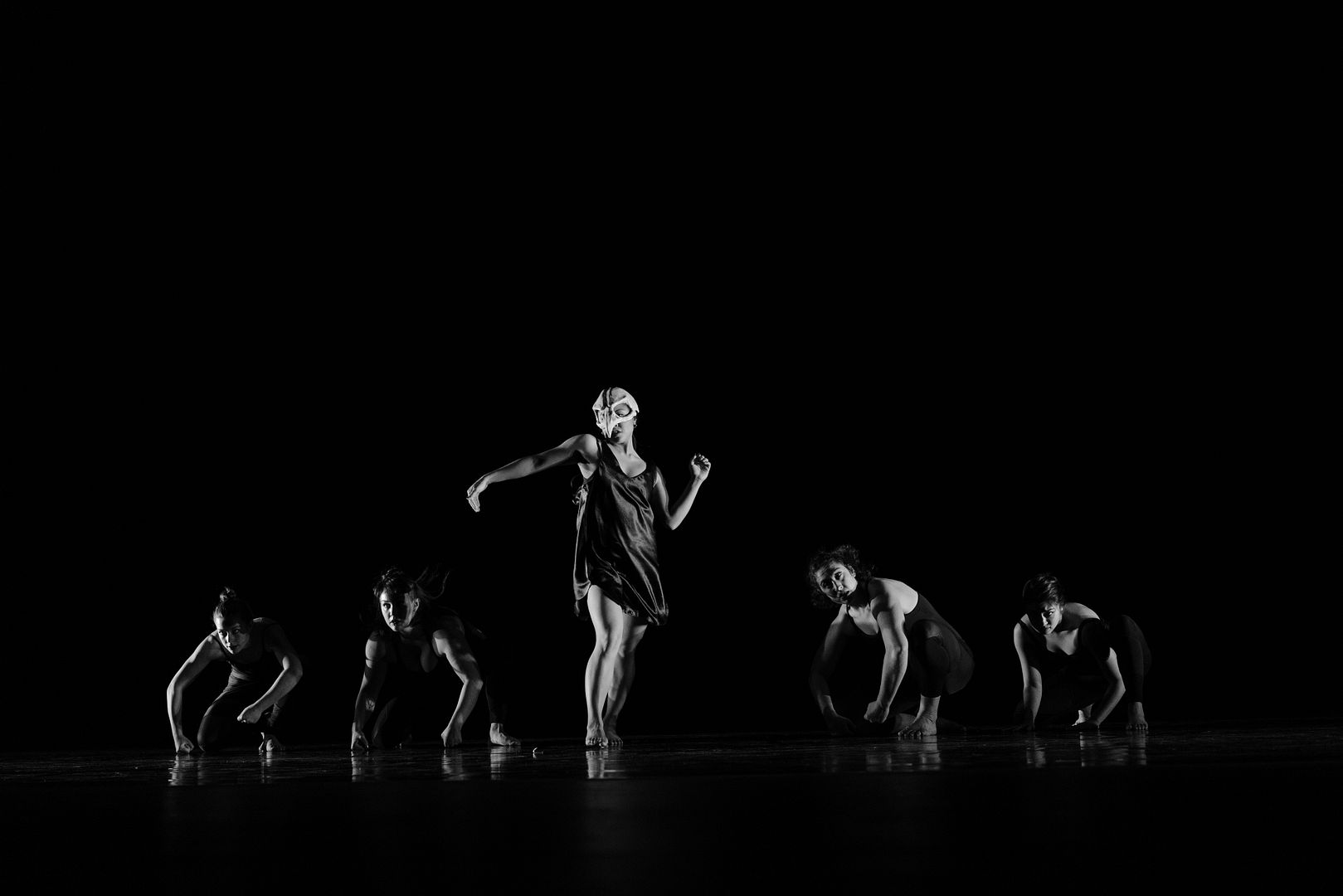 Hallie Scott, El Nyberg, Cheryl Delostrinos, Sarah Hogland (guest artist, non-Au member), Angel Alviar-Langley. Photo by Andrew Imanaka
"Many of us grew up in communities of color and spaces where dance is present in church or at a party or community center or family gathering," says Delostrinos. "Being in a concert-dance space while staying true to our cultural identities and experiences outside the art world has influenced the way we approach this concert, and every concert we've ever done."
This is in part because of the fraught relationship many dancers of color have with the Eurocentrism of concert dance. Every dancer alive has heard the phrase "Ballet is the foundation of all dance." "You don't just say 'Kick your leg up,' you say balançoire," says Delostrinos, who trained with the Pacific Northwest Ballet for 10 years. She is one of many Au dancers who's been repairing their relationship with concert dance through the collective. ("You know what?" she says at one point. "I'm going to reclaim it. I was told that I was never going to be a ballerina, but I love ballet, I take it all the time, and I am a ballerina.")
Collective member Angel "Moonyeka" Langley echoes Delostrinos' frustrations. "Choreographers have often asked me to leave my identities at the door," she says. "When I was cast in things I felt like I was a token and have even been called 'exotic.' I gave up on the idea of ever being able to access concert dance or ever see a reflection of myself onstage." Langley now organizes with many queer- and POC-centered hip-hop institutions in Seattle, deciding that she'd rather focus her efforts within her community than outside it.
"In a society and artistic community that rewards racial and cultural erasure, it has been much easier to make work that is 'neutral,' " says Alicia Mullikin, a guest choreographer in from SEA. "Avoiding controversial themes has made it possible to take up space in a white-dominated society. This neutrality has come at a cost and has been a factor in my departure from working in companies and communities that perpetuate these types of systems. This is why collaborating with Au Collective has brought both joy and comfort…and helped me revive a piece of myself and my culture that is so often set aside."
The piece Mullikin choreographed for Au is expressive and powerful. The dancers move with dizzying momentum across the whole stage, charging the front like a phalanx. The piece is called En brazos entre líneas enemigas ("In arms between enemy lines"), but even if you don't know the title, it's obvious they're supposed to look like an army.
This goes back to another tenet of Au Collective: making dance accessible. "I never want to create empty art, that leaves people wondering, 'What did they mean, what did I just see?' " says collective member Randy Ford. "As a collective we want to make art that is accessible, that our parents can see, that first-time art spectators can see, and feel good about what they saw."
The piece Ford choreographed for the concert, "WORSHIP" is called a "praise dance," and it's the kind of thing anyone can understand and enjoy. It's based on Ford's experience going to church growing up, how that rubbed against their queer identity as they got older, and how they found their own "church" in dance and the Au Collective. The dance is a group piece set to a modern gospel song, with exalting arm motions and duets for dancers of different religious backgrounds. As in any Au piece, nothing that happens is boring, opaque, or for its own sake. And they're dancing on the beat, with motions that relate directly to the lyrics.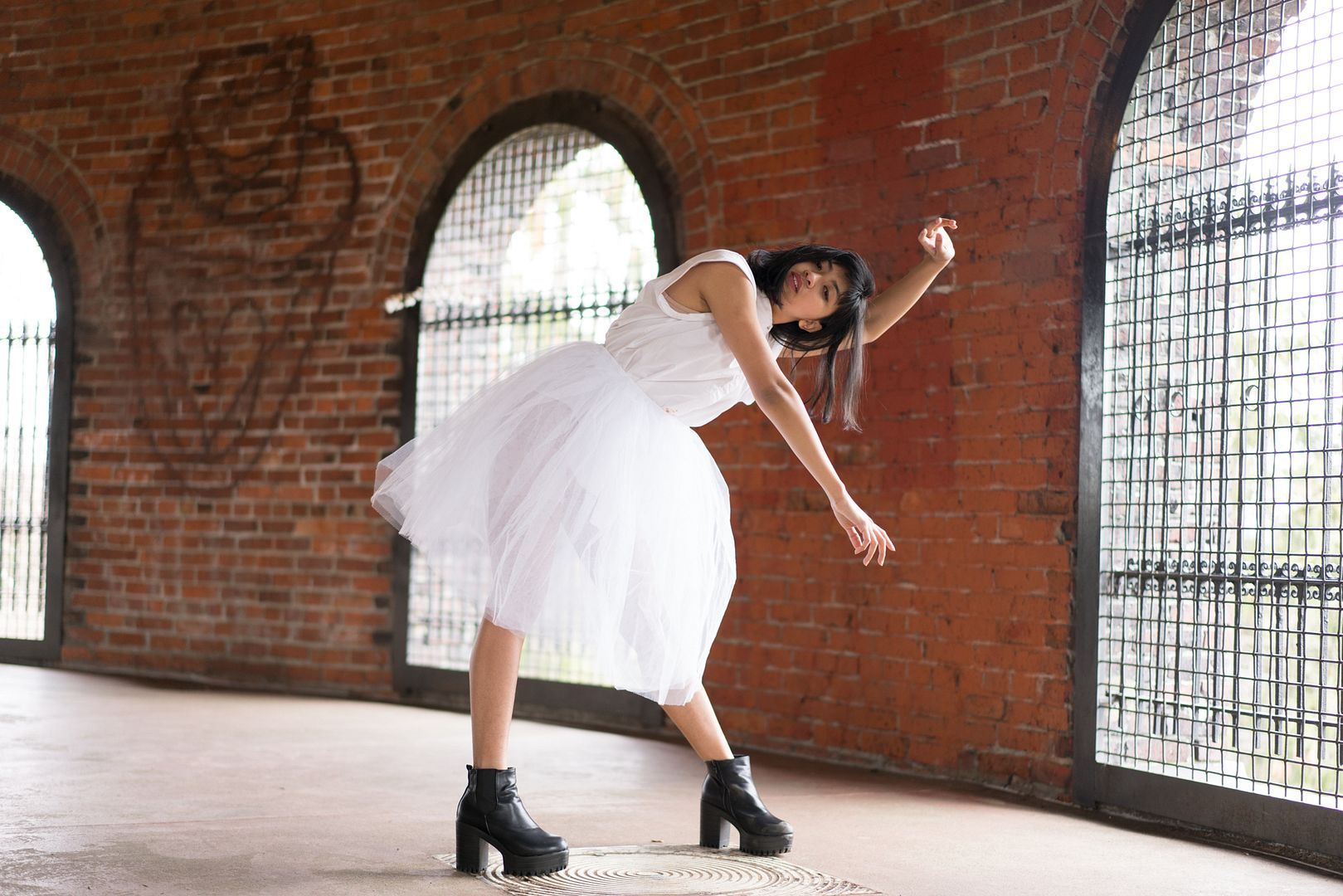 Imana Gunawan. Photo by Andrew Imanaka
In modern dance, that's something of a rarity. "No drones," some of the dancers say when asked what they look for in music. They're talking about the abstracted music that's so common in modern concert dance: often beatless, wordless, ambient. Instead, Au uses music with words, including tracks from popular artists like Rihanna or Kendrick Lamar. They also dance on the beat.
"We dance on the beat on purpose," says collective member El Nyberg, "because we come from cultures where you dance to music on the beat … Just because it's enjoyable to our grandparents and our nieces and nephews does not mean it's not fine art."
The collective often works with youth—in fact, dancers as young as 7 are performing in from SEA. Music helps them make dance resonant to these kids. "At our last workshop," says Ford, "we danced to a song by an Ethiopian rapper, and the first thing this little girl said was, 'He's Ethiopian, just like me!' People get excited about things like that, and get passionate about the possibilities."
Au Collective seeks to expand the definition of what a dancer is supposed to look like—tall, white, skinny, ballet-trained, no tattoos, gender-conforming, they say. "I just want all those chubby little brown girls to be dancers," says Nyberg.
"And those short Filipino girls, they can be ballet dancers!" says Delostrinos.
"And those feminine, male-bodied queens, they can definitely be dancers," says Ford.
"But you can't be what you can't see!" says Nyberg. With from SEA, Au Collective will give everyone something to look at.
from SEA, Washington Hall, 153 14th Ave., aucollective.com. $10-15. All ages. 7:30 p.m. Thurs., May 18-20. 2 p.m., Sat. May 20. dance@seattleweekly.com