For the visuals projected during an electronic-music set, there's a quantum leap of learning between pressing play on a prerecorded video and doing it live. Talking with videographer Annisa Amalia, it's easy to understand how making the switch can both thrill and terrify.
"To do it live is an exercise on its own," says Amalia. "I have to be thinking really fast, every minute to minute, and I have to be aware of what's going on environment-wise with the music, figuring out what effects to put in and when, and how to transition from one artist to the next. You also have to be ready for worst-case scenarios, like your computer crashing."
A new-media artist, Amalia began by showing premade experimental videos at shows like Corridor Festival, Moor Mother, and Inga Copeland. She made the leap to live visuals at the Galcher Lustwerk show last February, learning new software (Resolume) in two weeks on a borrowed computer. "It's always nerve-wracking," she says of live visuals, "especially as a woman and someone so new in the game… Doing premade visuals, I come into the show, set up the projector, and then I can go wherever I want. I'm detached from the show, and just kind of providing a service in a way. But with live visuals, I have to be a part of it… [It] is kind of like DJing, but instead of tracks I'm collaging visuals as I go."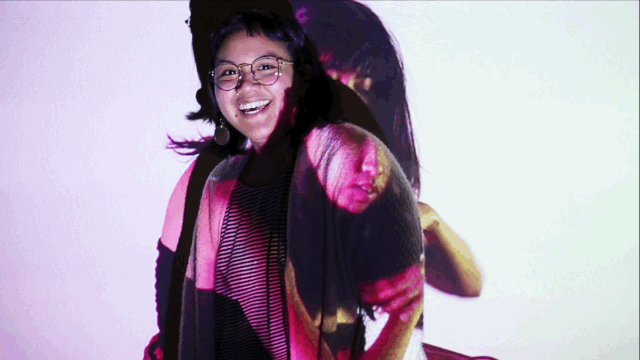 The legwork beforehand is also similar: Amalia spends weeks picking out video clips, effects, and graphics just as a DJ selects tracks for his or her "crate." Many visual artists stick to the abstract, but Amalia seeks clips with people in them, like archival news broadcasts or commercials, or shoots her own footage of dancers. Her work is defined by color and light—she'll have a whole set in pinks and reds or in blues, and she goes brighter than most, filling the room with the flood of her screen.
Though Seattle's electronic scene has myriad femme influencers, visuals remain male-dominated. Only a handful of women in Seattle make prerecorded videos for shows, and this author has never seen a woman besides Amalia do it live. And as a current senior at Cornish College of the Arts, she's also got to be the youngest VJ in any club. But Amalia's entire career has been a courageous pursuit of new ground—she left her hometown of Jakarta, Indonesia, at age 17 to find more opportunities for video art, and we're lucky she landed in Seattle. A composite film of her event visuals is up at Rose Gold in Glassbox throughout January if you want to see what the future of new media in Seattle looks like. Rose Gold at Glassbox Gallery, 831 Seattle Blvd, glassboxgallery.com. Open Fri., Jan. 6 – Sun., Feb. 28.