When the scene starts, it's not long until you see one. The camera shows a close-up on its teak legs, tapered tiptoe points. Another illuminates a backside, the sheeny cherry leather. Alone and centered, they're lifelike, beguiling, sensuous, even coy.
The characters in Amie Siegel's Provenance are chairs—more specifically, a series of armchairs, lounge chairs, and other variations designed around the 1950s by big-league architects Le Corbusier and his cousin Pierre Jeanneret for the city of Chandigarh, India. After the violent Partition, India's prime minister, Jawaharlal Nehru, was determined for a fresh start, to create a new capital for Punjab. He appointed Le Corbusier and Jeanneret to design not only furniture, but the entire architectural scope of the nascent metropolis, including the Capitol Complex, government offices, the Parliament building, and the High Court.
Provenance (2013) is the longest piece, and arguably the artist's most famous, in Interiors, Siegel's current solo exhibition at the Frye Art Museum. This example of Siegel's signature essayistic film form, dubbed "ciné-constellations," unfolds like a "provenance"—auction language for the documented history of an object's value. The film's chronology is reversed: It begins with the chairs inside the rarefied homes of collectors, their final resting place. Our heroes find themselves cleaned by a worker in a dizzyingly luxe yacht; posed in various angles for catalog photo shoots; and back in an auction house, where a telephone bidder wins with a cool five-figure offer. We then enter a darkened storage area in Chandigarh, where the chairs are hastily stacked, nicked, and defaced. The sight is jarring: Having spent time with them in situations in which they have been protected and conserved, I developed an affective investment in them, as if they were sentient. At one point a worker rips open a chair's upholstery and its padding spills out, as if it were being disemboweled. Against my better judgment, I feel bad for it.
In an especially tragic scene, the chairs are stockpiled in a scrap site, strewn in an undignified heap. They seem injured and helpless. My emotional response reveals my identification with the chairs, as enabled by all the processes of their value-making, including Siegel's sympathetic cinematic choices. Provenance has been shown at The Met, and in a talk with art critic Hal Foster and curator Nick Cullinan, Siegel explains that "the diasporas of the furniture implies other diasporas," explaining how the chairs' constructed cultural aura speaks to entangled power systems that drive our relations with people across class and geographic lines. (Kourtney Kardashian reportedly owns around 12 Chandigarh chairs.) Siegel says in the talk that "cinema as an apparatus of identification—that's how you get to complicity. There's a covetousness that gets elicited at times." Behind Provenance is the projection of another piece in which Siegel expounds her own involvement in value-making as it pertains to the speculative art market, entitled Lot 248 (2013)—the bidding name assigned to Provenance as an artwork at Christie's, the paragon of art auction houses. In a profound demonstration of her ability to gain access to the most exclusive places, Siegel recorded the real bidding process of Provenance.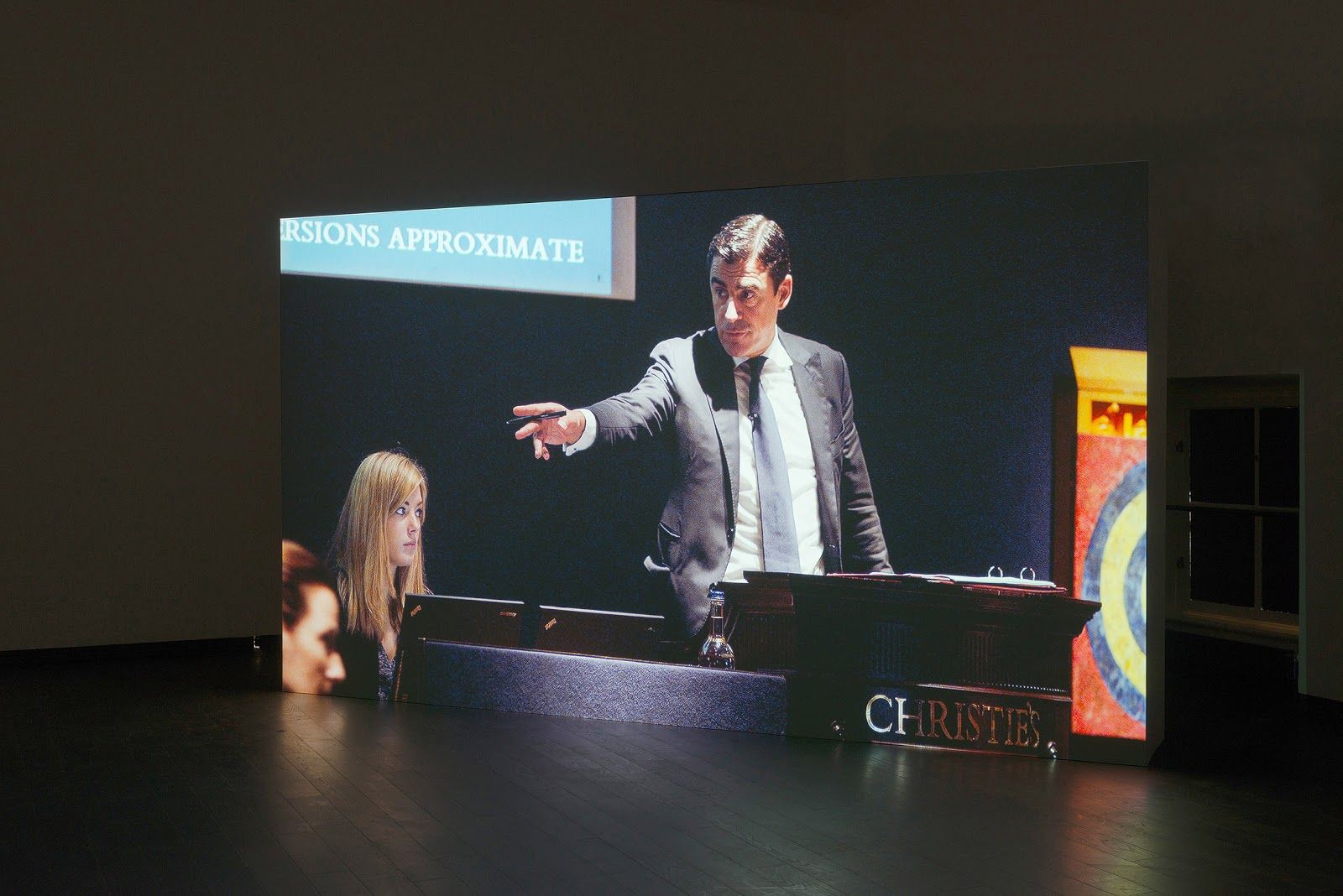 Amie Siegel's "Lot 248" (2013). Courtesy of the artist and Simon Preston Gallery, New York.
There are many rich ideas in Provenance and Lot 248, not to mention the other pieces in Interiors, Fetish (2016), Double Negative (2015), Surrogates (2016), and The Modernists (2010). Siegel's work is a springboard for layered, accordionesque discussions about the art market, commodity fetishism, and the globalization and Western hegemony of aesthetics; one could go even deeper into Le Corbusier's vexed legacy and the implications of Nehru's choice of a Franco-Swiss architect to transform the city, according to Nehru, into one "symbolic of the freedom of India, unfettered by the traditions of the past." There is an entire conversation around the meta-nature of Lot 248, which documents the bidding of Provenance for $67,830 USD, and Siegel's own complicity in speculative cultural value and the power systems that enable it.
Big ideas aside, if you gain pleasure from gorgeous cinematography, Interiors will make your visit worthwhile. Siegel approaches film with a fierce aesthetic prowess, and the masterful way her camera work imbues the chairs with life can't be understated. Interiors is a big gain for the Frye and Seattle, since, as the show's guest curator Kathleen Forde remarks, Siegel is "exhibiting widely both nationally and internationally at the moment and very much in demand." This occasion for Seattle arts is heightened by the fact that the Frye is a free museum.
Provenance is 40 minutes long, and, walking in, it's difficult to know where you've entered. Since grasping its themes requires an understanding of its premise, I wonder how many people who've encountered it stuck around for its entirety to absorb its slow-revealing plotline. Could the film benefit from a screening schedule, or more explanation on the works' bare labels? As a free museum, the Frye is in a rare position to share art with an audience beyond the converted, able to offer what many museums can't: a space in which to gather casually around internationally renowned art without cost. Does its broad-reaching scope entail a bigger responsibility to interpret its materials more accessibly?
As for the lack of interpretive materials, Siegel responded that "I like to presume curiosity and intelligence on the part of audience, rather than the opposite." I too like to presume this, but to me it isn't an issue of intelligence or interest, but a question of how much you make a viewer work. In its current iteration, Interiors leaves this tension between artistic expectations and the reality of the audience unresolved; these are works that reward thorough examination.
In the Met talk, a skeptical Foster asks Siegel, "Does the confession of complicity count as critique?" Siegel uncovers layers of truth in terms of the responsibilities of artists, buyers, and audience—but how effective is this disclosure when it is subsumed by the machine she shines her investigative light toward? Siegel displays Proof (Christie's 19 October, 2013), the auction catalogue page for Provenance, which depicts the piece as "a hauntingly beautiful video of tremendous scope." If the piece is more readily embraced by the art market than by the potential audience most impacted by the issues it's critiquing, does that sap the work of its force? To the art circuit and the capital it represents, is Siegel pointing a finger or giving a wink?
Amie Siegel: Interiors, Frye Art Museum, 704 Terry Ave., fryemuseum.org. Free. Ends Sept. 3.
visualarts@seattleweekly.com