Sunday Was New Music Day at Sasquatch. Up and Coming Acts Day and Night (PHOTOS)
By Morgen Schuler
Fri., May 30 2014 at 03:49PM
Sunday was a day for new music, at least for me. This year there were quite a few (too many) bigger bands that I hadn't had a chance to get into or see live yet. One of the biggest bonuses of heading out to a music festival is seeing a huge number of acts in a very short period of time. Basically it allows my procrastinating, lazy side to flourish (other than the fact that I'm running around like a madwoman seeing as many as I can). Sets like Haim, Kid Cudi, Lucius and tUnE-yArDs were among the "I can't believe I haven't seen these groups yet" bundle, but thankfully Sasquatch fixed that for me. It was also, by far, the hottest day but weirdly also the only day sprinkles of rain hit the ground. It was a welcome break in the beating sun, but no complaints here because this weekend was the best weather of any Sasquatch I can remember… so thank you weather gods for smiling upon us.



---
Be sure to check out the whole slideshow of photos from Sunday at Sasquatch.
---
Speaking of Haim, I first want to say "Holy moly!" I had no clue how talented and completely crazy this trio of sisters is. Each has an obvious personality that separates them from the other two, much like what a boy band attempts to emulate, but when it comes to playing music… they absolutely shred it. Este's bass face is hard to rival looking like she'll probably rip your head off before she'll put down her axe. Alana looks to be the sweetest of the three until she gets going on her keyboard or running across the stage flipping her magnificent mane with the power of a whip crack. Last but not least the Danielle as the lead singer and incredible guitarist that grinds her way through riffs like she was born to it. I was in awe the whole time and it takes a lot for me to get there these days.


Kid Cudi was another act that took me by surprise. He was the tamest of all the hip hop sets I caught and I was thankful for it. Maybe this puts me in the old fogey category but give me 80's rap any day. Cudi has a more easy-going, less in your face and aggressive show. It's something you really want to dance to, and actually he leans toward an oddly addictive combination of dance, rock and hip hop. Whatever it is, I'm down. With one of the more elaborate stage sets of the weekend, complete with fake crystal-shaped rocks to climb (a la Superman's fortress) and looming mountain in the back. He was utilizing the entire stage which made it really fun to watch him perform and got the crowd dancing almost immediately. I'm looking forward to getting into his music, I've already been chair-dancing in the office to a few of his hits.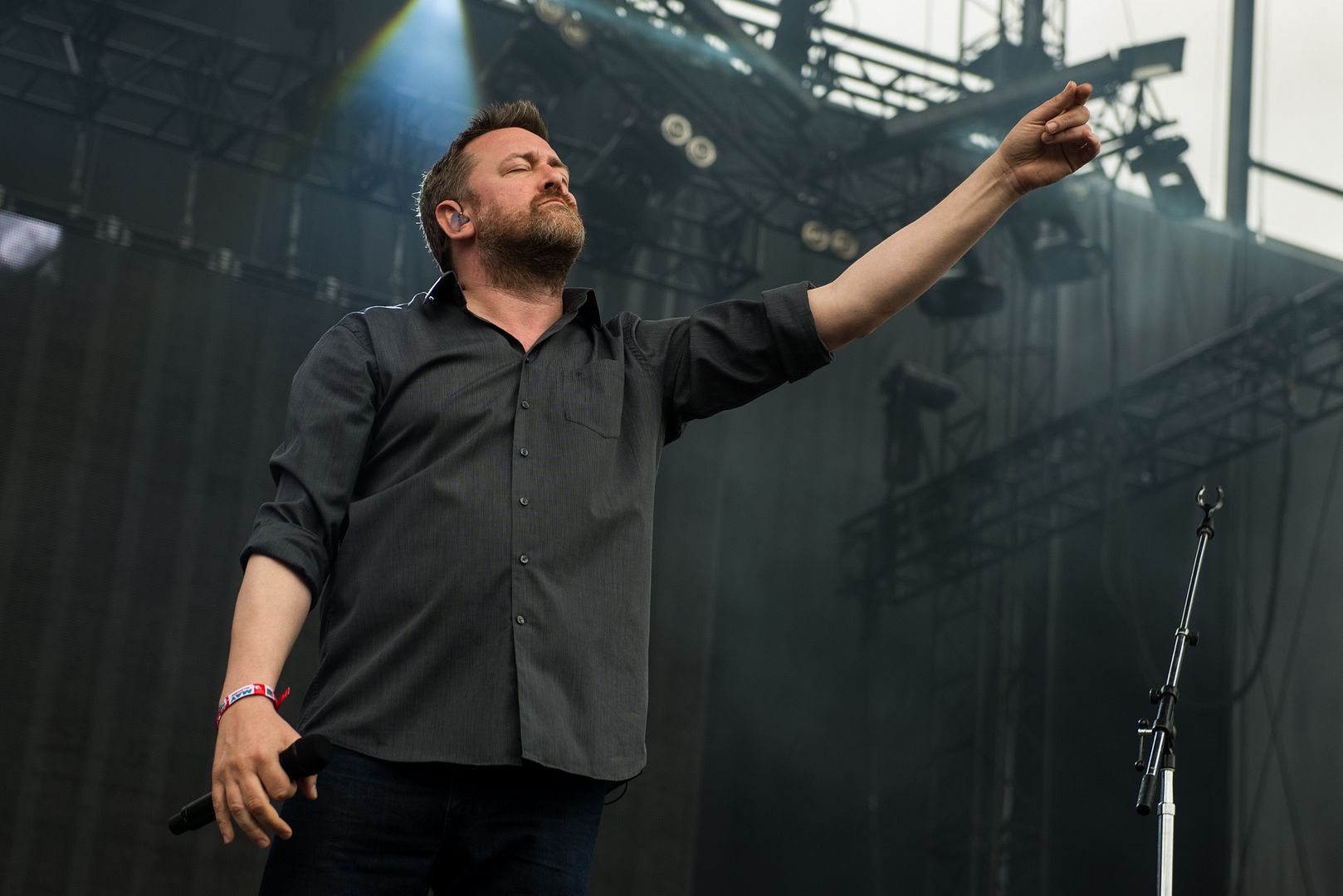 Elbow, what's there to say about Elbow. They had their hey day many years ago, but despite the easy-going attitude of both their music and their stage performance I couldn't look away. As a matter of fact, in the four years I've been covering Sasquatch, this is only the second set I'd ever decided to sit, listen, and enjoy all the way through. The lead vocalist, Guy Garvey, tended to point, extend one hand, both hands or simply smile and invite fans in to his performance. While it wasn't the zaniest or most dynamic gesture seen that night, it made you feel like he genuinely wanted each individual to be there, as if it were his living room and he was asking you to sit down for a coffee or shot of whiskey. Yes please.


Queens of the Stone Age closed out the festival this year. I admit, I was never a huge fan, but I knew more of their singles than I had expected to. The stage show was made to seem bigger and more massive than any of the others before it. I remember the same thing about Postal Service last year but I was insanely excited about that set so I didn't notice much at the time. That's not to say the band didn't perform and bring some excitement during their set, it just wasn't any more than any other rock show that I saw that weekend. Most likely it's because my expectations are too high for the final band… explosions, fireworks, etc etc were not a part of the show but they put together a solid performance and the fans were loving it so I suppose there's not much more you can ask for.


All photos by Morgen Schuler
mschuler@seattleweekly.com