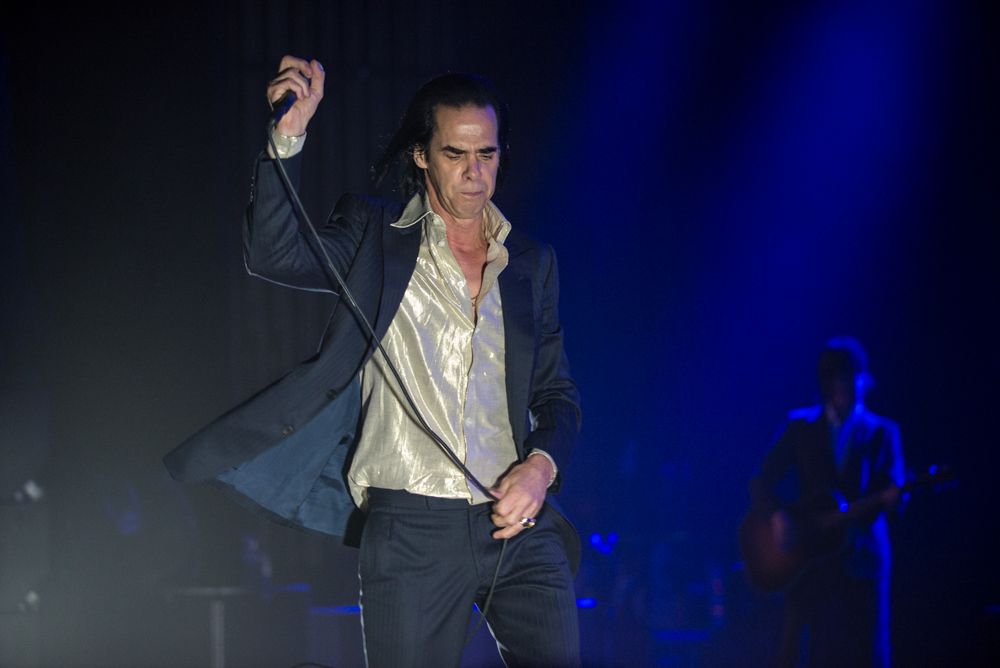 All photos by Morgen Schuler
From the moment the lights went down last Wednesday at the Paramount, Nick Cave was flying and dancing around the stage, a total wild man through his first two songs, "We Real Cool" and "Jubilee Street." The energy was high as he leaned into the crowd and sang directly into the front row, pawing at the audience and grabbing hands here and there. The entire set was full of these intimate moments, and anyone who snagged a front or even second row seat probably touched the artist at some point throughout the set. As an artist, it's hard to fake the kind of energy Cave was delivering, and it made the show ten-times better for fans.
He didn't slow down after those first two songs either, dancing in that weird funky way he has as if he's using his hands to guide his movements around the floor and taking a small jump when the music gets really intense. Some musicians go into what seems like a trance as the moment and the music take hold; Cave doesn't do this, he's fully aware yet totally in the moment at the same time.
---
Make sure you check out the rest of the slideshow of Nick Cave and the Bad Seeds with opener Mark Lanegan.
---
The set included several familiar tunes like "Red Right Hand," "God is in the House," and "The Weeping Song," the last of which Cave pulled opener Mark Lanegan out on stage to perform with him. It's arguably the first time Lanegan has been bathed in light on stage and not the very dim, blood-red lighting his shows are known to feature. It was an incredible blend of voices between the two that should happen more often, the low thrum of both men eminating out as the song flowed through the room like a dark cloud of smoke.
One can only assume Lanegan took on the opening spot at the show because he was in town to perform at The Showbox. Even though the energy in his set was almost like taking a quaalude, it's hard not to be mesmerized while he's singing; the dim purple and red lighting doesn't help and almost adds to the hypnotizing effect of his set.