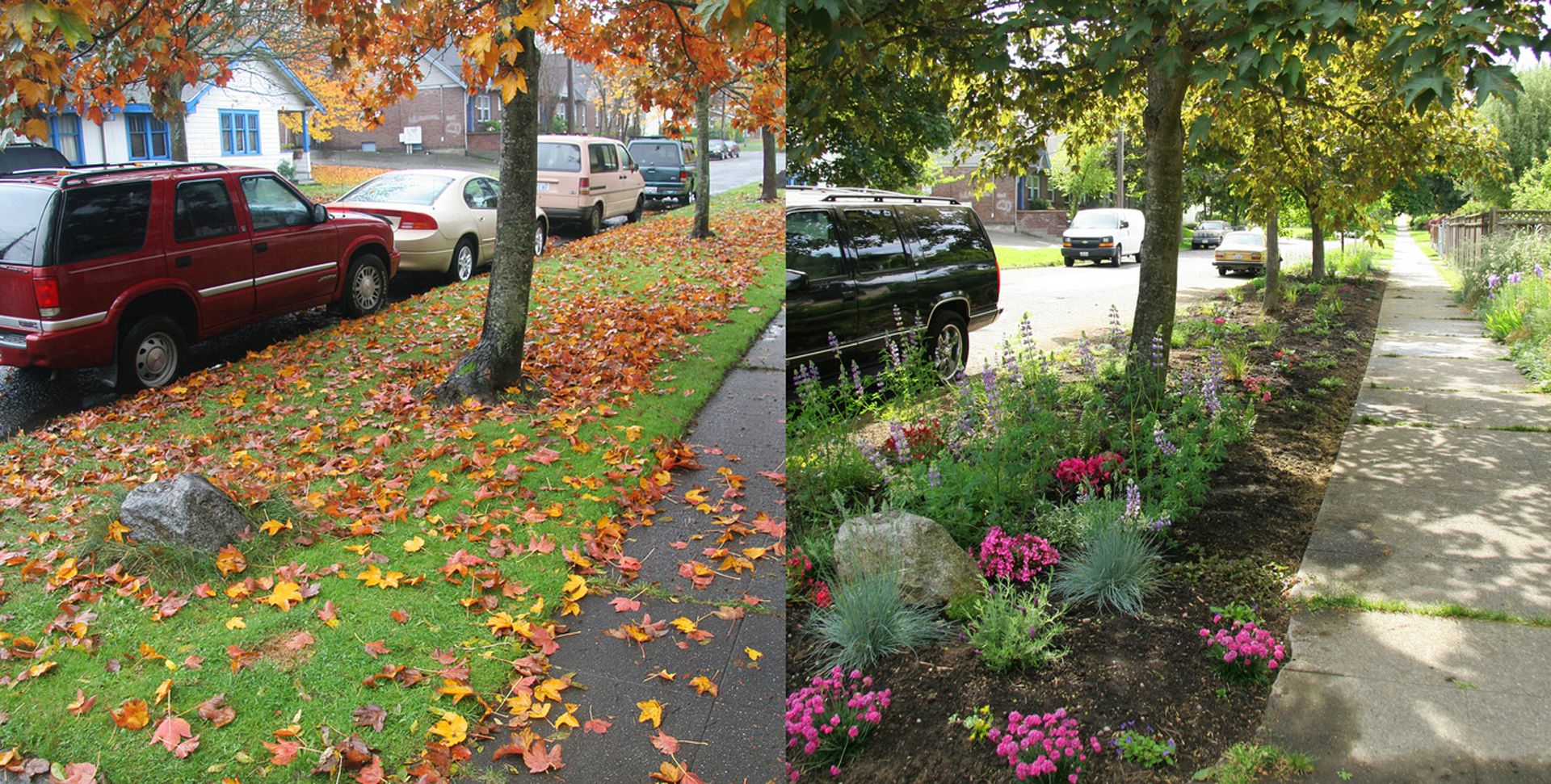 Above: A before and after of the Pollinator Pathway running along Columbia St. (Photo by Sarah Bergmann)
Since about 2006, bees have been disappearing and dying at an alarming rate, triggering something called "colony collapse disorder."
Bees—the chief pollinators of the planet—are pretty important to humans, since they make it possible for us to produce cheese, ice cream, and a million other things. Whole Foods recently released interactive before/after slides showing what its stores would look like if bees were gone:
Luckily here in Seattle, a local multidisciplinary artist named Sarah Bergmann has been doing something about it—a wonderful merger of art, design and ecology called the Pollinator Pathway.
Started in 2008, Bergmann has sought to connect isolated greenspaces in the city for pollinators, forming natural pathways for them to move freely throughout Seattle. The first project ran from Seattle University to Nora's Wood—a pocket park in the Madrona neighborhood. So far, twenty gardens have been installed to connect the two, with another 40 on the way before the project is entirely finished.
Yesterday, Capitol Hill Housing's EcoDistrict Director Joel Sisolak announced that he is partnering with Bergmann to design and pre-develop a second 1.5 mile long Pollinator Pathway on Capitol Hill that would connect Seattle University to Volunteer Park:
"We're looking at 11th Avenue," says Sisolak. "We like that it includes the eastern edge of Cal Anderson Park and the green space by Lowell Elementary before reaching Volunteer Park. It also could be a central piece of the new Arts District being planned for Capitol Hill."

Sisolak and Bergmann hope that the residents and property owners along 11th Ave will like the idea, too. "We are just beginning to talk with stakeholders about the north-south route," Sisolak notes. "We hope they'll embrace the concept like the folks on Columbia Street have."
While the first Pollinator Pathway project is a bit easier due to the heavy population of single family homes along Columbia, the new Capitol Hill project will pass by commercial businesses, institutions and apartment buildings, making for a more interesting design challenge that Sisolak hopes the neighborhood will jump on board with.
"Who doesn't like flowers, birds and butterflies?" Sisolak said.