Man Gets 'Detroit Lions Super Bowl 2015' Tattoo Inspired By Prophetic Seahawks Tat
By Kelton Sears
Fri., Jun 13 2014 at 10:13AM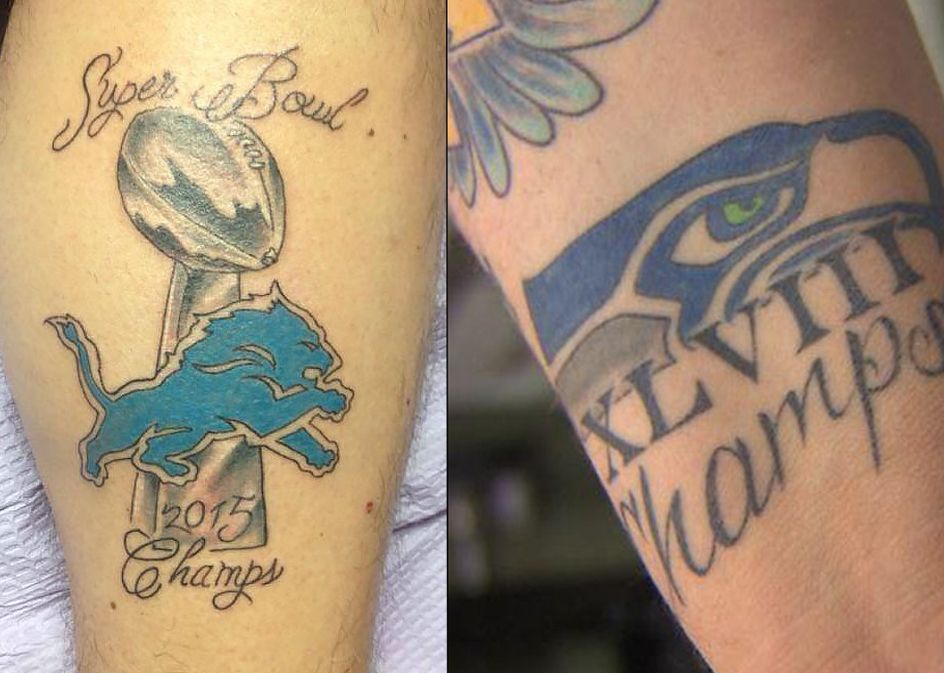 Above: Detroit's David Morian hopes his "Lions Super Bowl 2015 Champs" tattoo can match the wizardly mojo of Tim Connors' Super Bowl tattoo from last August.
A very hopeful man in Detroit got a tattoo today of what he proclaims is a vision of the future: The Detroit Lions logo superimposed over the Vince Lombardi trophy, bearing the words "Super Bowl Champs 2015."
David Morian, 23, claims that he was inspired by the prophetic tattoo of Tim Connors, who got a Seahawks Super Bowl Champ tattoo last August, before the season had even started.
Morian went into a Detroit area radio station to get the tattoo—and the hosts of the show attempted to talk him out of it, especially on today's unlucky date of Friday 13th. But he relented:

"Every year I go into every game watching on TV thinking they are going to win this game," Morian told ESPN.com Friday afternoon. "They have potential to do it every time. I don't have any second-guesses or thinking this was a bad idea because of the history.

The Detroit Lions have never made it to the Super Bowl—and if that history continues, Morian says he'll just get a tattoo artist to cross out "2015" and write the next year.